Theatre Reviews
Theatre Reviews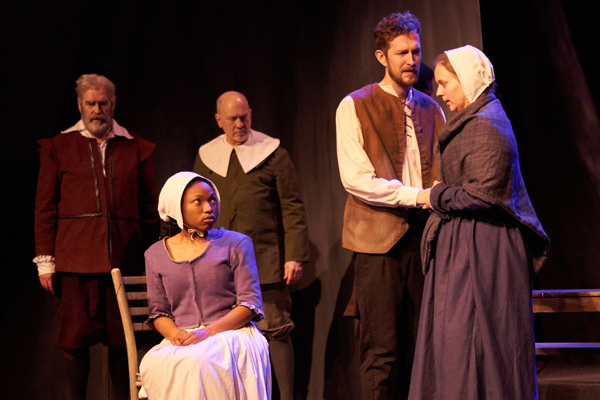 Binging on classic drama in Stray Dog's 'The Crucible'
By Chuck Lavazzi
Arthur Miller's classic drama "The Crucible" is getting a faithful revival at Stray Dog Theatre, with a few modern updates. The familiar tale takes place in 1692 Salem, Massachusetts, centering on the farmer John Proctor whose lies ultimately undo his household and the town itself. The play's four acts clock in at a total of 3.5 hours including three intermissions, but the quick pacing of Gary F. Bell's direction and the solid acting and design elements make the time fly by like binge watching four episodes of an online streaming drama.
Graham Emmons portrays John Proctor as a guilty, wounded man who, from the beginning, is trying to win back his wife's heart. Cynthia Pohlson, playing Elizabeth Proctor, gives the performance of the evening as a strong but wounded woman who is trying to keep her family together. Completing the play's love triangle is Alison Linderer as Abigail Williams. Linderer makes Abigail less of a villain, and more of a young woman who is genuinely damaged by John Proctor's poor treatment. This strong choice works better in some parts of the script than others, but it made me much more sympathetic to a character whose gender politics do not hold up in 2019 as well as they did when the play was first performed in 1953.
The whole script feels like a beautiful museum piece from the 1950s, and that added to my interest watching the production. It's rare that a new play would have four acts and a cast of 21. Bell's direction managed to seem faithful to the play's origin while playing to modern drama's strengths. For instance, Bell cast a number of people of color in parts typically given to white actors. One of these actors in particular, Abraham Shaw playing Reverend John Hale, brought a great depth to the role. Shaw gave his character a sincerity that made the town's witch hunt more understandable.
Tituba, a servant from Barbados, was played powerfully by Kelli Wright. In a key scene between Reverend Hale and Tituba, I was able to see Tituba decide that she was going to lie in order to survive, making Tituba a character with agency. Both Shaw and Wright deserve a great deal of credit for making that moment as powerful as it was since Tituba's confession can often seem an almost minstrel-like performance. The cast overall was strong (full disclosure: KDHX critic Chuck Lavazzi is one of them), but another actor worth singling out is Gerry Love who brought much needed humor to the play as Giles Corey. In fact, a strength of this production is just how much humor the ensemble manages to find in this dramatic text.
The set by Josh Smith is all jagged edges, slopes, and sharp points emanating from the proscenium arch out over the playing space. This creates wonderful opportunities for shadow which lighting designer Tyler Duenow plays up beautifully. The whole stage is the color of ash with red and black highlights, underscoring the flame implied by the play's title. Center stage, two of the set's points combine to form a leaning cross, for me symbolizing this play's faulty Christianity, which is beautifully added to by the fact that the production is in a church building. The audience is seated in pews, surrounded by stained glass, and the production takes advantage of that by often putting actors in aisles, thereby keeping spectators aware of the space around us.
The costumes by Amy Hopkins take a more period approach than the set, and, for me, missed an opportunity to continue the abstract design. The sound design by Justin Been was most noticeable when it underscored scenes, which was a large part of what made the production feel contemporary to me. The music felt like it could be part of a current streaming drama, and gave the production as a whole that feel.
This is an ambitious production, and I applaud Stray Dog Theatre for not shying away from this script's large canvas. The (ahem) bewitching design, sleek direction, smart acting choices, and modernizing elements like color-blind casting, make Stray Dog Theatre's production a lovely opportunity to re-engage this classic text. Performances continue through February 23 at Tower Grove Abbey, 2336 Tennessee in Tower Grove East.
Related Articles