Theatre Reviews
Theatre Reviews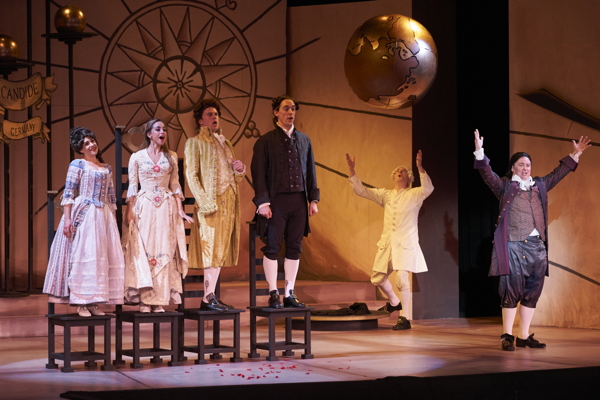 Filled with humor and fantastic adventures, 'Candide' is an engaging and accessible opera
By
Leonard Bernstein's comic operetta "Candide" receives a splendid and comic retelling in Union Avenue Opera's delightful and appealing production. The imaginative story, a rather loose and freewheeling interpretation of Voltaire's classic, tells of the hardships the earnest and optimistic Candide experiences on his quest to reclaiming his life and winning the heart of his love Cunegonde. Unrealistic optimism and globe-hopping adventure lead to important realizations in a thoroughly enjoyable and frequently humorous production that's suitable for the whole family.
The illegitimate nephew of the wealthy Baron Thunder-Ten-Tronck of Westphalia, Candide's early years are spent in the idyllic confines of the Baron's castle, where he, his cousins Maximillian and Cunegonde, and the servant Paquette, are tutored by the esteemed Dr. Pangloss. Unfortunately, Candide is turned out of the house after he and Cunegonde confess their love for each other and make a secret pact to marry. Quickly recruited into the Bulgarian army, Candide learns the art of war only to be ordered to attack his hometown. He manages to avoid harming his own family, but it appears that he cannot save them; even his beloved is ravaged and left to die by the soldiers. Making his way to Portugal, Candide discovers his old teacher disguised as a beggar. Pangloss' philosophy gets him hanged, but Candide manages to escape, taking a restored Cunegonde and the helpful Old Lady with him.
They journey to Buenos Aires where they discover Maximillian is alive, though disguised as a woman, and reunite with Paquette. A series of misadventures and misunderstandings leads to Candide fatally stabbing Max and fleeing for his life. After making his way back across the ocean, he is reunited with all his friends and learns important lessons before eventually marrying Cunegonde and settling for a life of domesticity and hard work. The story is fanciful and implausible, but a lively score and plenty of humor ensure all participants, even those who die multiple times, have a good time.
Thomas Gunther narrates the show as the author Voltaire as well as playing multiple roles, including the overly optimistic Pangloss. He easily transitions from the doddering and foolish Pangloss to the lively and helpful Cacambo. Jesse Darden is a spectacular Candide, with a fine rich voice and energetic demeanor. He's nicely paired with Brooklyn Snow as the materialistic Cunegonde, Charlie Tingen as his too pretty for his own good cousin Maximillian and Gina Malone as the capricious Paquette. Christine Brewer elevates the Old Lady, and her voice is in top form, while Christopher Nelson delights in a variety of roles including the humorous and pirate-like Captain.
Under the musical direction of Scott Schoonover, the pacing is lively, the songs compelling and engaging and the show performed in a way that enhances the whimsical story with cartoonish glee. Stage director Annamaria Pileggi ensures that the sharply drawn characters avoid caricature while playing the misfortunes and violent encounters for laughs. The only real pain we see during the entire production is when Candide realizes that Cunegonde may actually spurn his love for gold and shiny baubles. Pileggi and Schoonover ensure we don't miss the scene, but the emphasis here is clearly on the fanciful.
Scenic designer C. Otis Sweezey keeps things simple, but always relevant to the story and his use of globes and directional signs aid the audience in following the plot as well as Candide's far-ranging travels. From her choice of materials and style of dress, costumer Teresa Doggett helps to further define each character, with assistance from properties master Kate Slovinski, and Michael Sullivan's lighting design directs focus without interrupting the breezy feel of the opera's near constant movement.
Dedicated opera fans and those with a more casual interest in the form can easily appreciate both the imaginative if improbable story, by Hugh Wheeler after the original by Voltaire, and the skillfully crafted, smartly arranged Bernstein score. The fantastical plot includes plenty of humor, whirlwind adventures and continuous action as well as characters that are cleverly engaging, if melodramatic, and surprisingly catchy, thoroughly hummable tunes. With its comically exaggerated plot line, snappy songs and upbeat tempo, "Candide," continuing through July 13, proves an accessible and delightful opera that audiences of all ages can truly enjoy.
Related Articles