Theatre Reviews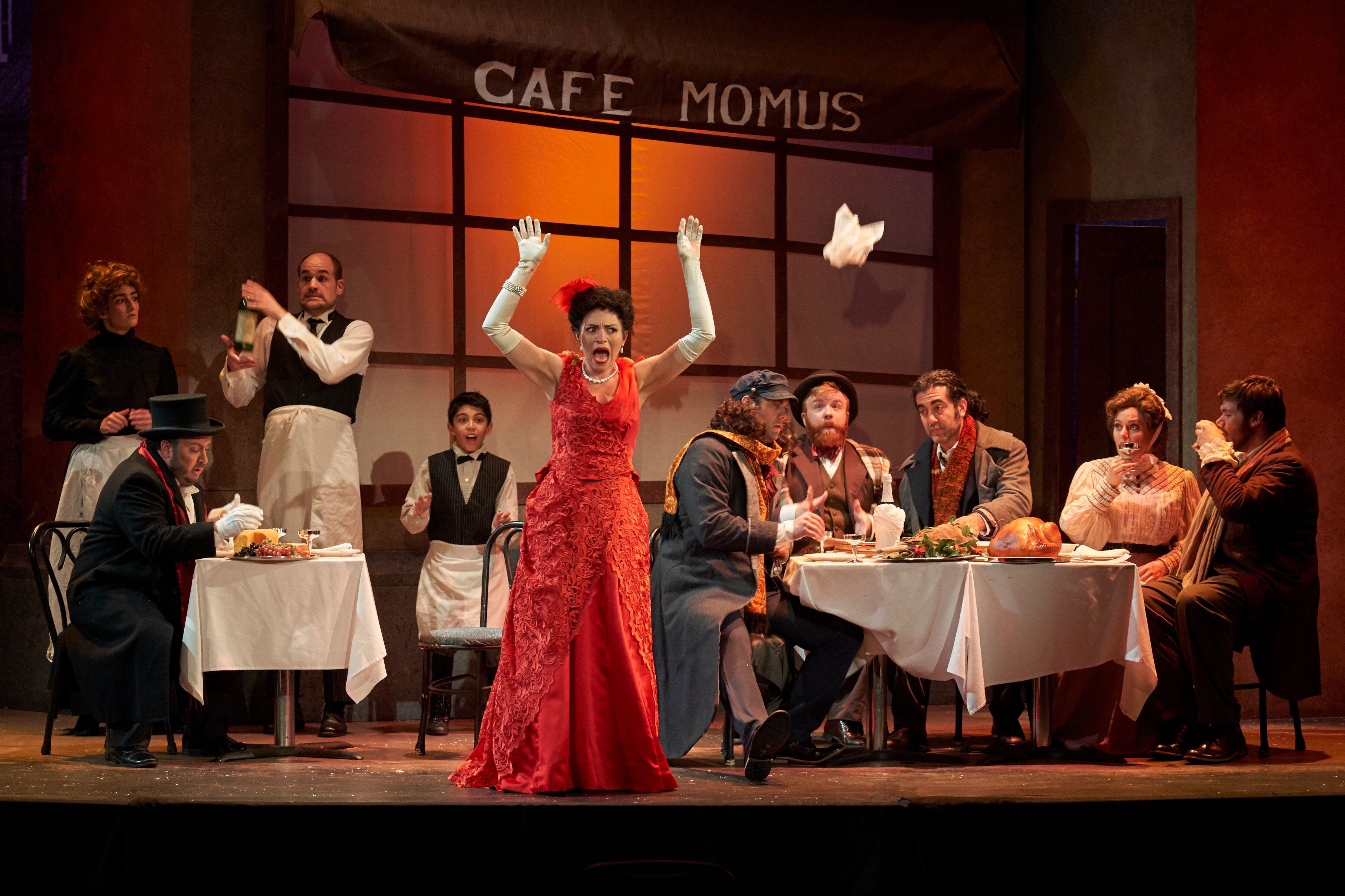 Drenched in art, music and love, 'La Bohème' is a splendid slice of life that leaves a bittersweet and lingering taste
Written by

Tina Farmer
Works of art generally become known as a classic because they touch people's hearts and inspire imagination, and such is the case with the still popular "La Bohème." Written nearly 125 years ago the opera still inspires audiences and artists alike. Sections of the music are instantly familiar and the story has lent its themes and plot to multiple interpretations and adaptations, including the popular Broadway musical "Rent." Union Avenue Opera's gorgeous version of Giacomo Puccini's classic thoroughly delights. Performed in Italian, with English subtitles, the opera is a moving tragedy in four acts that's sure to please seasoned fans and newcomers alike. 
Set in Paris in the 1840s, "La Bohème" introduces us to Marcello and Rodolfo, a painter and writer so impoverished that they burn one of Rodolfo's scripts in an attempt to keep warm. When two friends arrive with wood, food and a little money, the four decide to head to their favorite cafe to celebrate the holidays. Rodolfo insists the others go ahead while he finishes an article, but Mimi, an ailing seamstress seeking a light for her candle, soon interrupts him. Rodolfo and Mimi fall in love in an instant, then join the others at a cafe where Marcello reunites with his on again, off again flame Musetta and everyone is cheerful and gay, if only for a fleeting moment. The beautifully textured opera takes audiences on an emotional journey that is mesmerizing, at times painfully so, and heightened by stunning vocal performances.
As Rodolfo, tenor Jesse Donner moves through the technically difficult role with surprising ease, while Andrew Wannigman, as Marcello, captures attention with his smooth and seductive baritone. Donner's voice alone shifts the tone of the opera, opening in melancholy but becoming considerably brighter and more interesting the moment Mimi walks on stage while Wannigman matches his vocal flourishes to his voice with a deft touch. Both men are expressive actors as well, adding nuance to their roles. Though not quite as adept at acting, Yulia Lysenko, as Mimi, impresses with her effortless range and the warm, caressing tone of her voice, while Cree Carrico delivers brilliant clarity and a sparkling high soprano as Musetta.
The smaller stage and house at Union Avenue Opera necessitates that each voice complement and intertwine with the others. Donner, Wannigman, Lysenko and Carrico, as well as Nicholas Ward, as Schaunard, and Dale Obermark, as Parpignol the toymaker, are particularly adept in remaining both singular and harmonic. The rest of the cast, including the charming children's ensemble, capably support the leads, creating a wonderfully chaotic street serenade that rings with complexity. And Act Four is consistently captivating, with moments that are nearly perfect in balance and execution.
Longer scenes occasionally slow the pace, but there's a credible sense of camaraderie between the four men – the artist, poet, musician and philosopher – that establishes connection and amiability that carries through to the heart wrenching, and almost understated with simple human kindness, of the final scenes. Additionally, the splendid set, by Patrick Huber, may be a bit cumbersome for the small crew, making it easy for audience members to get distracted, particularly during the pause in the first act. Still, the intricately detailed and painterly set provides the perfect environment for the sweeping story and is enhanced by Huber's naturalistic lighting. Teresa Doggett's elegant and varied costumes, though again, occasionally a costume seems to get in a performers way.
All things considered, Union Avenue Opera's production is splendid and, at times, sublime, with memorable voices and evocative stage dressing that enthrall and entertain. Well attuned stage direction by Mark Freiman keep the story moving forward in a way that's captivating despite any minor missteps. Conductor Elizabeth Hastings honors every phrase and note of Puccini's lush and romantic score, reminding audiences that "La Bohème," which ran through August 3, is an opera perfectly suited for lovers of classic music and mesmerizing storytelling.
Related Articles