Theatre Reviews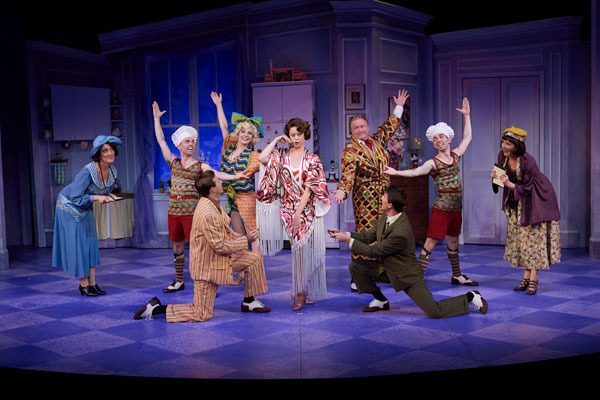 'The Drowsy Chaperone' hits all the right notes
If you're at all interested in seeing a musical theatre production with what I think is absolutely perfect casting, you need to make a beeline to Stages St. Louis's current production of The Drowsy Chaperone. I've seen so many theatre productions in which at least one character was cast with an actor that made me think, "What was that Director thinking!?" Unfortunately, that question was asked by me during the first production from Stages this year, It Shoulda Been You, but not during Drowsy. This was my first Drowsy, and I haven't smiled so much at production or felt I was seeing an almost perfect show for quite some time. As a Stages 30th Anniversary return of this Tony-Award-Winning show from a previous outing in 2009, it literally hits all the right notes.
Director Michael Hamilton (whom I'm assuming had casting authority) was spot-on populating this production of a musical within an LP of a musical. The Man in Chair, actor David Schmittou, (miscast, I think, in Shoulda) was the Man in Chair. He inhabited the role like a comfortable pair of favorite slippers. (He played the same part in 2009). As an MC of sorts, he plays the LP record of a Broadway musical soundtrack he really likes, and the characters come wonderfully to life on stage.
And are they characters! Most are cut from a broad ream of stock character fabric: The Ingénue (Laura E. Taylor); the overbearing Broadway Producer (Steve Isom); the beleaguered Butler (John Flack), the Lush (Corinne Melançon), the Young Man in Love (Andrew Fitch), Trix (Kendra Lynn Lucas), Kitty (Dana Winkle), the Latin Lover (Edward Juvier, also the same part in 2009), the comic relief Gangsters (Ryan Alexander Jacobs, Austin Glen Jacobs), and others took their respective roles and worked the heck out of them. The theme of a wedding is the very loose weave that binds the production within a production, but that was all that was necessary. Witty dialog (oh, the puns!) by Bob Martin and Don McKellar, not an overuse of slapstick, memorable songs ("Show Off," "Accident Waiting to Happen") by Lisa Lambert and Greg Morrison, competent actors, natty tapping (and roller skating), clever choreography--all combined for a very entertaining night.
In the technical regard, I usually praise the Stages production team for the quality of their sets (blanket amazing every time), but this production, while the set was comely and versatile, it was the costumes by Brad Musgrove that took the spotlight for me. Enough sequins and sparkle to dazzle, but dazzle in a period-appropriate (1920s) way. Ab-so-lute-ly spectacular. I also have kudos for the sound team, whose coordination of the digital orchestral accompaniment with the on-stage action was perfectly synchronized.
I said for me the show was almost perfect, the only slight detraction was the lighting, pre-set where sometimes the actors had difficulty finding the right spot. But if that's my only bobble of note, you can still take this show to the bank.
The two-hour production (no intermission) of The Drowsy Chaperone will be on stage at the Robert G. Reim Theatre in the Kirkwood Community Center until August 21, 2016. I recommend you do not miss it.
Related Articles