Theatre Reviews
Theatre Reviews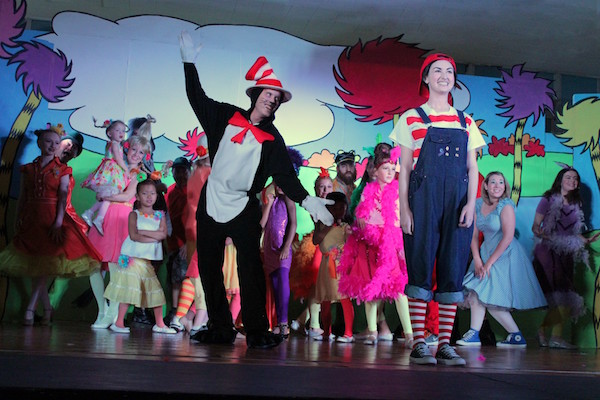 Kids will love Over Due Theatre Company's 'Seussical' musical
By
Seussical, by Lynn Ahrens and Stephen Flaherty, opened on Broadway in 2000 and is now a favorite for family-centered community theatres like Over Due Theatre Company. This company is about family in every way, from its space at a community center to the little boy and his dad taking your tickets at the door. This is the idyllic theatre experience I imagine took place in rural communities in the '50s, and it's now happening 20 minutes from St. Louis. I took my 8- and 5-year-olds with me, and we mingled with children in costumes in the hall outside the theatre doors during intermission and giggled with grandmothers in the front row holding flowers to give their little dancers at curtain call.
The show encapsulates many well-known Seuss stories into one magical plot upheld by toe-tapping music. During Over Due's version, one blonde teenager struggled to hold her laughter in during half of the show, but otherwise the actors, even the tiny ones, were charming in their roles. Aside from a few choral issues at the beginning of Act II, the music was good and I was impressed with band's professional sound.
In particular, Brittany Kohl Hester delivered an impressive performance as Gertrude McFuzz, a bird with a one-feathered tail and a soft spot in her heart for elephants. Tristan Johnson did a lovable turn as the object of her affection, Horton the Elephant. My five-year-old, however, was most entranced with Robert M. Hanson's portrayal of the Cat in the Hat, guffawing loudly at Hanson's every move and most likely providing the actor with his daily dose of a self-esteem boost. None of that laughter, however, happened before Kevin Hester took the stage as General Gengus Khan Schmitz, a parody from Seuss's Butter Battle book. Hester's physical comedy broke the audience's sense of propriety and let us relax and begin to enjoy the show.
On the technical side, the costumes were the highlight of the show. The enormous cast all complemented one another, the story, the set, and Seuss's legacy of colorful illustrations. Interestingly, Kohl Hester also served as costume designer. The show did have a problem that I couldn't overlook: every theatre, community theatre or not, should be able to properly use their mics. I would rather hear a show with unaided voices over solo piano than a show with an excellent band but singers who come in and out over the speakers. The audience also had to listen to the backstage conversations of the cast many times over the run of the show because of mic misuse. This was a shame because their fellow actors were in the spotlight, performing their art, attempting to move our hearts through Seuss's stories, and those performances were lost among the amplified whisperings.
Despite this glitch, which I assume will fixed by next weekend, the show was worth the short drive to Olivette because the kids haven't stopped talking about it or singing the songs since. My children, who are currently in a Power Rangers phase and therefore usually watch high-octane action, barely breathed during the 2½ hour run, their eyes glued to the stage. Little Thing 1 and Thing 2, the Grinch and Max, Cindy Lou Who, and many other beloved childhood characters are brought to life by a troop of actors who are clearly love their craft and have a strong sense of togetherness on stage. They seem like a big, diverse family up there under the lights, doing what they love, together. They had fun, so the kids in the audience also had a great time.
Over Due Theatre Company'sSeussical, directed by Wayne A. Mackenberg, is playing again this weekend, August 5-7 at Olivette's Community Center. 
Related Articles