Theatre Reviews
Theatre Reviews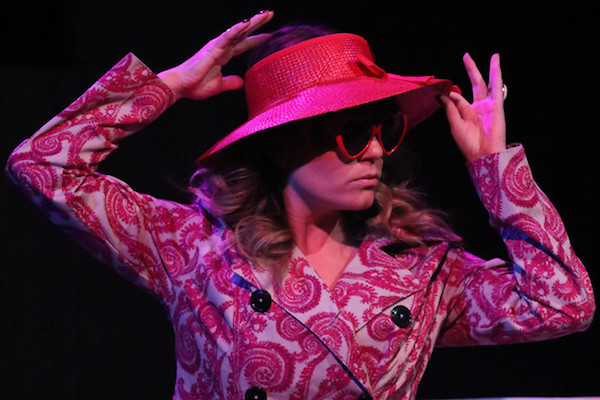 Sarah Porter captivates in the bittersweet, memoir-like 'Tell Me on a Sunday'
By
New Line Theatre surprises audiences accustomed to big productions with the one-woman musical Tell Me on a Sunday, a performance piece with music by Andrew Lloyd Weber that was inspired by a Tim Rice concept. Honestly, I found the story dated and patronizing and the songs entertaining but unremarkable, and yet I was thoroughly enthralled and impressed by the production. The performance, transitions, and direction ensure the show is an absolute delight while establishing Sarah Porter as a rising star in St. Louis theater.
Porter embraces the role of reluctant heroine in Weber's musical tome to single women. Although the lyrics, by Don Black and Richard Maltby, Jr., feel a bit dated, and I would enjoy more variety in the compositions, there's a clear message and story arc that eventually leads to independence. Porter expertly handles the vocals and, under the direction of Mike Dowdy-Windsor, deftly navigates the emotional context of the story.
Emma is a working-class girl from England living in America and facing all the typical challenges. That is, she's trying to keep afloat will finding love and a place to call home in the modern world. For Emma, that also means obtaining a green card. We don't actually hear about her work or dreams or even why she came to the states; instead the focus is on Emma's romantic misfortunes as relayed in letters to her mother.
The four "Letter Home" songs are self-effacingly humorous, as Porter's Emma emphatically defends her choices and gently reassures her mother, and perhaps herself, that she's doing fine. Porter's interpretations convey the turbulence and related hardship each passing relationship generates, as well as the hopeful optimism every new romance inspires. The thematic song is among several that are repeated, with refreshed lyrics, throughout the quick show. 
The song titles convey both action and attitude, with the fierce "Let Me Finish" and "Take That Look Off Your Face" strong examples of Emma's breaking points, while the more wistful and ballad like "Unexpected Song," "Come Back With The Same Look In your Eyes," and "Ready Made Life" signify possibility and guarded optimism. "It's Not The End Of The World" is the most resilient and buoyant of the selections, creating the much-needed opportunity for Porter to interject contemporary feminism and an independent "can-do" spirit into the show.
Each song covers a lot of ground, emotionally and in Emma's story, and Porter shows great dexterity and conviction in her interpretations. Vocally speaking she is always on point in terms of context and with the challenging arrangements. Porter also does a nice job with the business of the show, though I'd like to see more variety in terms of her physical personification of the character.
In addition to starring in the show, Porter designed the costumes, which suit the style of a few decades ago and subtly convey the character's confidence or lack thereof. Porter shows restraint here, ensuring that the costumes -- and the business of changing costume while onstage -- adds to the texture and tone of the story. 
Rob Lippert's set design and lighting, with sound by Benjamin Rosemann, create a number of levels and spaces in which Porter can amble, and I'd like to see more of the songs presented from different points of the stage rather than front and center.  Finally, music director Nate Jackson brings it all together, conducting the band through arrangements that complement and throw focus on Porter. There are times when the instruments are barely present, emphasizing Porter's heartfelt vocals. 
Love and romance, whether successful or failed, is ripe material for a show. This is a point I clearly acknowledge. Still I was disappointed that this wonderfully complex and opinionated character could only tell her story in the context of the men she was pursuing and the lifestyle each introduced. Even when writing to her mom, Emma is focused on defending the men in her life and deflecting her mother's imagined reproach. Frankly there's a lot of judgment and backhanded shaming in the story.
Emma is slow to realize that her self-worth is neither dependent on, nor determined by the man in her life. As an independent woman with self-respect that's not tied to my relationship status, I wanted Emma to blossom as an individual of value before the final song. What captivated and mesmerized me was Porter's remarkable performance, and for that I could watch the show again and again.
Though a bit dated in its attitudes towards female independence, Tell Me on a Sunday, running through August 27, 2016 at New Line Theatre, is a compelling show. The one-woman musical provides a singer/actress with a perfect vehicle for showcasing her vocal and interpretative talents, and Porter grabs the opportunity to shine. 
Related Articles