Theatre Reviews
Theatre Reviews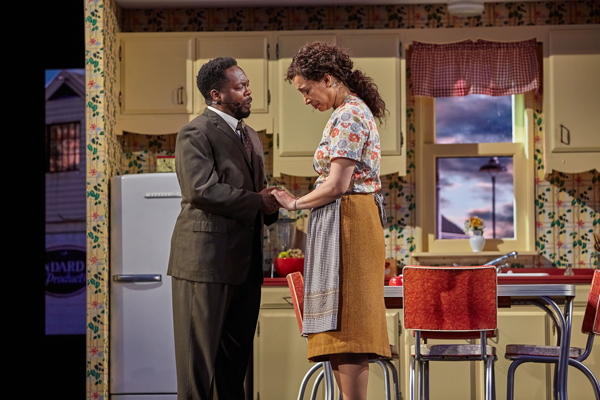 Opera Review: Opera Theatre presents an overlooked gem by a black American composer
By Chuck Lavazzi
Opera Theatre (OTSL) has never been shy about introducing the audience to new or simply unfamiliar works. Often, those operas have proven to be the hits of their respective seasons.
Their production of "Highway 1, USA" by the noted Black American composer Willian Grant Still had its local premiere on Saturday, May 29, and it has a good chance of being the unexpected gem of the 2021 season. With just two scenes and a runtime of under an hour, "Highway 1, U.S.A." takes a relatively simple domestic drama and turns it into powerful art with a score that enhances character while it advances the plot.
L-R: Nicole Cabell, Rehanna Thelwell
Photo by Eric Woolsey
If Mr. Still's name is unfamiliar to you, that's understandable. Often referred to as "the Dean of African-American composers" and the recipient of multiple honors and awards, Still died in 1978 at the age 83, leaving behind a substantial body of work ranging from chamber music to symphonies to nine operas. And yet, few of these works are ever performed today. His Symphony No. 1, subtitled "African American," which dates from 1931, is probably his best-known work and was, in fact, the most popular of all American symphonies until 1950. Recordings of it are readily available online, but live performances now are rare.
Originally written in 1942 with the title "Southern Interlude," "Highway 1, U.S.A." went through multiple revisions before it was published in 1963 and didn't get a professional premiere until 1972. It's still rarely seen, despite its many strengths. The opera is the story of Bob, the hard-working proprietor of a service station on the titular highway, his long-suffering wife Mary, and Bob's ne'er-do-well brother Nate. Because of a deathbed promise to their mother, Bob has put his life on hold to finance Nate's college education. "She had her dream of a son with learning," he reminds Mary. "A child who would send our name forth all over the world. Whose words would command respect, whose deeds would win wide acclaim."
L-R: Christian Mark Gibbs, Nicole Cabell
Photo by Eric Woolsey
Mary loves Bob and is sympathetic, but she has seen Nate's contempt for their lives and the lives of their down-to-earth, church-going friends and doubts his potential for greatness. When Bob allows Nate to move in with him and Mary after Nate's graduation because "we must help him establish himself," it sets in motion a conflict that quickly turns perilous.
In his Opera Theatre debut, baritone Will Liverman captures Bob's conflicting emotions and his fundamental integrity perfectly, with a rolling, powerful voice and a stage presence that commands respect. Soprano Nicole Cabell, also a debut artist, is a perfect match as Mary, torn between her love for Bob and her contempt for Nate. Her voice has a solid low end that echoes her character's solid roots in reality.
When he finally appears in the second scene, Nate fully justifies Mary's contempt. Tenor Christian Mark Gibbs makes an attention-grabbing debut in the role, in a sinuous, clearly sung performance that so clearly communicates the character's smug cluelessness that the urge to smack him is irresistible. Stuffed with knowledge but devoid of wisdom, Nate is everything that his brother is not.
Will Liverman, Nicole Cabell, and ensemble
Photo by Eric Woolsey
Mezzo Rehanna Thelwell has a brief but impressive cameo as the wise Aunt Lou, as does baritone Andrew René in his debut performance the Sheriff. The various members of Bob and Mary's community are played by an ensemble consisting of sopranos Lindsey Reynolds and Angel Riley, mezzo Tesla Kwarteng, tenor Terrence Chin-Loy, and baritone Geoffrey Peterson. Their voices blend beautifully, and they sing some of the score's tricky counterpoint with impressive accuracy.
Stage Director and Black Rep founder Ron Himes gets theatrically apt performances from his cast and ensures that the stage movement and the pictures created by it make dramatic sense. Seán Curran is credited as Choreographer, so I expect he shares some of the credit for that.
Allen Moyer's kitchen set feels both humble and cozy with its yellow flower-print wallpaper and classic 1950s chrome and plastic table. Greg Emetaz's projections complement it with glimpses of the service station and highway outside.
Leonard Slatkin conducts members of the St. Louis Symphony in a superb reading of Still's inventive score, which shows the wide range of the composer's background and interests. A classically trained graduate of the Oberlin Conservatory and a recipient of multiple Guggenheim Fellowships whose tutors included the avant-garde Edgard Varèse and the conservative George Whitfield Chadwick, Still also had extensive experience playing in dance bands and writing arrangements for radio, stage, and screen. It's possible to hear echoes of everything from the Vaudeville stage to Wagner in "Highway 1, U.S.A" without ever encountering anything that sounds remotely like imitation.
Will  Liverman, Christian Mark Gibbs, ensemble
Photo by Eric Woolsey
Still's voice is always his own, though. The cheerful, march-inflected chorus in which Bob and Mary's neighbors praise the couple's fine qualities may carry echoes of the composer's time with the W.C. Handy band and the sweeping melody that accompanies Nate's narcissistic entry in the second scene may call to mind late 19th-century romanticism, but ultimately it's all one hundred percent William Grant Still. If you want evidence that his work has been unjustly neglected, "Highway 1, U.S.A." certainly provides it.
A special shout-out is due the members of the SLSO for the high quality of their playing on opening night. Unseasonably cool temperatures posed a threat to the strings, in particular, but the orchestral sound was excellent, with some especially fine work by SLSO Associate Principal horn Thomas Jöstlein and the rest of his team.
The Opera Theatre presentation of William Grant Still's "Highway 1, U.S.A." could easily be a once-in-a-lifetime opportunity to see this unjustly neglected work, especially in a production as polished as this one. True, the libretto by Still's wife, the pianist Verna Avery, is not without its weaknesses—Bob's abrupt change of heart about Nate in the second scene comes to mind—but Still's score goes a long way to ameliorate that, and the end result is a thoroughly compelling hour of musical theatre. You won't want to miss it.
Performances of "Highway 1, U.S.A." continue through June 17th on Opera Theatre's new outdoor stage, in rotation with the season's three other operas. Performances are sung in English with projected English text. For more information, visit the Opera Theatre web site.
Related Articles