Theatre Reviews
Theatre Reviews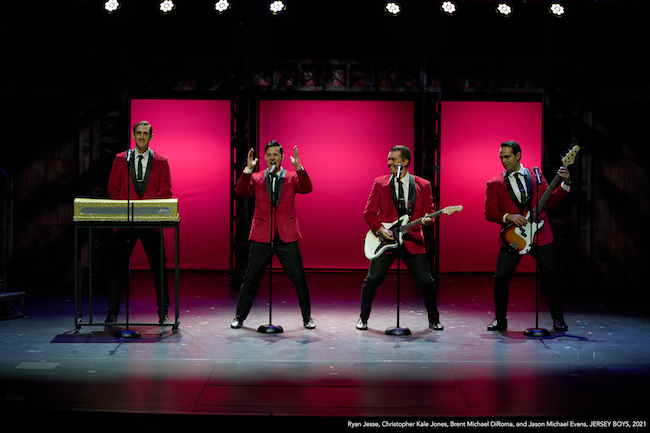 A lively 'Jersey Boys' gets an enthusiastic welcome for its Stages St. Louis premiere
By
In the 1950s and early 1960s, pop music was in the midst of a foundational shake up. The sound quickly moved from doo-wop and corner quartets into rock and roll, with electric guitars, danceable beats and catchy hooks. Many acts folded. But some had a little something extra to help them stick around.
One of those lucky bands that stuck around is profiled in "Jersey Boys -- the story of Frankie Valli and the Four Seasons," closing Stages St. Louis 35th season. The company's first-ever production of the musical revue is an energetic tribute that embraces both the songs and characters. The quick moving show tells a mostly affectionate story, interspersed with a bevy of hit songs from early rock through the disco era that remain familiar today. Even those unfamiliar with the band will likely appreciate the excellent renditions of these classic pop rock songs.
Staying true to their working class, Jersey tough reputation, the show doesn't shy away from the band's darker history. This includes scenes and references to criminal activity, jail time, gambling, tax evasion, addiction, affairs, divorce, abusive relationships and absent parenting. A long laundry list that's given a light but not dismissive touch. The truth is, it's this background and those old school loyalties that make the band's story more memorable. Frankie Valli wasn't simply a gifted young singer with a promising future. He was a ticket out of a life of petty crime, or worse, for guys like Tommy DeVito and Nick Massi.
Even with the hit heavy line-up of songs, the Stages production, directed by Michael Hamilton with music direction by Jeremy Jacobs and choreography by Dana Lewis, feels like good old-fashioned storytelling. Bad boys struggle, get in trouble then rise above humble beginnings to become big stars. The hits from "Sherry" to "Who Loves You" and "Oh What a Night" to "Working My Way Back to You," reverberate throughout the theater. The sound fills the company's new home without distortion, making it easy for all ages too enjoy the catchy songs and dance heavy beats. And then, there's Valli's signature style -- that brilliant falsetto and full-throated baritone. Christopher Kale Jones may not be Valli, but he shows the same gifted range and considerable charisma needed to successfully bring us into the moment.
Complimenting Jones, the members of the Four Seasons turn in sharp, well-defined performances. Brent Michael DiRoma gives Tommy DeVito more appeal than he may deserve. Ryan Jesse finds depth in Bob Gaudio's more reserved personality. And Jason Michael Evans gives Nick Massi a dry, refined eccentricity that brings the house down. Each actor finds distinct traits to emphasize, pulling them back enough to keep them plausibly realistic, a credit to the actors and director Hamilton.
Additionally, the actors show genuine affection – for the characters, each other and history. There's a fresh enthusiasm in DiRoma's footwork as Tommy DeVito. An expanse to Gaudio's smiles of enjoyment from Jesse, when he thinks no one's watching. Evans adds a glance to Nick Massi's curled smile that's a blend of devil may care and cynic. And Jones is warm, authentic and emotionally connected to the songs.
Finally, there's a camaraderie between the actors and an abundance of energy that adds to the texture of the show. When the audience claps longer or laughs louder than expected, the pleased reactions of the actors are unmistakably genuine. Jenna Coker-Jones, Edward Juvier, Steve Isom, Dereis Lambert and the rest of the ensemble provide solid support with strong backing vocals and dancing.
The technical aspects of the show easily meet the company's strict standards. The efficient set, designed by James Wolk, and period appropriate costumes, designed by Brad Musgrove, establish the setting and time. The show's mood and tone are enhanced by lighting design from Sean M. Savoie. The accoutrements are standard here, the look and feel of the scenes true to the story and similar to other renditions. But the transitions, the pacing and overall staging feel sharper, and refreshed without dramatic change. As a result, the show bursts onto the stage, familiar characters feel revitalized and every piece falls into place.
You won't see anything 'new' in this production of "Jersey Boys -- the story of Frankie Valli and the Four Seasons," continuing through October 24th in the Ross Family Theatre at the Kirkwood Performing Arts Center. But, if you give it a try, you will likely leave smiling and humming a familiar tune. Stages St. Louis premiere production treats audiences to an abundance of pop rock hits delivered with renewed vigor that might find you dancing in your seat.
Related Articles