Theatre Reviews
Theatre Reviews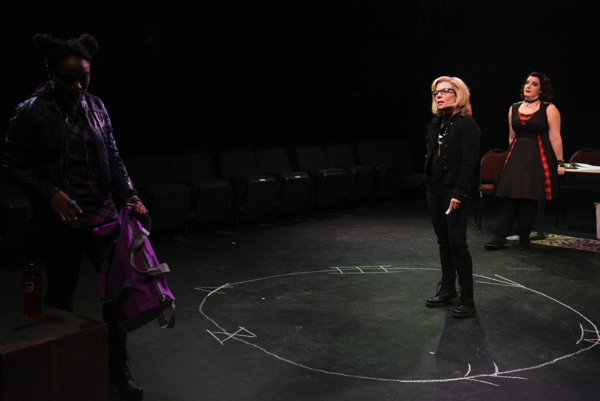 It's Magic. It's Theatre Magic. It's a Triumph at Midnight!
By Chuck Lavazzi
Run, don't walk, to the Kranzberg to see "It Is Magic," the amazing new play by Mickle Maher. Joe Hanrahan and his Midnight Company have brought us darkly edgy wonders for some twenty-four years now, but their production of "Magic," which opened last Wednesday is certainly one of their finest. It is hilarious. It's literate. It's gripping. It's even scary.
This comedy/satire/parody/witch-tale begins quite normally—in a basement room of the Mortier Civic Playhouse. Upstairs on stage "the Scottish Play" is about to have "Places!" called. Down here in the basement, auditions are (still) being held for a brand new play—an adult adaption of "The Three Little Pigs". Tim Padley (Carl Overly, Jr.) is again reading for the central role of The Big Bad Wolf. This is his third call-back, and he really wants this role—but any minute now he'll have to go up to play the Second Murderer. (And, yes, he's wearing a kilt. And yes, it is funny.)
The playwright, Deb Chandler (Michelle Hand), is conducting the auditions. Her sister Sandy (Nicole Angeli) is assisting her. (Sandy, by the way, also very much wants to play The Big Bad Wolf.) Both of these women have worked in administration for this theater company for twenty years—for a pittance. This is the first play Deb has ever written, and she's simply dying for it to be a big success. Sandy has auditioned for previous productions—again and again and again—but she has never been cast.
Michelle Hand, as always, simply embodies deep commitment and precision. She fills Deb with a desperate urgency. In his audition Deb belabors poor Tim with weird and impossible acting advice (so characteristic of pretentious and confused directors): "Deliver the speech as if your lips were not moving." "Play it like an audition, not a performance."
(Now personally I really want to see this "Three Little Pigs." It's premise is that all that the Wolf really seeks is Love.)
Ken Mason (Joe Hanrahan) stops by. He's the Artistic Director. And he is a piece of work! Yes, his "Macbeth" is opening, but Ken expresses nothing but contempt for "the magic of theatre". He's so disillusioned. It's all so boring—the play, the audience ("in their best khaki's and Keds and their chunky bracelets"), the whole affair. He finds himself reduced to using a detested, overused (and thus meaningless) word in a press release—the word "Excited".
(In the program bios I note that six of the ten folks listed describe their feelings about being involved in this production as "excited", "very excited", or "SO EXCITED". With at least some, I hope, this was intended irony.)
Carl Overly gives a soul-wrenching reading of the Wolf. Such intense commitment to this bizarre premise.
And Nicole Angeli goes him one better when she reads for the role. She makes it truly gripping!
But . . .
"By the way," Ken says, "your kiddy show, 'The Three Little Pigs,' will not be appearing next season."
Well anyway . . .
A stranger suddenly appears. This is Elizabeth (Chrissie Watkins). She claims to be a long-LONG-lost sister of Deb and Sandy. Is she a sister? Perhaps a "weird sister"?. Watkins brings fierce energy to the role.
Here things start to go really, really strange. Have Deb and Sandy been separated from Elizabeth these 400 years? Now we go deep into the dark spirit world. There are hexes and curses that manage to be both threatening and comic. Sister Deb takes chalk and quickly draws, free-hand, a large PERFECT circle on the floor. (How in the world . . . ???) She adds various arcane symbols—and we find that this theater, this play, this performance—well, "It Is Magic"! Real theatrical magic! When Ken makes the ultimate transgression against theater superstition—he utters the fatal word "Macbeth"—doom happens! What had begun as just another boring call-back audition becomes an entirely different kind of call-back—a call-back from beyond the grave. Deep questions are raised: Is immortality just a kind of death? Is the audience itself in some sense dead?
In the end the performance of "the Scottish play" upstairs devolves into a mad sort of bloody Witches' Sabbath—with the destructive scope of an Armageddon.
Playwright Mickle Maher shows true genius in this mix of goofy parody, deep intensity, and mad, limitless, inspired imagination.
This brilliant cast, under the gifted direction of Suki Peters, presents a dazzlingly funny, deeply engaging, quite unparsable triumph: "It Is Magic." It plays Thursdays through Saturdays at 8 pm at the Kranzberg through November 6.
Related Articles