Theatre Reviews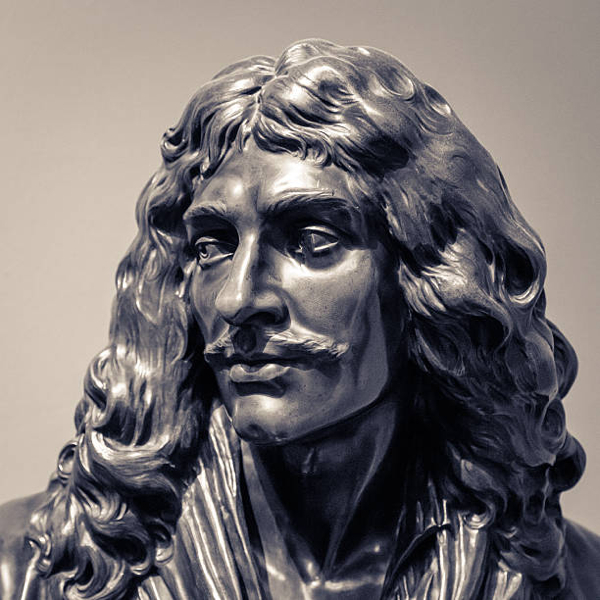 17th Century comedy is alive and sparkling with 'Learned Ladies' at Webster
Written by

Steve Callahan
I've always felt that university theatre is the best bang for your buck in town. Most such theaters have admirable physical plants as well as good set and costume shops. The often excellent student actors and designers are supervised by faculty who have dedicated their lives to the study of this art. Moreover in selecting their seasons university theaters are simply not so constrained by practical and commercial considerations as professional theater companies; thus they are free to produce (in fact it is their pedagogical duty to produce) large-cast shows and classics from the past. And their ticket prices are low.
The Conservatory's production of "Learned Ladies" is a delight. We enter the lavishly elegant 17th Century home of a wealthy bourgeois Parisian family. There are two struggles going on under this roof:
•    Struggle 1: Henriette, the beautiful younger daughter, is of an age and inclination to marry. Just which of two competing suitors will win her hand?
•    Struggle 2: Philaminte, Henriette's snooty domineering mother, has recently dedicated her own life to Books and Learning.    I.e, she worships the most pretentiously artsy writers. She has recruited her elder daughter and her own sister-in-law into this little academic project. (Echoes of Love's Labors Lost.) The rest of the family—Henriette, her father, and the servants—are not so keen on this idea. They kind of like good old common sense.
Now Henriette is in love with Clitandre, a handsome, charming young man from a most respectable family. Her marriage to him would be fine with her father, but Henriette's mother insists on her marrying Trissotin, the mother's pet poet du jour. Trissotin is an utter poseur—penniless and talentless.
But there's another complication: our hero Clitandre had once courted the older sister, Armande, and had been rejected by her. Marriage? Children? Pooh! Nothing but purely spiritual bonds for Armande. But now she kinda wants him back.
As usual with the Conservatory every actor displays splendid diction—certainly a requirement for this quick and witty script—which is in verse. This clean and graceful translation, by the way, is by Richard Wilbur, a major American poet and a great Molière translator. You'll be familiar with some of Wilbur's more modern stage work: for Leonard Bernstein's Candide Wilbur wrote the lyrics of the brilliant songs "Glitter and Be Gay" and "Make Our Garden Grow".
It's a well-constructed play, and it gives each principal a rich scene in which to take the spotlight. Amara Webb and Matthew Cox as the young lovers make a most attractive couple—she ingenuous but smart; he innocent, but eloquent. Chloe Berek, as sister Armande, has especially fine diction; she opens her mouth generously like a trained singer to allow those shapely syllables to fly free. Remi Mark is deliciously arrogant and powerful as the mother.
Magnus Kroken, as Trissotin, epitomizes the pretentious poet. (His natural shoulder- length hair makes the image perfect.) Strong support is given by Joshua Lee as the father, Maya Love as Aunt Belise, Copper Petermeier as Uncle Ariste, and Benjamin Speed as a pretentious scholar. Gillian Guthrie plays Martine the spirited maid (who is fired for a grammatical error). Anthony Comunale, Aria Maholchic and Luka Shorack get the comic most from their roles as a liveried servant, the scholar's valet and a notary.
It's a fine production. Molière's humor is very much alive and well in 21st Century.
Moliere was very much a poet and a dramatist. Actors must let the poetry stand on its own; they must focus on the drama—the thoughts and feelings of the characters. As so commonly happens with verse drama, here occasionally an actor will let the poetic meter dictate the emphasis of a line. But Mr. Petermeier, in particular, perfectly avoids this tiny error: his delivery is glowingly natural and full of cheery confidence.
Scenic design, by Fallon Podrazik, is simply gorgeous. A painting on one wall exemplifies the very detailed care given to this set: a lady in a white gown reclines on a chaise. It is a dead ringer for David's portrait of Mme. Récamier—but the lady in this painting is our actress Remi Mark herself!
Costumer Dorathy Johnston fills the stage with beautiful period gowns in lovely variety. Lighting by Grayson Norris and sound by Katelyn Gillette complete this exceptionally fine production.
Director Rebekah Scallet can be very proud of this terrific show.
"Learned Ladies" continues at the Webster Conservatory through Sunday, March 6th.
Related Articles