Theatre Reviews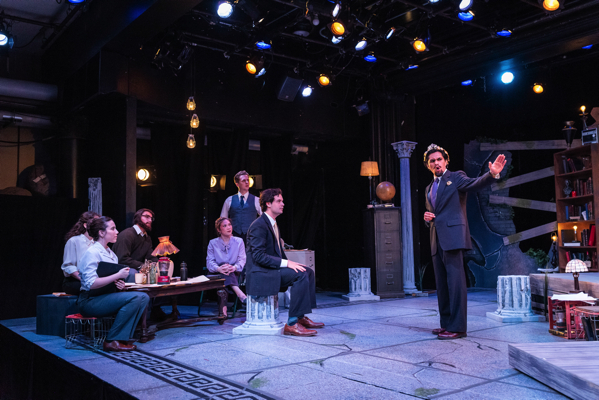 Artistic, creative, re-imagined, inventive: Webster Conservatory presents Heaney's The Burial at Thebes
Written by

Steve Callahan
"Artistic", "creative", "re-imagined", "inventive".  All those words are overused and by now are pretty meaningless.   But pretend you've never heard them before, and let me invoke them afresh to describe the impressive production of The Burial at Thebes presented at Webster University's Sargent Conservatory.  
This is a translation and adaptation of Sophocles' Antigone done by Ireland's Nobel Prize winning poet Seamus Heaney.  It premiered at the Abbey Theatre in 2004.  It is Heaney's second and last play.  As one might expect he fills it with graceful language.
As one might not expect he also drapes over the shoulders of this ancient story many allusions to the foreign policy of the G. W. Bush administration.
The plot, you will recall, concerns the aftermath of a civil war in Thebes in which the two sons of Oedipus fought for the throne.  Both were killed, but only  Eteocles has been buried.  King Creon, their uncle, has decreed that Polynices was a traitor and his body must be left as food for scavengers.  But Polynices' sister Antigone buries him anyway.  Must she die?
This is an all-student production and it shows the Conservatory's unfailingly fine attention to ensemble.  It is directed by Kylie Ferguson who gives it a very strong sense of style.  She places the story in a seemingly modern setting, but with traces of crumbling antiquity.  The set, by Lily Tomasic, filled me with wonder.  It's a great room, the center of King Creon's administration—not quite a Throne Room—more of a Situation Room.  It is astonishingly eclectic, with a great carved-wood desk on a central platform, filing cabinets (some capsized), paper, binders, book-shelves, a globe, milk-crates full of books, clutter—and ten table lamps of vast variety placed hither and yon.  There are classic pillars, or fragments of them.  A huge hole blasted into the back wall has been loosely patched with rough boards.  This set embodies crisis and disorder—in a quite timeless way.
Costumer Zoie Cox dresses the cast in modern wear, mostly that of typical bureaucratic employees.  Creon is given military, autocratic touches and wears a golden laurel crown.  Antigone wears simply jeans and a red top—a woman of granite will, quite ready to get things done.  Her timorous sister, Ismene, however wears a blatantly girly and blatantly "designed" costume:  a pink fitted jacket with layered lapels and a peplum over a short gray skirt.  Long faux sleeves float gauzily from the shoulders.  Stockings and pink and white heels.  A very stylish look for this obedient young woman.
Thomas White did the strikingly powerful and beautiful sound design—from the almost terrifying bombing which opens the show through very beautiful and deeply moving music throughout.  One passage of keening violin is almost mesmeric.  Altogether it's masterful work.
Lighting by Erin Riley is also very effective and well supports the various moods of strife and urgency, fear and even panic.  At the climax of the drama the randomly pulsating lamps add to the sense of a world coming apart.
Sydney Leiser (Antigone) and Jorge Cordova (Creon) bring great strength to these two implacably opposed people.  All supporting roles are done with deep commitment and skill:  Ashley Schwach (Ismene), Colby Willis (Haemon, Creon's son), Fabiola Cabrera (Eurydice, Creon's queen), Jacob Farmer (a frightened comic guard), Dominic DeCicco (Tiresias, the blind seer), and Carmen Cecilia Retzer (a messenger).  All of these actors (save Cordova) do double-duty as members of the Greek chorus, where they are joined by Rachel Berry and Ryan Douglass.
Director Kylie Ferguson deftly manages the complex traffic on the stage.  The movement of the chorus is especially beautifully done.  From time to time they make most imaginative use of manilla folders to pantomime a boat on stormy seas, a wall being built, etc.  All in all it's a wonderful show.
The story of Antigone, here as always, exemplifies the eternal conflict between religious authority and civil authority—or, if you will, the conflict between personal conscience and patriotic duty.   Very often a modern director will feel the urge to twist and pinch a classic story (often Shakespeare or one of the Greeks) to fit a particular contemporary social problem or movement.  Hence I've seen a Götterdiämmerung and a Medea dripping with Nazi symbolism.  There's been a feminist Macbeth.  Sometimes such tinkering reminds me of Cinderella's slipper being forced onto a foot for which it was never intended: maybe some toes will need to be lopped off.  
Heaney himself has included in his script explicit references to the G. W. Bush administration's Mid-East policy, and director Ferguson has added extracts from recorded war-policy speeches by Obama and Biden.
Usually we should take an old play on its own terms.  If a play really is pertinent to a modern problem the audience should be able to sense that resonance without explication.
Seamus Heaney's The Burial at Thebes played at Webster University's Sargent Conservatory April 1 through 3.
Related Articles