Theatre Reviews
Theatre Reviews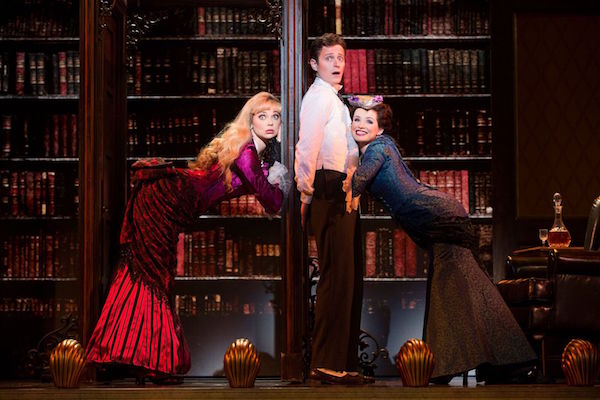 'A Gentleman's Guide to Love & Murder' kills with comedy at the Fabulous Fox
By Amy Burger
The Fox Theatre kicked of its 2016-2017 Broadway season on Tuesday evening with A Gentleman's Guide to Love & Murder, the 2014 Tony Award winner for Best Musical, appearing on its first National Tour. Set against the backdrop of Edwardian England, as the show opens, the "gentleman" in question, poor peasant Monty Navarro (played delightfully by Kevin Massey), has just lost his beloved mother. After a visit from an old family friend, Mrs. Shingle, he soon discovers his mother's life's secret -- that she was actually a member of the noble D'Ysquith family, which disowned her years ago when she married a Castilian musician, choosing love over money. 
Upon discovering his wealthy bloodline and the eight D'Ysquith heirs before him to the title of Earl of Highhurst, Monty sets in motion a murderous plot to get rid of each of them in a dark and amusing romp that harkens back to the Golden Age of musical comedy. Monty quickly embraces his new role as a dashing serial killer, and does his dirty deeds to avenge his mother and improve his station in life. He hopes to win over his long-time mistress, the beautiful but shallow Sibella (Kristen Beth Williams), who marries a man she doesn't love because he's rich. Meanwhile Monty meets and is soon set to marry his newfound cousin, Phoebe (Adrienne Eller), in a bizarre and familial love triangle. 
The real star of this show, however, is John Rapson, who plays all eight of the doomed D'Ysquith heirs, each with his (and even her) own personality and panache. He seamlessly makes the transition between more than half of the show's characters and costumes in a series of quick changes that leaves the audience's collective heads spinning. Rapson commands the stage whenever he's on it (which is often) -- bringing an over-the-top caricature quality to each D'Ysquith's untimely death -- and plenty of laughs along the way. Massey's Monty is equally charming as his foil, and the pair display great chemistry and comedic timing in their unseemly dances of death.
The appeal of Gentleman's Guide is a bit subtler than some of the better-known recent musicals. What it lacks in big, flashy numbers, it makes up for in wry humor. The best pure song and dance moment comes in Act Two's "I've Decided to Marry You," during which Monty performs a dizzying back and forth between two closed doors that hide his dual love interests, Sibella and Phoebe, both pleading him in overlapping lyrics. Overall, the songs in this show are less-than-memorable in and of themselves and mostly serve as a witty lyrical delivery of the storyline. 
Alexander Dodge's stage-within-a-stage set design is intriguing, though it does make the performance feel farther away and more confined than if it comprised the entire stage. The mini-stage, however, serves well as a frame for Aaron Rhyne's unique projection designs that illustrate various locations and animate the D'Ysquiths' death sequences. Linda Cho's period-appropriate costume designs add color and flair. 
While you may not go home humming its tunes, Gentleman's Guide is an entertaining night at the theatre and a truly original piece of writing by Robert L. Freedman (book and lyrics) and Steven Lutvak (music and lyrics) that's a breath of fresh air amid some of the more derivative and uninspired Broadway fare. 
A Gentleman's Guide to Love & Murder runs at the Fabulous Fox Theatre through September 25.
Related Articles