Theatre Reviews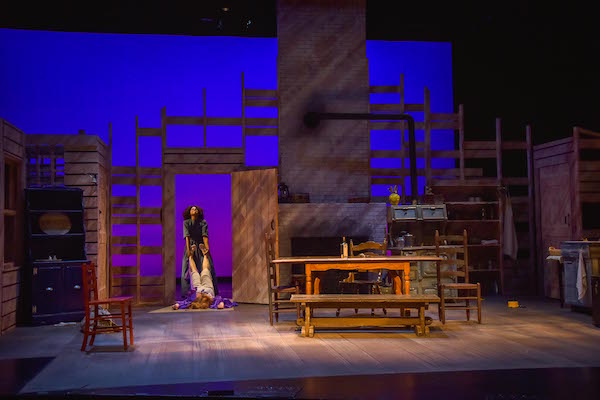 Powerful and affecting, 'Miss Julie, Clarissa and John' is a suspenseful dramatic success
The Black Rep flexes some serious dramatic muscle in the opening show of their 40th season. A love triangle, particularly one tinged with deep seeded hatred, is always ripe material for a riveting script. The stakes are heightened in the sharply written Miss Julie, Clarissa and John, as playwright Mark Clayton Southers amps up the dramatic tension and consequences by setting this triangle in the Reconstruction-era South. The relationships between races during the era, particularly in the South, were thrown in to turmoil as the nation slowly rebounded from war, creating a power structure in flux and challenging previous laws and social conventions.
The script, and inspired adaptation of Strindberg's Miss Julie, is filled with racial strife, and the lines between former slaves who still work for their former owners are particularly blurred. Miss Julie is the white daughter of the former plantation owner, Clarissa is her mixed race half-sister by her father, and John is black, a former family slave. He is also the object of Miss Julie's unabashed advances, as well as Clarissa's love and long-time companionship.
The play chronicles the midsummer's celebration at the plantation, during which the three lives are irrevocably changed. The day was traditionally reserved for celebration, with music and dances, and Miss Julie is known to be particularly uninhibited at these parties. John is fixing breakfast for the Captain, Miss Julie's and Clarissa's father, while Clarissa busies herself with daily chores. She's also preparing for the party and brewing a syrup used to cause pregnant dogs to lose the litter. The syrup is brewing at Miss Julie's request, and reveals her callous and cavalier nature towards living beings she considers beneath herself, including her half-sister and John.
Laurie McConnell shows why she's one of the busiest actresses in St. Louis with an emotionally erratic, yet deeply connected performance that captures the character's complexity. She's bold and brazen in one scene, then panicked and desperate in another and yet these disparities feel natural. Miss Julie may be a bit fickle, and there are secrets she's holding, but she's also vibrant, determined, and overtly manipulative. It is difficult to like the character, but McConnell expertly plays the sympathetic moments to ensure we remain interested.
Alicia Revé Like is more grounded and practical as Clarissa, but she too is filled with fiery emotions, and she uses her voice and physicality with great command. Her laughter and pain are clear, and authentically raw, but she's also quite perceptive, saying volumes with a small gesture or second look. Like's performance is filled with honesty and loyalty that's backed by a sharp, decisive mind. In many ways, she is the opposite but equal to her sister, and Like and director Andrea Frye deftly emphasize her qualities while McConnell desperately works to discredit them.
Eric J. Conners is compelling and intriguing as John, a man truly caught in the middle, though not due to equal affection towards the women. John is caught between slavery and freedom, between the comfort of the known enemy and the uncertainty of the unknown. Between a beautiful but skittish woman who attracts him, though he doesn't want it, and a beautiful, constant woman who has long held his heart. For the audience, Conners' actions and choices reflect the times and changing world all the characters are trying to navigate. Conners shows restraint in his choices and reactions that add gravitas to the character.
Frye mixes thoughtful hesitations, impulsive moves, and manipulated circumstances to create a tense, driven script that rings true as a psychological thriller more than a morality or period piece. The set design, by Jim Burwinkel, and costumes, by Jennifer Krajicek, set the tone, perfectly capturing the faded glory and reduced circumstances of the a grand plantation. Kathy Perkins' lighting design and period appropriate props by Jenny Smith add the finishing technical touches. Strong performances and a thought provoking script ensure the Black Rep's Miss Julie, Clarissa and John is a deeply entertaining production. The play runs through September 25, 2016 at the Edison Theatre at Washington University.
Related Articles