Theatre Reviews
Theatre Reviews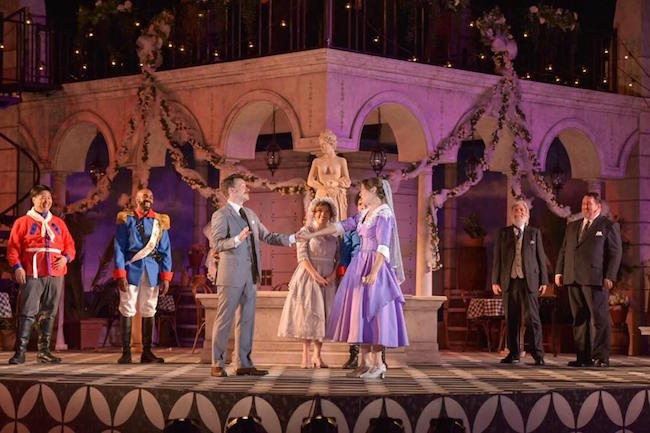 Shakespeare's much loved 'Much Ado About Nothing' is an exuberant, joyful romance
By
Shakespeare aficionados take heart, the annual festival has returned with a brilliantly witty and delightful take on a favorite. With a near perfect mix of action, comedy, villainy and romance, "Much Ado About Nothing" offers fun for audiences of all ages and the festival's production delivers the show with expert aplomb.
The St. Louis Shakespeare Festival returns to its home in Shakespeare Glen with the Bard's triumphant celebration of love, filled with mirth, ribald humor and good will. Director Bruce Longworth mines the clever script for every comic moment and works with the talented cast to deliver the lines with visual emphasis, contemporary interpretation and purposeful intention. The result is an easy to follow story with plenty of laughs and the requisite happy ending.
For all its formal attire and military flourishes, the beloved play is clearly a romantic comedy by modern standards. There are two couples central to our story. Claudio and Hero instantly fall into true and ever-lasting love but have to overcome obstacles set in their way as well as their own youthful gullibility. Beatrice and Benedick, slightly older, somewhat wiser and much more spiritedly clever, each swears to a life of singlehood as the sparks fly between them. Naturally, our attention and the comedy's primary plot is centered on Beatrice and Benedict.
Shakespeare's dialogue is sharp from the very first line of this classic comedy and the action is nearly continuous. The performers adroitly twist and turn phrases, often acting out the humor with a wink and a nod to the audience. The show is quick paced under Longworth's direction and the sub-plot involving the gracious and vivacious Don Pedro and his villainous, scheming brother Don John is integrated in ways that enhance the story.
Claire Karpen and Stanton Nash, as Beatrice and Benedick, lead an engaging and skillful cast. Karpen infused Beatrice with a more contemporary feminism that doesn't feel the least bit out of place applied to Shakespeare's witty lines. We can practically hear her heart flip flop as she is won over by the thought of love, despite her protestations. Her reactions to overheard conversations are comically exaggerated and still revealing. There's more than a hint of swashbuckler in Nash's Benedick, he walks with a swagger and confidence, whether the discussion is warfare or wooing. However, he proves himself to be a softhearted romantic with a bit of vain insecurity that keeps him likeable and often laugh-out-loud funny.
Kenneth Hamilton, Carmen Cecilia Retzer, Chauncy Thomas, Sorab Wadia, Aaron Orion Baker, Christopher Hickey, Maison Kell and Jenna Steinberg stand out in supporting roles. Hamilton and Retzer compliment each other so well that Claudio's distress and regret for his loss feels quite genuine. Hickey is obsequious and accommodating until pushed to protect his daughter, when his responses become notably more measured and firm. The contrast between Thomas's sparkling, gregarious and cupid-like Don Pedro and Wadia's scowling, surly and meddling Don John adds context and interest to the sub-plot.
Longworth finds moments in every scene and with every cast member to create relevant connections between the Bard's sometimes unfamiliar use of language and the very relatable emotions and story they relay. Kell and Steinberg are humorously supportive and vicariously delighted as Beatrice and Hero's confidantes. In addition to adding numerous funny bits, they provide reactions and nonverbal cues that connect directly with the audience, reinforcing key plot points and comic moments. Baker is heartless in his plot to disrupt Hero and Claudio's wedding plans and Michael Thanh Tran provides excellent vocal work on the integrated songs.
"Much Ado About Nothing" is a challenge to take on. The much loved, much produced script is familiar to audiences and has been reinterpreted and used as inspiration for numerous plays and movies. Set in and around a plaza in Italy, this version, with scenic design by Josh Smith, is also a visual treat that both fits in with and stands out from the natural surroundings. The color palette, lighting design and costumes, by John Wylie and Dorothy Englis, respectively, harmonize well on the background of vibrant greens of the glen. Kareem Deanes' sound effects and Rusty Wandall's live sound design, with original music by Matt Pace and Brien Seyle, complete the experience while moving the audience through the scenes.
St. Louis Shakespeare Festival's current production of "Much Ado About Nothing" succeeds by leaning into the Bard, playing with and contemporizing his wit through interpretation and telegraphed intentions. Though there may be a few thoughtful edits, the script is largely intact and the underlying spirited defense of love bristles with affection and joy. The free show continues through June 26 at Shakespeare Glen in Forest park and reservations are not required though you will want to arrive early for the best seats. Refreshments are available for purchase; you are also welcome to bring your own picnic basket or cooler. The festival invites everyone to enjoy the show and long time fans and newcomers alike are sure to find plenty of entertainment and good-natured fun in the spirited romance.
Related Articles