Theatre Reviews
Theatre Reviews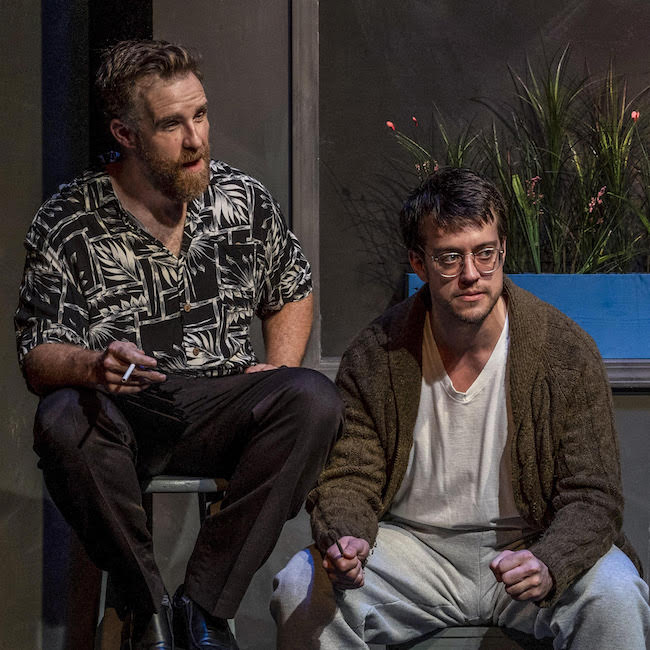 The LaBute New Theatre Festival – Set Two serves up fresh twists and entertaining variety
By
Plot twists and interesting characters abound as St. Louis Actors' Studio continues its annual LaBute New Play Festival with Set Two. Directed with a sure hand by Spencer Sickmann, the second set is more thematically varied with a number of topics and scripts that may linger on audience's minds well after the curtain.
The set features four new offerings and the continued performance of the festival namesake's new short play "St. Louis." LaBute's previously reviewed play, which closes each performance, is a humorous take on a love triangle with a final twist that provides a neat and tidy, if almost too easy, ending.
"TNT," by Steve Apostolina, explores the titillation and consequences of jumping into an affair with a coworker you don't know very well. The show introduces us to coworkers Tucker and Nunez, who run the guarded lot at a studio or production company and are polar opposites, politically speaking. The two bicker constantly until the introduction of new coworker Thompson changes the dynamic in the room. Though the script features broad use of stereotypes and some gratuitous "heavy petting," the ironic poke-at-convention ending twist works as comic relief and denouement. The cast commits believably and the ride is a lot of fun (and it could potentially be cringe inducing if mishandled).
"Maizie and Willow, Brown Penny, Blue Pillow," by John Yarbrough, is a moving story of death, dying and dignity that's lovingly and at times painfully sympathetic. The shortest piece in the festival, it is also the hardest hitting. Maizie, a healthcare professional, and her wife Willow are at a critical crossroads in Willow's end of life experience, and the two must wrestle with their own and each other's needs. The compassionate framing poses the most emotionally honest and realistically compelling questions. Director and cast expose their pain and sorrow with a subtle call for dignity. However, you may be left wanting to know more; though complete on its own, the script feels like there's more here to unfold.
"What Do They Want," by Cary Pepper is a deft comedy and another script with important and surprising twists, elevated by a touch of absurdity. Gary has retreated to the roof to work out a problem that has him both stumped and behaving a bit obsessively manic. Burt steps out to the roof to take a quick smoke break. He's feeling rather lackluster until he notices and becomes concerned about Gary. Funny misunderstandings escalate into a tense situation that may have you on the edge of your seat. The well-written dialogue has a wealth of comic opportunities written in; choosing which bits to emphasize and how to interpret each leaves room for variety and experimentation.
"Who Will Witness for the Witness," by Susan Hansell is a fairly conceptual piece that explores much more serious themes. The time-bending show reveals the contributions and fates of largely forgotten but influential women who contributed to the human efforts and sacrifices that form our understanding of World War II and the horrors of the Holocaust. We learn the stories of four women, representing the photographers, teachers and writers, religious adherents, and resistance fighters who sacrificed everything in their efforts. The idea here is admirable and the short script a lovely proof of concept for a longer, more fully scripted play. In its current edition, the tribute feels more like quick sketches when full portraits are warranted.
Set Two features the capable talents of Drew Patterson, Mara Bollini, William Humphrey, Missy Heinemann, Jaelyn Hawkins, Brock Russell, Bryn McLaughlin and Carly Uding. The ensemble and Sickmann work well together, creating relatable characters and performances that feel true to the material selected by the festival team. Patrick Huber's set and lighting designs and Carla Landis Evans costume design, fit nicely into the stories, space and festival needs, enabling quick changes and short transitions.
Taken as a whole, the short plays in St. Louis Actors' Studio's LaBute New Theater Festival Set One and Set Two, continuing though July 31, are a solid collection of evocative plays, many of which may leave you thinking about their themes. Set One stuck to more familiar situations and stories, building a satisfying thread that connected the short plays. Set Two is bolder, with more interesting twists and varied plots and I found the set a more entertaining selection of engaging new work. I enjoyed the entire festival, however, and always welcome the opportunity to discover new work, new playwrights and fresh ideas.
Related Articles