Theatre Reviews
Theatre Reviews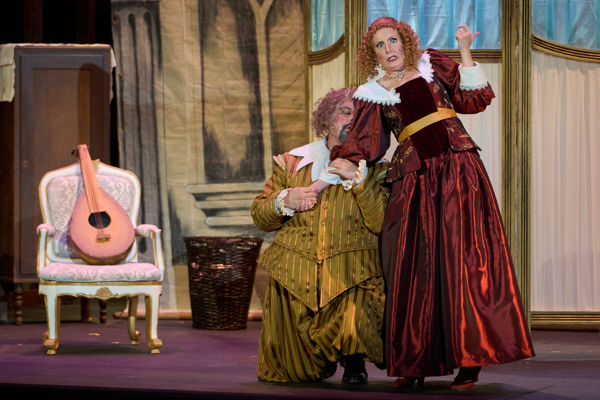 Union Avenue Opera's 'Falstaff' finds musical perfection in an imperfect space
By Chuck Lavazzi
Now in its 28th season, Union Avenue Opera has, over the decades, presented a wide range of operas—ancient to modern, intimate to grand—with a remarkable degree of success. Despite working with a small stage and a less than ideal acoustic environment in the venerable Union Avenue Christian Church, UAO's hits far outnumber its misses.
Running through August 6th, the company's production of Verdi's "Falstaff" is in some ways the quintessential UAO show. Under the skilled baton of Stephen Hargreaves, the orchestra sounds great, with Verdi's many expressive instrumental details coming through loud and clear. Individual performances range from good to stunning, both musically and theatrically, and the overall experience is immensely satisfying.
L-R Mark Freiman as Pistola. Marc Schapman
as Bardolfo. Robert Mellon as Falstaff
Photo: Dan Donovan
Flawless it isn't, but what flaws there are can largely be attributed to the physical limitations of the performance space. Transferred to an actual theatre like the Browning Mainstage at the Loretto-Hilton Center or the auditorium of the Kirkwood Performing Arts Center, this "Falstaff" would be darn near perfect. As it is, opera lovers won't want to miss it, especially since it hasn't graced a local stage in nearly three decades.
First performed in Milan in February 1893 (just a few months short of Verdi's 80th birthday), "Falstaff" was the composer's third Shakespearean opera and second attempt at comedy since his flop "Un giorno di regno" way back in 1840. It's considered by many, including yours truly, to be his greatest work for the stage, if not the greatest opera of the 19th century.
There are many reasons for that. To begin with, Verdi had the best of all possible librettists in the person of Arrigo Boito, who had worked with Verdi on "Otello" only a few years earlier. A gifted writer and composer (his "Mefistofele" is still the best of the "Faust"-inspired operas, in my view), Boito was, like Verdi, a great admirer of The Bard of Avon. His "Falstaff" libretto ingeniously combines "The Merry Wives of Windsor" with bits of the "Henry IV" plays and even hints at "A Midsummer Night's Dream" with the faux fairies of the "Herne's" Oak" scene that ends the opera.
L-R Janara Kellerman as Quickly. Brooklyn Snow
as Nannetta. Karen Kanakas as Alice.
Melody Wilson as Meg
Photo: Dan Donovan
Verdi, for his part, produced a score that departed radically from everything he had written previously. Instead of a typical 19th century Italian opera in which the action pauses for arias, duets, and other set pieces, he wrote a fast-paced through composed musical play that moves at the speed of speech. Jokes and puns fly back and forth so quickly that even the original Milanese audience probably didn't catch them all. The result is a seamless integration of words and music that is often exhilarating.
All of this makes "Falstaff" a challenge to produce. Verdi demanded over sixty rehearsals for his original La Scala cast because of the sheer complexity of the work. The sets are detailed, making scene changes potentially cumbersome. And the principal roles require performers with not only vocal and theatrical skills but comic timing as well.
Union Avenue has, I'm happy to say, a cast that meets and often exceeds those expectations, headed by baritone Robert Mellon in the title role.  His Falstaff roars, boasts, preens, and schemes—all in a big, resonant voice that reaches every corner of the theatre. His Act I "honor" monologue (one of the choice bits Boito lifted from "Henry IV") is delivered with an authority and comic force that makes it a genuine showstopper. He even manages, in the less boisterous third act, to let us see a bit of the nobility buried under the character's folly—no easy task, given that he's lumbered with an absurd fat suit that's more appropriate to a circus than the stage.
L-R Anthony Heinemann as Caius.
Jacob Lassetter as Ford.
Marc Schapman as Bardolfo.
Mark Freiman as Pistola
Photo: Dan Donovan
Falstaff's nemesis is Alice Ford, whose sharp wit punctures the absurd schemes of both her husband and Falstaff. Falstaff wants to seduce both her and her friend Meg Page, while Ford arrogantly attempts to keep their daughter Nannetta from her true love Fenton and force her into an unsuitable marriage with the ancient Dr. Caius. Lighting up the role here is soprano Karen Kanakis, whose effulgent voice and impeccable acting have enlivened many roles at both UAO and Winter Opera. Her Alice is all quicksilver wit and irresistible charm.
Mezzo Janara Kellerman is delightful as Dame Mistress Quickly, Alice's chief co-conspirator. Verdi saw the role as "the most individual and original" of the four women's parts. The three scenes he wrote for her in Acts II and III are comic gems and Kellerman makes them shine. The part calls for a contralto, but Kellerman sounded perfectly at home in it.
The massive talents of soprano Brooklyn Snow and mezzo Melody Wilson are rather underused in the roles of Nannetta and Meg, respectively, but their finely wrought performances demonstrate the value in putting star performers in supporting roles. Snow also has some charming moments with tenor Jesse Darden's Fenton as his limpid voice joins with hers in love duets that are invariably interrupted by the plot's comic complications.
Tenor Marc Schapman and bass Mark Freiman make a first-rate pair of clowns as Falstaff's wily minions Bardolfo and Pistola. The role of the clueless Dr. Caius offers little opportunity for tenor Anthony Heinemann to display his wide vocal range, but he does get to show off his fine comic timing.
Brooklyn Snow as Nanetta
and Jesse Darden as Fenton
Photo: Dan Donovan
Baritone Jacob Lassetter's voice packs a serious punch in Ford's big "revenge" monolog "È sogno o realtà?" ("Is it a dream or reality?") but his acting is a bit monochromatic. Verdi saw Ford as a character "who, in a towering outburst of jealousy, roars, screams, jumps all over"—a larger than life counterpoint to Falstaff. A bigger stage presence was called for, I thought.
The UAO chorus does fine work with some difficult music here thanks to the meticulous direction of company Artistic Director Scott Schoonover. They are not always easily understood, but the blame must rest with the imperfect acoustics of the Union Avenue Christian Church. Indeed, the tendency of the space's overly resonant acoustics to sometimes turn Verdi's multi-layered vocal lines to mush, especially in the brilliant fugue that concludes the opera, is probably the production's biggest flaw. And one that is, alas, entirely out of UAO's control.
The UAO stage was also an issue, simply because of its small size. The libretto calls for multiple sets, with the most elaborate being the room in Ford's house where the madcap farce of Act II takes place. Lex Van Blommenstein's scenic design evokes the feel of Shakespeare's Globe theatre, with a massive wooden framework supporting painted scrolls that were apparently designed to roll up and down quickly. In practice, doing so required multiple stagehands to laboriously raise and lower each one, resulting in scene changes that seemed to go on forever and killed the forward momentum in the middle of each act.
Even so, stage director Jon Truitt shows the same skill in maneuvering large forces around a small stage that served his Winter Opera production of Puccini's "La Fanciulla del Weat" so well two years ago.
Still, these are relatively minor blemishes in an otherwise outstanding production of Verdi's final masterpiece. Add in Teresa Doggett's bright period costumes (that fat suit not withstanding) and you have a "Falstaff" that must be seen.
Performances of Verdi's "Falstaff" continue through Saturday, August 6th, at the Union Avenue Christian Church on Union in the Central West End. Information on this and the company's final show of the season, Sondheim's "A Little Night Music," are available at the UAO web site.
Related Articles