Theatre Reviews
Theatre Reviews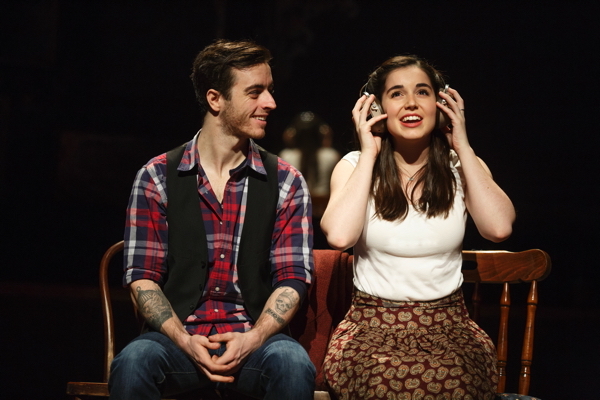 We needed 'Once' two weekends
By
The slow-burning hit musical Once played at the Fox last weekend for five quick shows before the tour moved on to other cities, and if you missed it, you missed out on something special. The show was "delicious," as a friend of mine said, with soul-piercing music and moving performances by the entire ensemble. 
Once turned the enormous Fox theatre into a small, intimate, warm setting with its cleverly-designed set that put the 4,500-person audience together in a small Irish pub with lights that felt like small bonfires in a dark field and cloudy mirrors that reflected shimmery visions of the cast. From the orchestra, every note and every word of the show were clearly heard. There was no curtain; the show began with players and audience members on stage having what felt like an impromptu jam session. Audience members were ushered to their seats slowly during the jam, and eventually, one of the performers sang and played a lilting Irish folk song on his mandolin as the lights lowered and our attention unconsciously turned to the story unfolding. 
Guy entered and played half a song from his heart for a small crowd at the pub, quitting before he finished because the emotions were too much for him. He had written this song for a girl he could no longer have and was ready to give up music entirely. Girl, moved by his music, wasn't having it. She forcefully inserted herself into Guy's life because she believed everyone deserved to hear his songs. They were falling in love, maybe, but it was complicated because they each had responsibilities to others. What's clear is that they were able to give one another exactly what each needed.
Sam Cieri played Guy with perfection: every shrug, every high note, every grunt was the embodiment of his character. Mackenzie Lesser-Roy as Girl was refreshing and honest, and her voice is one of the most lovely I've heard on stage in years. She sometimes forgot she was supposed to be Czech, but I forgive her for it -- accents are so difficult to maintain, and she was so likable that much of the audience never noticed when her American accent came through. 
The two leads were supported by an ensemble of leading men and women; everyone in the cast played multiple instruments while dancing. They never left the stage, came in and out as different people and each new character was as believable as the last. Liam Fennecken stood out as Švec; with only a few lines, he had the audience laughing and loving him, and his musicianship was extraordinary. Jenn Chandler stunned with her ability to sing badly when she is, in reality, a very adept vocalist. It is arduous for trained musicians to fake incompetence with music. 
The story of Guy and Girl was aching and rings with truthfulness; its love story for Dublin woven skillfully through the plot. Based on the film Once by John Carney, Enda Walsh adapted the screenplay skillfully for the stage. When sung by Cieri, Lesser-Roy, and this ensemble, every song by Glen Hansard and Markéta Irglová sounded like a timeless hit. 
Once, directed by John Tiffany, played at the Fabulous Fox September 30 through October 2. 
Related Articles