Theatre Reviews
Theatre Reviews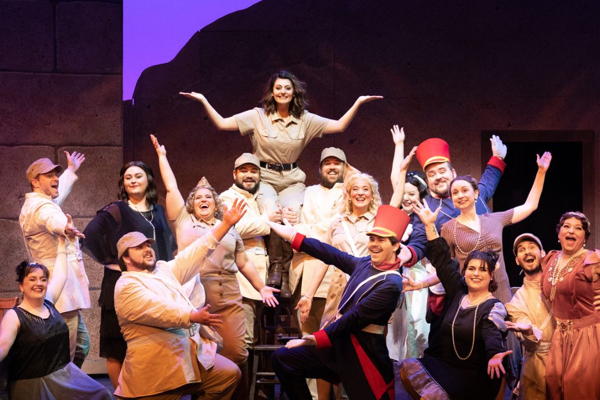 The sands of time have not been kind to 'The Desert Song'
By
The 1926 operetta "The Desert Song," with music by Sigmund Romberg and a libretto by Oscar Hammerstein II, Otto Harbach, and Frank Mandel, was an unqualified hit on Broadway (471 performances) and in London (432). In his Encyclopedia of Musical Theatre, historian Stanley Green described it as "the most durable of all Bway [sic] operettas." In Operetta: A Theatrical History, Richard Traubner called it "one of the 1920s' greatest operettas."
"The Desert Song" was filmed three times (each one more unlike the original than the last one) and was, until recently, a favorite of student and community theatres. The Muny produced it a dozen times between 1930 and 1979. It also presented the last local staging of it (in concert form) back in 1996.
Lauren Nash Silverstein and Colin Levin
Photo: Rebecca Haas
It hasn't been seen here since then to the best of my knowledge. This Friday and Sunday (March 3 and 5) Winter Opera St. Louis (WOSTL) is giving those of us who know the work only through recordings or the silver screen the chance to find out what all the fuss was about.
This "Desert Song" has a new book by Ball State University theatre professor David Little that's intended to downplay the sexism and trite Orientalism of the original while still retaining all of the music and characters. Having seen the final dress rehearsal on Wednesday, I'm not sure the results are entirely successful. Winter Opera's cast members are outstanding singers and credible actors, but there's only so much a performer can do with a libretto that, despite the revisions, still feels antiquated and silly.
The 1926 "Desert Song" was a mashup of standard operetta tropes and then-current events and literary trends. The real-world events included the 1925 uprising of the Riffs against the occupying French army in Morocco and the adventures of T.E. Lawrence (a.k.a. "Lawrence of Arabia"). Fictional influences included the silent screen passion of Rudolph Valentino and the sexually tinged fiction of Elinor Glyn. Little's revision appears to retain the literary inspirations but turns Morocco into the fictional Sharabhat and the French into the Marnish.
He needn't have bothered. Hammerstein and Harbach's Morocco is just as unreal as Little's Sharabhat, and the plot—a mélange of "Robin Hood," "Zorro," and "The Sheik"—is absurd no matter where it takes place.
The capsule version goes like this:
Under the leadership of the mysterious masked hero known only as The Red Shadow, the Riffs are conducting a guerilla war to rid themselves of the oppressive French (sorry: Marnish) army under the command of General Birabeau, whose apparently feckless son Pierre is secretly The Red Shadow. In his red mask, Pierre falls hard for the enticing Margo Bonvalet despite her engagement to the dull Capitan Fontaine. Fontaine, meanwhile, has not quite gotten over his infatuation with the sensual and treacherous dancing girl Azuri. Throw in a comic romantic subplot with the somewhat fey reporter Bennie Kidd and his brassy blond secretary Susan and, for no discernable reason, a troupe of Spanish dancers who are (sort of) prisoners in the harem of The Red Shadow's ally Ali Ben Ali, and you have a narrative that requires maximum suspension of disbelief.
Lauren Nash Silberstein and Jason Mallory
Photo: Rebecca Haas
The performances of Winter Opera's fine cast and the playing of the small but mighty orchestra under the baton of Dario Salvi are what make "Desert Song" entertaining enough to be worth nearly three hours of your time, at least for lovers of operetta. Others might find it less enticing.
Pride of place must go to the Margo of soprano Lauren Nash Silberstein, whose clear voice leaps easily up to those high notes so fond of operetta composers. When I saw her in Winter Opera's "La Rondine" last fall, I described her as "sparkling and charismatic." She is here as well, despite the sheer silliness of her character. Apparently taking the advice of Liza in "Lady in the Dark" ("Don't make up your mind!"), Margo waffles back and forth in her affections so frequently that she seems a bit demented. Nash Silberstein's performance was great fun to watch nevertheless, which is a signal accomplishment.
Lyric baritone Colin Levin is charmingly fatuous as Pierre, but his Red Shadow is more pompous than heroic. With or without the mask, though, he's an excellent match for Nash Silberstein in vocal agility and power. Their big duets ("Then You'll Know" and the title song) radiate exactly the kind of musical enchantment one wants to hear in an operetta.
Speaking of great voices, let's throw a laurel wreath towards lyric tenor Taylor Comstock making his WOSTL debut as the Red Shadow's second in command, Sid El Kar. His heroic high notes in the opening numbers "High on a Hill" and the famous "Riff Song" get the show off to a rousing musical start, backed by the solid male chorus. He also gets to show off his stunning head voice and falsetto in "One Flower in Your Garden" in Act II.
Tenor Alexander Scheuermann captures just the right comic spirit as Bennie. "It," his act I duet with alto Holly Janz's Susan, is funny without stooping to camp, although the once-topical references might send many audience members to Professor Google for clarification. Janz, for her part, does the classic blonde airhead bit quite well.
Kelsey Amanda and Jason Mallory
Photo: Rebecca Haas
Another fine singer, baritone Jason Mallory is a persuasively stuck up Capitan Paul Fontaine, and his gradual meltdown under the intense heat of Kelsey Amanda's Azuri in Act II is nicely done. As Ali Ben Ali, baritone Jacob Lassetter displays the same surprisingly potent low notes that so impressed me in his Ford at Union Avenue Opera's "Falstaff" last August.
Other notable performances include Christian Bakhoum Sanchez's stout hearted Clementina, rebellious head of the Spanish dance troupe, and baritone Gary Moss's General Birabeau. A WOSTL regular, Moss has displayed his flair for comedy in many productions over the last decade or so and does it again here.
Stage Director Jon Truitt, who has shown such skill in maneuvering large casts around the Winter Opera stage in the past, has his work cut out for him here. The creators of the 1926 "Desert Song" envisioned (and originally got) a large cast with sizeable singing and dancing choruses. Neither Winter Opera's budget nor the Kirkwood Performing Arts Center's stage can support anything as lavish, but even so there are times when that stage is packed with people. That's especially true during the many dance numbers which, frankly, should probably have been cut. Yes, Romberg wrote some charming music for them, but the Winter Opera choristers are much better singers than they are dancers.
The bottom line, for me, is that while I have greatly enjoyed Winter Opera's previous forays into the realm of classic operetta—their 2016 "Merry Widow" is still the stuff of legend—attempting to rehab a theatrical antique like "The Desert Song" might have been a bridge too far. Granted, I saw a somewhat rocky dress rehearsal. But even so, Romberg, Hammerstein, Orbach, and Mandel set out to create a lavish swashbuckling spectacle, and in the hands of a company with very deep pockets and a very big stage (Lyric Opera of Chicago, for example), it could probably still be one.
You can get some sense of that from the surviving scenes of  the 1929 film version available on YouTube. "The Desert Song" does not, however, downsize that well, despite the large amount of talent involved in this production.
Performances of Winter Opera's "The Desert Song" are Friday at 7:30 pm and Sunday at 2 pm, March 3 and 5, at the Kirkwood Performing Arts Center. For more information, visit the Winter Opera St. Louis web site.
Related Articles