Theatre Reviews
Theatre Reviews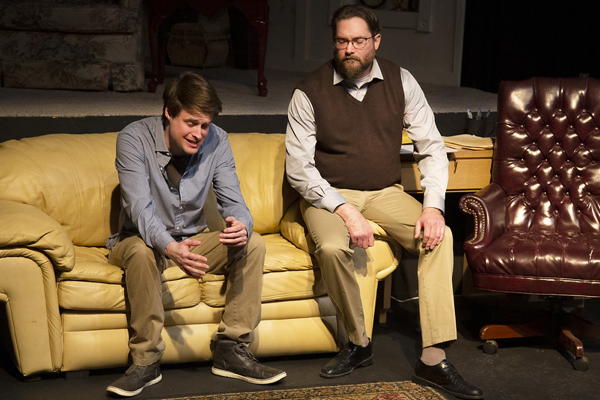 Clayton Community Theatre brings a beloved novel to the stage with 'Ordinary People'
By Chuck Lavazzi
Some audience members may recognize the title "Ordinary People" from either the acclaimed novel by Judith Guest, or its brilliant 1980 film adaptation directed by Robert Redford, which won the Academy Award for Best Picture. In many ways Nancy Gilsenan's stage adaptation is a gem for community theatres—with its relatively small cast, "star vehicle" role for a bright young actor, and lack of technical demands. In exchange for its relatively simple staging, the plot is rooted in deeply complex relationship dynamics that require a tight handle on communicating the emotional intricacies of the central characters. Clayton Community Theatre's production is a sincere effort with some noteworthy performances.
This play follows the lives of the affluent Jarrett family in the wake of the unexpected loss of the eldest son and older brother, Buck. The three remaining members of this well-to-do family each handle their grief in different ways: Conrad (played by Jeremy Schnelt), Buck's younger brother, falls into a deep depression and has been recently hospitalized for attempting suicide. Conrad's mother Beth (played by Tracy Murphy), tightly wound and unempathetic, smothers her pain by staying busy with appearance-keeping social events. And Calvin (played by Alex Alderson), the wounded father, quietly tries to keep his small family together. Beth and Conrad's grieving styles conflict so deliberately that it seems only one will be able to find peace in the end—at the expense of the other's suffering.
CCT's production, directed by Jessica Johns Kelly (recipient of multiple Outstanding Director nominations from Arts for Life) is simply constructed, and mines the script for levity. Tim Kelly's scenic design consists of a gorgeously ornate living room on the lifted main stage, with a collection of smaller, partially realized playing spaces across the floor for other settings. Kelly's direction used the space to its full potential, though much of the movement given to the actors doesn't seem to connect to their character's intentions.
Gilsenan's adaptation overall stays true to the source material, lifting much of the dialogue directly from the book. However, it also focuses much more on Conrad's trajectory than that of Calvin and Beth's. This is a subtle departure from the source material, which alternates between Conrad and Calvin's points of view. Perhaps it would have had greater impact to show more of Calvin's narrative, but audience members who identify most with the teenage boy may appreciate seeing a deeper exploration of his struggles with school and friends.
While some comedic relief is welcome in such a dramatic play, in this case it overtook a core relationship in the story. Conrad's new therapist, Dr. Berger (played by Brad Kinzel), is fantastically integral to Conrad's character development. Kinzel gives a fine enough performance as the doctor, but this production prioritizes the character being charismatic to the audience over being kind and supportive to the suicidal teenager in front of him. It is a missed opportunity to establish true tension and anguish on the part of Conrad, and overall diminishes the reward of their "breakthrough" in the second act. There are also other ways to relieve dramatic tension outside of playing for laughs-- the earlier scenes in which Conrad's defenses are up and Berger is trying to figure him out are extremely stimulating in an intellectual way, if staged effectively.
"Ordinary People" simply could not be produced without an actor who is up to the challenge of playing Conrad. Jeremy Schnelt captains this production with emotional sincerity. Tyler Crandall, playing Conrad's old school friend Joe Lazenby, is fiery while still conveying depth of emotion. Nadja Kapetanovich charms as Conrad's crush, the empathetic and gentle Jeannine, and Sarah Vallo is a standout as Conrad's troubled friend from the hospital, Karen. Tim Naegelin and Tyler Webster round out the cast.
Fans of the gorgeously nuanced novel by Judith Guest may enjoy seeing local performers breathing new life into these tragic characters.
"Ordinary People" at Clayton Community Theatre runs through April 2nd. For tickets and information go to the Clayton Community Theatre website.
Related Articles