Theatre Reviews
Theatre Reviews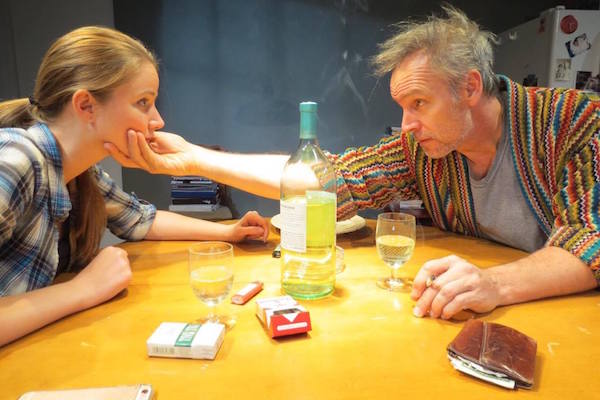 'I'm Gonna Pray for You So Hard' is a brilliant coup de théâtre
By
It was a brand new neighborhood for us -- a few blocks of vibrant redevelopment on Locust just a little east of Grand Center. We sensed the energy of the place as we neared the theater. The Satori is a small neat performance space with a very professional feel to it. We'd come to see a play called I'm Gonna Pray for You So Hard produced by director Tom Martin's Blue Rose Stage Collective. This play blew us away! In the role of David, a Pulitzer-winning playwright, Michael James Reed gives a truly bravura performance -- one of the most wonderful I've ever seen. He's beautifully supported by Taylor Steward, who plays his daughter, Ella, an aspiring actress. 
Father and daughter are awaiting the reviews of a production of The Seagull. Ella had desperately wanted to play Nina, the central role, but she'd been cast in the lesser role of Masha. What's more the review, when it comes, raves about Nina, while Ella's name is mentioned only in parentheses -- which is hardly better than no mention at all.
For the major part of the evening the play is nearly a monologue by David as he harries and berates and encourages and frightens and praises and shames and loves and humiliates his daughter -- and gets drunk and high with her. This is a deeply damaged and co-dependent relationship. David has dark demons in him that have made him a great playwright and a lousy father. And he seems intent on passing those demons on to Ella. Ella is desperate to make her father proud of her. 
Now I tend to avoid plays about dysfunctional families -- they're too easy and they often say little about the general human condition. And I really don't need another self-obsessed play about the agonies of a young actor or writer desperate for celebrity.  But this play (which sits across both of those genres) utterly gripped me. Just how far will a daughter go to gain the love of an emotionally abusive father?  And how far will a father go to force his own life decisions onto his daughter?
David drenches the girl with advice about how to succeed, with rationalizations about why she didn't get that role, with the oft-told tale of his own troubled apprenticeship to a great playwright. "Be like me!  Be like me!" is really what he's saying. But finally Ella can stand no more; she leaves.
Five years pass, and we meet the new Ella. Like so many unemployed young actresses she has written and produced a one-woman show for herself. It's autobiographical; it capitalizes on her tortured relationship with her father, and it's a hit. But, personally, she has internalized the worst aspects of her father -- and many of his phrases. Then we meet the new David. It's an astonishing transformation. I won't spoil it by giving details, but it is both bizarre and beautiful, poetic and profoundly believable, and Michael Reed handles it so masterfully. It's a real coup de théâtre.
The playwright is Halley Feiffer, the daughter of Jules Feiffer, who had his own apprenticeship to the great cartoonist Will Eisner. So perhaps daughter Halley is, with this play, acting out her own version of Ella. Who knows? In any case, it's a terrific accomplishment. I'm Gonna Pray for You So Hard runs at the Satori through November 6.
Related Articles