Theatre Reviews
Theatre Reviews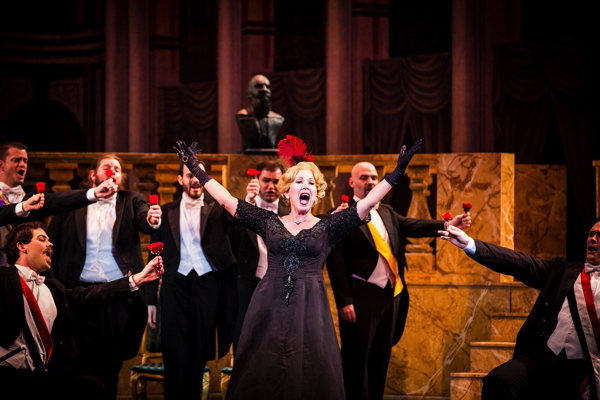 Winter Opera unpacks an early Christmas present with 'The Merry Widow'
By Chuck Lavazzi
As the first catalogs of Christmas made their way to our recycle bin last, Winter Opera opened an early Christmas present for opera lovers last weekend, October 28 and 30, with a production of Franz Lehár's durable 1905 comic operetta The Merry Widow. As bubbly as champagne and as bright as a Christmas tree, this charming and entertaining show was one of the company's best.
If you've never seen it either on stage or in one of its many film incarnations, know that the story of The Merry Widow revolves around Hanna, a youngish widow from the fictional Balkan nation of Pontevedro, who became a millionaire when her much older husband died on their wedding night. Living the high life in Paris, she's actively courted by young men with their eyes on the twenty million franc prize, but she secretly yearns for her first love, Count Danilo, who was forbidden to marry her many years ago by his snobbish family.
Now a minor official in the Pontevedrian embassy trying to drown his torch for Hanna in champagne and grisettes at Maxim's, Danilo is ordered by the ambassador, Baron Zeta, to woo Hanna and marry her, thereby keeping her millions from leaving the country. But, of course, Danilo's pride won't let him say those "three little words" to Hanna. You know where this is all going, right?
There's also a subplot concerning Zeta's young wife Valencienne and her brief fling with a young Frenchman, Camille de Rosillon, as well as a recurring gag about the obsession of the embassy attache, Njegus, with the girls at Maxims. Needless to say, all ends happily with a big party.
First and foremost among this production's many virtues is the uniform strength of its cast. Winter Opera has been somewhat uneven in this regard in previous the past, but this time around everyone is simply perfect, beginning with soprano Kathy Pyeatt, who demonstrated how to "glitter and be gay" (or quote a song title from Candide in the crucial role of Hanna. Her voice was liquid gold all the way to the top of its range, making the popular second act aria "Vilja" a thing of beauty. She's also a fine actress, always in character even when not in focus.
Tenor Clark Sturdevant was a perfect match for Ms. Pyeatt as Danilo. The role lies a bit low for most tenors and is not infrequently sung by a baritone with a solid head voice, but Mr. Sturdevant sounded entirely comfortable with it. He, too, had solid acting chops, which gave the scenes between him and Ms. Pyeatt a convincing reality.
Among the supporting cast, mezzo Holly Janz stood out as Valencienne. The role is written for a soprano but -- as both her singing here and a quick glance at her biography demonstrated -- Ms. Janz is comfortable with soprano roles as well. Tenor Jack Swanson was an excellent vocal match for her as Rosillon, and their scenes together had real charm.
Baritone Gary Moss was a comically clueless Baron Zeta. I'm not sure why he was the only Pontevedrian with a vaudeville "Balkan" accent, but he certainly made it work for him. Baritone Curtis Shoemake was also a delight as the excessively enthusiastic Njegus.
The chorus is important in Merry Widow, and Chorus Master Nancy Mayo can take pride in how well her forces did their jobs, singling clearly and with impressively precise elocution. It helped that the (uncredited) English translation sounded very natural, often making the English supertitles unnecessary.
Director Dean Anthony clearly has a good eye for what works well on a stage. His blocking always made sense and his pacing was unfailingly right. There's no choreographer credited in the program, but whoever it was (possibly Mr. Anthony himself?) did an excellent job of keeping the real dancers front and center in the second act party scene while providing easily executed steps for the non-dancing singers in big ensemble numbers. The minstrel show-style tambourine number for the male principals in "Girls, Girls, Girls" was also an inspired (and well executed) bit of comedy.
Scott Schoonover did his usually fine job conducing the orchestra in a generally very well played reading of Lehár's unforgettable score. There were a few bits of sloppy brass intonation at the very beginning when I saw the show on Sunday, but otherwise the band sounded quite good. However, I wish Mr. Schoonover hadn't decided to cut the engaging overture.
Scott Loebl's sets were nothing short of beautiful, with a wonderful trompe e'loeil backdrop for the Pontevedrian embassy that looked positively three dimensional. JC Krajicek's lavish and colorful costumes added to the overall visual richness of this production.
Ultimately, the worst thing to be said about Winter Opera's Merry Widow is that there were only two performances of it. If Winter Opera is going to continue producing work of this quality, it really needs longer runs. For more information on the current season, including the annual Holidays on the Hill concerts on December 6 and 7.
Related Articles