Theatre Reviews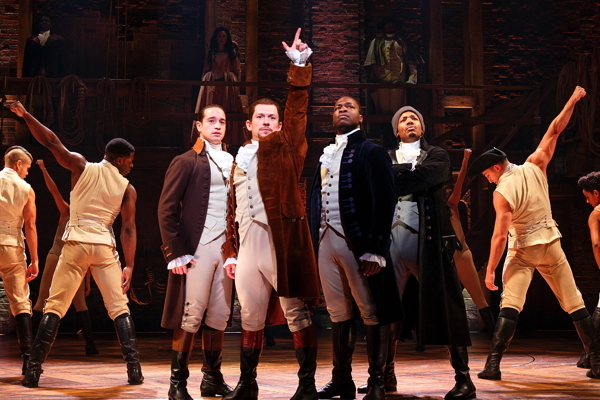 In Chicago, a spectacular 'Hamilton' sings a song of diversity
Let's cut to the chase: you know all those things you've heard about how intelligent, theatrically powerful, and just generally wonderful Lin-Manuel Miranda's hit musical Hamilton is? Well, they're all absolutely correct. This is a flat-out brilliant piece of musical theatre that manages to be both educational and entertaining at the same time.
Tickets for the Broadway original are almost impossible to get, but fortunately the PrivateBank Theatre in the Chicago Loop is hosting the only other open-ended run of Hamilton in the country. That makes the trip north well worthwhile.
If you've somehow missed all the hype surrounding this amazing show, know that Hamilton is the story of Founding Father Alexander Hamilton, including his heroic leadership during the Revolutionary War, his rapid rise to and fall from political power, and his friendship and rivalry with Aaron Burr, who finally killed Hamilton in a duel over the latter's support for Burr's political rival, Thomas Jefferson.
That might sound like dry stuff, but Mr. Miranda tells the tale with a non-stop torrent of deliberately and cheerfully anachronistic hip-hop, rap, soul, and even a bit of big-band jazz and 1960s pop. Thomas Kail's direction and Andy Blankenbuehler's sharply contemporary choreography move the story along at a breezy pace that makes the show's running time of just under three hours pass far too quickly, and the performances from the ensemble cast are nothing short of stunning.
In this version of Hamilton's story, the cast is aggressively diverse. Jefferson, Burr, Lafayette, and George Washington are all black. Hamilton is Latino. This is, in short, an ensemble that looks like America in 2016 instead of 1776. That makes the story feel sharply contemporary and reminds us that the men and women who made this country possible weren't carefully posed images in paintings, but living, breathing, and very fallible human beings. It's the sort of thing the now-classic musical 1776 did over four decades ago.
Heading this incredible cast are Miguel Cervantes as Hamilton and Joshua Henry as Burr. Mr. Cervantes (who alternates in the role with Joseph Morales) radiates determination and energy as the man who is repeatedly asked, "Why do you write like you're running out of time?" His performance has an urgency that's matched by Mr. Henry's Burr, who is in a constant war between his admiration of Hamilton's ability and his jealousy of the success it brings.
Ari Afsar is a sympathetically appealing Eliza, Hamilton's long-suffering wife, who finds her way to forgiveness for his affair with Maria Reynolds (a seductively smoky Samantha Marie Ware) and goes on to shape an important legacy of her own. Karen Olivo is a passionate Angelica Schuyler, Eliza's sister and a woman with whom Hamilton had a devoted but (at least in this version of the story) entirely intellectual relationship.
Chris De'Sean Lee is a lively comic presence as both Lafayette and Thomas Jefferson and Jonathan Kirkland perfectly captures George Washington's quiet authority. Wallace Smith shines in the sharply contrasting roles of James Madison and revolutionary spy Hercules Mulligan. And José Ramos was wonderfully affecting in the roles of two doomed characters: Hamilton's friend John Laurens, who is killed in a completely unnecessary battle with the British, and Hamilton's son Philip, slain in an equally pointless duel defending his father's honor.
The day we saw the show, Jin Ha was hilariously effete as King George III (the role is usually played by Alexander Gemignani). His song "You'll Be Back," which treats the colonies as unfaithful lovers ("Remember we made an arrangement when you went away, now you're making me mad") is, appropriately, a mock-1960s "British invasion" ballad.
That song is just one example of Mr. Miranda's seemingly limitless musical imagination. His score is filled with ingenious touches. When, for example, Jefferson makes his appearance at the top of the second act, having spent the entire revolution in France, his song "What'd I Miss?" written in the style of the late big band era, suggesting how out of touch he is with the more contemporary sounds of the other characters. The debates between Jefferson and Hamilton are staged as rap contests, complete with hand-held mics, in which the characters cheerfully dis each other in rhyme. And the lyrics are filled with theatrical references, from Shakespeare to Gilbert and Sullivan and even Oscar Hammerstein II.
The set by David Korins is simple and suggests a late eighteenth-century wharf, with brick walls and a high wooden catwalk along the back and sides of the stage. Set pieces are whisked on and off to suggest scene changes, often with the help of a turntable. It's all very fluid and seamless.
There's currently no announced end date for the Chicago run of Hamilton. Tickets are currently being sold well into the summer (a Facebook friend just announced that he had seats for July) and I expect it will continue beyond then if sales warrant it. I assume a tour will play the Fox at some point, but I think this is a show that really deserves to be seen in a Broadway-sized house like the one in Chicago. The lyrics are rich, inventive, and often rapid-fire, and I expect many of them might be lost in the Fox's acoustics.
In nations, as in nature, diversity is a source of strength. Hamilton is a reminder of that strength. We are, as JFK wrote in his book of the same name, "a nation of immigrants," so it's encouraging to note that, when we saw Hamilton, spontaneous applause burst out when Jefferson and Hamilton sang "immigrants: we get the job done." Information on Hamilton and other live theatre in Chicago is available at the Broadway in Chicago website.
Related Articles