Theatre Reviews
Theatre Reviews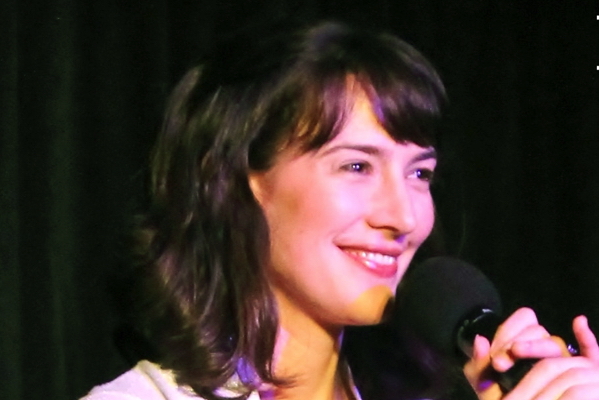 A Delightful, moving evening of cabaret with Brooke Michael Smith
By
Brooke Michael Smith had a wardrobe malfunction on the opening night of her cabaret show, The Girl I'm Meant to Be, at The Monocle in St. Louis, on Friday, November 18. She didn't have a wardrobe. In her excitement she had forgotten to bring the dress she had planned to wear. No matter. As the dress was fetched from home, it gave the audience 15 minutes to get acquainted with each other, and ultimately this delay, which might have derailed a lesser performer, was the only hiccup in a delightful, funny, moving evening of cabaret.
As a reviewer and practitioner of cabaret, I still find myself explaining exactly what cabaret is. It is this: telling stories through song. As such, it is not so much about brilliant vocal production, as you might expect from a recital. Rather, it is imperative that the singer find songs they connect to in order to tell those stories. Smith's audience was happy to find that she had accomplished both emotional connection and splendid singing. This is no surprise in that her director is the Tony award-winner, Faith Prince, who is a brilliant teacher of the art of cabaret and demands such connection of all her students.
Onstage, Smith, apropos of her show's title, The Girl I'm Meant to Be, projects an attractive, smart, slightly gawky girl-next-door aura with an open yet rueful smile that reminds this reviewer of Sarah Paulson. And while she hits all the beats of a typical autobiographical cabaret show -- born here, went to school there, moved here, met and married there -- the stories and songs lead to surprises that are by turns hilarious and touching. She is ably assisted onstage by her Music Director, Eryn Allen, on the piano. Allen's arrangements were spare or lush depending upon the demands of the song and its emotional content, and she was perfectly in sync both musically and tonally with Smith throughout the show.
Most impressive to me from a performance standpoint was that fact that Smith not only plays the guitar on a few songs but wrote some of them. Using material unfamiliar to an audience is always risky, yet in these moments, Smith's smart writing, crisp diction, and emotional commitment made her original songs easily accessible and clear highlights of the show.
Because the material in a cabaret show can be highly personal, the performer has to walk a narrow line between being too open and too reserved. Smith treads that line effortlessly, and I always felt that she was giving me the gift of creating a space for the audience to have their own emotional experience. This was especially true for me near the end of the show when Smith, talking about the profound experience of being a mom, allowed me to reflect on my own life as a pediatrician. This emotional resonance is what cabaret is all about, and I am grateful to have been present.
I urge you to be on the lookout for Brooke Michael Smith is a cabaret venue near you. She is not to be missed. Meanwhile, cabaret continues on a regular basis at The Monocle in The Grove.
Related Articles