Theatre Reviews
Theatre Reviews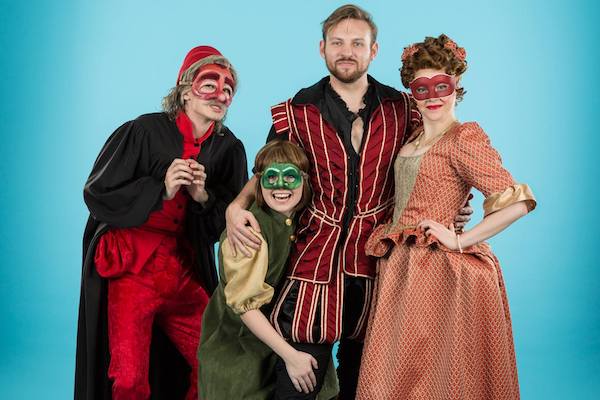 A Wagonload of colorful commedia rolls into Webster Conservatory.
By
The Glorious Ones has opened at Webster Conservatory. It's a fond, loving, bawdy musical bouquet to the memory of one of the most enduring traditions that ever graced the stage: the commedia dell'arte.
This style of comedy flourished in Italy in the sixteenth century. It featured the first truly professional actors--though they were viewed by society as "vagabonds, rogues and thieves." commedia was often performed in the streets on wagon stages. Using stereotypical characters and costumes the actors improvised from a repertoire of standard comic scenarios. Commedia endured in Italy and France until it was banished by Napoleon because it was getting too political. It has influenced written comedy for centuries and we still hear its echoes in theater, film and television.
The Glorious Ones is an intimate musical, with book and lyrics by Lynn Ahrens and music by Stephen Flaherty--the team who gave us Ragtime, Once on This Island, Seussical and Rocky. The story here concerns a small Commedia troupe and their struggles to survive with their improvised plays against the incursion of scripted comedy into the entertainment world. (It's analogous to the forces at play in Singin' in the Rain, where silent-film actors are faced with competition from "talkies", or also to the long battle between acoustic and electronic music.)
The Webster production is a small but rich one, under the caring direction of Quin Gresham. High praise must go to him as well as to music director Larry Pry and movement coach Jamie McKittrick. All the others in the production team--designers, actors and staff--are very gifted students at the Conservatory.
Scene designer Jordan LaMagna gives us a small stage on a large rustic wagon. Behind is an Italian street-scene on (appropriately) a painted back-drop. A beautiful job!
We meet a struggling Commedia troupe of seven actors. Their leader is Flaminio Scala, the capcomico, or chief comic. He's played with zest and energy by Michael Grieve, a handsome, ardent young man with a strong clear musical-theater voice.
Flaminio's combative lover, Columbina, is played by the beautiful Brenna Noble whose striking eyes and fine stage presence help her give a wonderfully sassy--and at times moving--performance. Costumer Kathleen Embry blesses Columbina with a gorgeous costume featuring a generous offering of the bosom, and Miss Noble confidently employs that neckline (and her own lovely attributes) to make the comic and erotic most of every opportunity. And the lady can sing!
Rebecca Russell, who was so delightful in last season's The Miser, plays Armanda Ragusa, a diminutive scamp-of-all-comedy who is ever filled with merriment. Her voice bears a touch of that fascinating purr so characteristic of Glynis Johns and Joan Greenwood.
Corbyn Sprayberry does charming work. She first appears as a wondrously loose-jointed clown, Pedrolino or Peppe-Nappa. (This is the character that eventually developed into the Italian Pagliaccio, the French Pierot and the English Mr. Punch.) Miss Sprayberry masters this eccentric physicality--like a marionette with strings a little loose. Then, "Presto!" she appears as the beautiful Isabella, a noblewoman who joins the troupe because she's in love with an actor. With golden hair and a face like a porcelain doll she is the perfect fairy-tale princess. The role lets her display her lovely classically-trained voice.
Pantalone, the foolish old man, is played by Ben Love. (I love this character; I played him myself earlier this year.) Mr. Love does fine work, giving us a lean and morose Pantalone who captures all the comedy, yet occasionally evokes our sympathy.
Jay Stalder plays il Dottore, the pompous Latin-spouting scholar. His is another lovely performance--including some impressive physical comedy.
Francesco, the young lover, is well-played by Liam Johnson. He's a lithe and gifted dancer and his manic argument with himself is a comic tour de force.
We see the ambitious troupe travel to France, where they elicit the wrath of the Cardinal. We see the professional and romantic conflict between the young Isabella and the older Columbina. We see Flaminio stubbornly resisting the advent of the written script, which is embodied in a romantic verse drama that Isabella has written for the company.
There is much physical comedy, much bawdiness. There is wildly athletic sex (behind a curtain). There are comic "mad-scenes" where first Columbina and then Isabella believes she is a duck. The players are in constant lovely movement--almost dance. In this Jamie McKittrick, their movement coach, has done wonderful work.
The music varies widely and includes riotous comic numbers, Fosse-esque rhythms, romantic ballads. One poignant song gives Columbina the simple, potent lyric: "I was young/Then I wasn't."
The Glorious Ones is another highly enjoyable production from the Webster Conservatory. It runs in their Stage III on Lockwood through December 11.
Related Articles