Theatre Reviews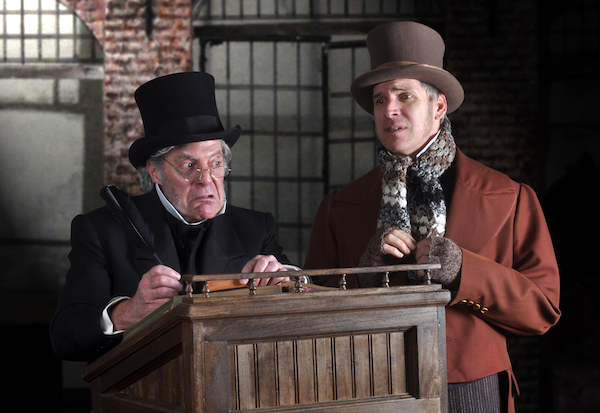 The Rep revives 'A Christmas Carol' in a spectacular, tradition-infused holiday production
Charles Dickens' classic Victorian England springs vibrantly to life in the Repertory Theater of St. Louis' faithful production of A Christmas Carol. The story of the Christmas redemption of Ebenezer Scrooge is filled with wonder, spectacle, and a bit of fear, as well as the addition of traditional carols. Though this is the first production of the beloved holiday tale in 35 years, it is clear that the cast and crew at the Rep hasn't forgotten how to add all the trimmings and ribbons to this lovely seasonal treat.
Scrooge, a miserly old businessman who thinks holiday celebrations and charity are simply clever ploys to make him part with his money, greets the coming of Christmas with a bah-humbug and dismissive flick of his wrist. His faithful employee Bob Cratchit somehow maintains a cheerful, hopeful disposition in the face of his employer's scorn and penny-pinching, but it's clear he and his large family are barely making ends meet. Even Scrooge's only relative, his gregarious nephew Fred, is scolded for the mere extravagance of inviting his uncle to a Christmas feast.
Scrooge is in a bad way and his only hope is a drastic change. The ghost of his former partner Jacob Marley appears to warn him, but Scrooge scoffs at his caution. As a result, three fantastic ghosts visit the curmudgeonly man. Each ghost guides Scrooge through the journey of his life: past, present, and future, recalling important moments that led to his current disposition. Director Steven Woolf and the spectacular cast get the story just right, and the crew steps it up a notch with intricately detailed costumes and mechanics for each of the ghosts. 
John Rensenhouse deftly moves from querulous and cantankerous to giddy as a schoolboy in his portrayal of Scrooge, and the large ensemble wonderfully complements him. Michael James Reed is sympathetic and likeable as Cratchit, and Amy Loui and Owen Hanford are equally compelling as Mrs. Cratchit and Tiny Tim. Ben Nordstrom is cheerful and kind as nephew Fred, while Joneal Joplin, Jacqueline Thompson, Jerry Vogel, and Landon Tate Boyle are by turns awe-inspiring and frightening as the ghosts.
The supporting ensemble features a plethora of renowned St. Louis' actors, including Chris Tipp, Jack Zanger, Peggy Billo, Alan Knoll, Donna Weinsting, and 13 members of the Muny Kids. The troupe moves fluidly and in-concert, and they add considerably to the choreography and carols, as well as the street scenes. There are a few questionable British accents heard here and there, but the ensemble succeeds in adding texture, movement, and a real sense of a picture postcard Victorian England to the show.
Technically speaking, the Rep pulls out all the stops once again to artistically render the fantastic tale. Music director Jeffrey Carter successfully weaves traditional English carols in and out of the storyline, with pleasant harmonies and familiar arrangements. Scenic Designer Robert Mark Morgan establishes the idea of a city filled with harsh economic realities by showing us the expanse of Scrooge's business, and swiftly moved furniture pieces set location and scene without slowing the show's quick pace. Clever stagecraft creates a number of inventive and magical moments that are sure to make you gasp and smile. 
The mechanics involving the ghosts entrances and exits are truly captivating, and occasionally a little creepy, adding to the dramatic tension. Lighting designer Rob Denton, sound designer Rusty Wandall, and movement supervisor Ellen Isom are assisted by On the FLY Productions, resulting in wonderfully effective and creative scenes. The costumes, by designer Dorothy Marshall Englis, are gorgeously constructed, with rich materials and textures, though some of the original story's focus on the poor and less fortunate feels slightly diminished by their uniform luxury.
The redemption of Ebenezer Scrooge is among the most beloved of holiday stories, and The Rep's production delivers the spectacle of the story in a standout revival that's a welcome theatrical treat. For holiday entertainment that's sure to delight all but the youngest members of the family, who may find some of the ghosts too frightening, you simply can't beat A Christmas Carol, running through December 24, 2016, with multiple matinees and special performances scheduled.
Related Articles