Theatre Reviews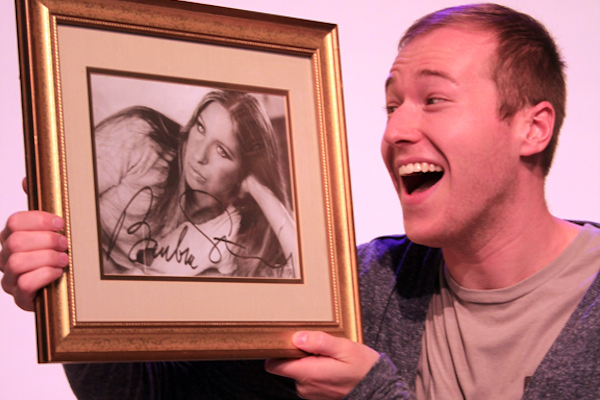 Warm and witty, Will Bonfiglio sparkles in the intimate comedy 'Buyer and Cellar' 
Though absolutely a work of fiction, it is so easy to buy into the delightfully fanciful and imaginative Buyer and Cellar that you may forget it's just a story. Stray Dog Theatre embraces the concept of the one-man show, by Jonathan Tolins, and director Gary F. Bell and actor Will Bonfiglio commit 110% to the character and the play's oddly realistic premise. The result is a delicious little bon-bon of a show that is sure to brighten your spirits. 
Alex Moore, played with convincing charm and a dollop of sass by Bonfiglio, is an under-employed actor with experience in retail and on Disney's Main Street, a surreal mix of costumed characters and tchotchke-filled storefronts. These qualifications make him uniquely suited to serve as the sole proprietor in a very exclusive European-style shopping mall, which just happens to be located underneath the barn on Barbra Streisand's estate. 
The "mall" is, in actuality, a series of faux storefronts created to house and display the star's various collections, with a few specialty shops featuring extra goodies like frozen yogurt and gift-wrapping. Streisand's many collections range from her favorite costumes to themed categories of gifts she's been given to items she's purchased over the years for her own gift-giving. Alex spends his days carefully cleaning, rearranging, and caring for the shops while he waits for a tinkling bell, signaling that his lone customer is coming to browse. 
Some of the best moments in the show are Alex's clever conversations and price negotiations with Barbra after she shows a particular interest in one of the dolls on display. Alex quickly makes up a detailed backstory for the doll that is melodramatic and touchingly hilarious. Bonfiglio convincingly plays both characters while providing increasingly humorous commentary. Tolins story is written in a way that reveals more and more of the actor's personality as the story continues, and Bell and Bonfiglio make smart choices at every turn, creating a real sense of intimacy between the actor and audience. 
Bonfiglio exudes warmth and friendliness as he invites the audience in, glibly transitioning from one story or impression to another, and we see Alex's life play out. The effect is naturally conversational and genuine. Though the stage is bare with the exception of a few well-appointed pieces of white furniture, excellent use of imagery, including favorite photos of the star, help us enter Alex's world. 
The show is a convincing and imaginative extension of reality, for Streisand has in fact created a replica mall for her collections as described in Tolins script and the singer/actress's 2010 book. Her self-penned and photographed tome includes lengthy and storied detail about how she designed her property. Some selections from the book are read verbatim, and again it is Alex's deliciously irreverent but never mean-spirited commentary that keeps our interest. Bonfiglio is absolutely and charmingly mesmerizing, infusing his character with joie de vivre in a performance that's filled with insight, nuance, and the perfect mix of fawning and gossip. 
Scenic designer Rob Lippert, lighting designer Tyler Duenow, and sound designer Justin Been are clearly in sync with director Bell's vision for the show. Together they create just the right balance of fact and fiction. In particular, selected images from Streisand's book, projected on the back of the stage, provide anecdotal evidence to corroborate Alex's story while maintaining the artifice of theater.  
Fans of Streisand will love the little personal bits strewn throughout, but Buyer and Cellar, running through December 17, 2016 at Stray Dog Theatre, is more a celebration of an actor plying his skill with grace and humor than it is a star tribute. Sweet natured and performed with a deft, loving touch by Bonfiglio, the show is an engaging little confection that's a perfect theatrical treat. 
Related Articles