Theatre Reviews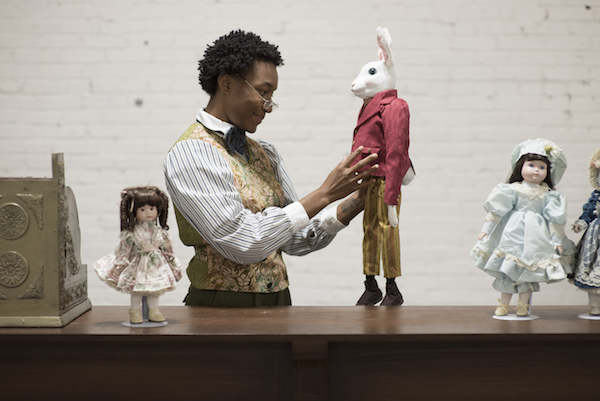 'The Miraculous Journey of Edward Tulane' is Metro Theater's own miracle on Lindell
Call me sentimental, hokey or even crazy, but sometimes when I'm sitting in a dark theatre and the lights come up on the actors on the stage, I get chills all over my body and I just know that what I'm about to watch is going to be a great show. There's something in the air that gives it away. This happened to me last Friday at the Missouri History Museum, where I went to see Metro Theater Company's production of The Miraculous Journey of Edward Tulane.
I wasn't sure what to expect when I read the synopsis of this play. A toy rabbit goes on a journey? What really happened is that playwright Dwayne Hartford took me and the rest of the audience on Edward's journey and it was miraculous.
The play begins in a grand house where Pellegrina gives her granddaughter Abilene a new china rabbit made just for her in Paris. He has his own suits, pocket watch, and silk pajamas. Abilene names him Edward Tulane.
Abilene loves Edward deeply, but Edward, who is vain and shallow, isn't capable of loving anyone. How does the audience know this? After all, he's a toy who can't speak since his mouth is painted on. They know because Edward has his thoughts, which are brought to life by actor Pete Winfrey. Winfrey is credited as The Musician in the cast list, and he strums the soundtrack to the play on his guitar while embodying Edward Tulane, doing both so well that I occasionally forgot he was there, and Edward's thoughts seemed to actually come from Edward the toy rabbit.
Grandmother Pellegrina can hear those selfish thoughts and tries to teach him a lesson with a morbid story about a princess who loved no one but herself, but Edward can't understand her message -- yet. Only after he is accidentally tossed from a ship, lies face-down in the muck of the ocean for months, is rescued by a fisherman and taught about the stars and loss, becomes the confidant of many Great Depression-era hobos -- only after that does he understand the message of Pellegrina's story. Only then can he appreciate the sacrifices people make when they love someone.
All these adventures take place on a bare stage with just a few props and set pieces, yet nothing more is needed. Every member of the crew was on their best game for this show, from sound to costumes. The stories are told, and told well, through the actors' incredible work. Bridgette Bassa and Adam Flores are a dynamic duo on stage, always in perfect sync; their accents and body language moving fluidly from character to character. Erin Renee Roberts is a dauntless narrator and player of many other characters, who holds the audience easily in her grasp. Roxane McWilliams is perhaps underused as The Player; she never speaks, but her musical additions round out the soundtrack. At the heart of it all is Winfrey, the only actor who plays the same role throughout the production.
Hartford adapted Kate DiCamillo's book of the same name for the stage, and director Julia Flood found all the richness of this script and has it on display for us to see. From the original music, the design of Edward, the magical projections of stories and stars that somehow seem at home in the historic setting, she and her cast and crew have woven a beautiful, poignant theatrical experience that every St. Louisan over the age of 8 can enjoy.
If you believe the holidays are about loving and being loved, then this show is for you. Metro Theater Company's The Miraculous Journey of Edward Tulane, directed by Julia Flood, plays at the Missouri History Museum now through December 30.  
Related Articles