Theatre Reviews
Theatre Reviews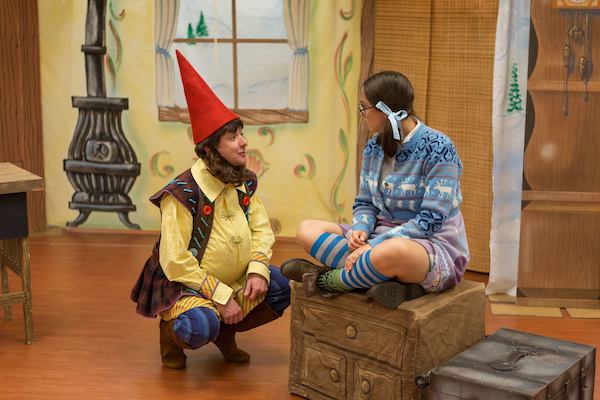 'A Gnome for Christmas,' is a delightfully fanciful, imaginative, and uplifting holiday tale
By Tina Farmer
The Imaginary Theatre Company once again warms hearts and tickles young imaginations with a whimsical and cheerful holiday production. A Gnome for Christmas introduces the youngest members of the family to live theater with a mix of story and song that offers gently persuasive, positive lessons about persistence, belief, and self-confidence.
Timmy, a friendly gnome played with an impish and full heart by Charlie Barron, lives in the woods near an old, crumbling farmhouse. Cheerful by nature, he doesn't seem quite himself this holiday season. He tells Frank the skunk, a puppet with a friendly demeanor and nervous tail animated by Jeanitta Perkins, that he wishes a family would move in so he had someone to watch over and help.
His wish is soon answered in Leonard, an always optimistic inventor played with a stubborn streak and abundant curiosity by Aaron Orion Baker, moves in with his daughter Lulu, a nervous young girl more concerned about practical realities than her father. Lulu is an appealing young girl, whether singing or speaking, and Catherine Regan brings her to life with a genuine yet skeptical personality. The house is a mess, the fence is falling, and if Leonard can't sell his latest invention, landlady Agatha Tode will toss them out at the end of the month.
The story is told with an emphasis on possibility and the benefits of helping each other, whether you're efforts are initially recognized or not. That's an important message, but it's delivered in a natural, unaffected story that doesn't make too much of the lesson. The songs have easy rhyming melodies and simple rhythms that go on just long enough, never becoming too repetitive or annoying. The positive moral is told as a matter of fact, and the four actors combine their energy and voices in harmony in this charming, short play with music. The show runs about 40 to 45 minutes, just long enough to get a full live theater experience without trying most children's patience.
Director Alan Knoll understands children's theater from every big moment to the important heartwarming, hug inducing little ones, and the ensemble responds with wonderful timing and captivating performances. The movements and characterizations are a bit exaggerated and cartoonish, a perfect approach for small children. Perkins twists and jerks as the old landlady with a bad back, and she juxtaposes the lively and emotional skunk and creaky and complaining landlady with convincing flair. Baker's over-punctuated gestures and exclamations; Regan's sighs and arched eyebrow; and Barron's wide-eyed grin, played straight to the kids, are just right, and enhanced with simple and effective stage craft.
The straightforward, uplifting story and songs, by Sarah Brandt and Stephen James Neale, respectively, are just clever enough, revealing the character's inner motivations or celebrating a job well done. They are woven intermittently throughout the show, offering a distinct change of tone that keeps kids' interest while moving the story forward. Music director Neale keeps the pacing quick and the harmonies pleasing, and the actors have uniformly pleasant voices, particularly Regan. Designer Scott Loebl and costumer Lou Bird have created a colorful world with lots of interesting details that is nonetheless quickly transformed, as needed, by the actors. The entire show is portable, enabling the company to easily adapt to almost any space with just the cast and tireless stage manager Dora Jane Trenbeath, a testament to thoughtful design.
The Imaginary Theatre Company, established and supported by the Repertory Theatre of St. Louis, is dedicated to producing positive, highly entertaining theater for young audiences. Their holiday show is particularly well suited for introducing children age seven and younger to live theater, with simple characters, plot, and staging by design. The small cast delights their young audiences by frequently switching from song to play, capturing and holding their attention. Clever humor, appealing arrangements, and the occasional wink and nod help ensure the rest of the audience doesn't get too bored, either.
A Gnome for Christmas, running through December 23, 2016 at the Imaginary Theatre Company, is positive and stimulating family entertainment, with a happy-go-lucky tone and vibrantly exaggerated characters that keep distractions and disruptions to a minimum. There may be clapping and cheering at unexpected moments, or the occasional loud comment, but the even the most restless kids at the performance I attended were interested and actively watching the show.
Related Articles