Theatre Reviews
Theatre Reviews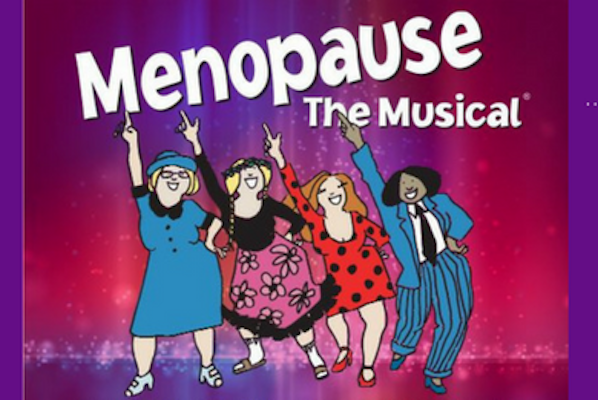 'Menopause: The Musical' proves laughter is the best medicine at any age
By
Is it warm in here, or am I having a hot flash? Why does everything I eat end up on my thighs? Or hips? Where's the bathroom please, it's urgent? If you've found yourself frequently wondering any of these questions, then Menopause: the Musical is a show that may seem created just for you. This quick paced one-act musical, set in and around the bathrooms of Bloomingdale's in New York City, parodies music from the '60s, '70s, and early '80s in an always funny, occasionally snarky send up of "the change of life."
The show, with book and lyrics, by Jeanie Linders, consists primarily of popular songs outfitted with new lyrics that celebrate, with abundant humor, women over a certain age. Things kick off when four 50-something women with very different backgrounds meet at the bargain table in the store's lingerie section, after two of them begin a tug-of-war for a discounted bra. The four bump into each other again in the ladies room and quickly bond over their unreliable bladders and memory, as well as those infamous and all-too-reliable hot flashes. Their newfound camaraderie soon has them singing familiar songs with lyrical twists that describe their changing bodies, moods, and temperatures. 
"Chain of Fools" becomes "Change of Life"; "It's in His Kiss" becomes "It's on My Hips"; and "we're having a 'Heat Wave'" turns into "I'm Having a Hot Flash." Short, conversational dialogue connects the songs while keeping the show moving at a breakneck pace. The new lyrics, like the show itself, poke good-natured fun at the trials and tribulations of growing older and are accompanied by simple but effective choreography, supervised by Daria Lynne Melendez, that reflects the style and era of each number. 
The cast includes Marty K. Casey, as the Professional Woman, Lee Anne Mathews as the Soap Star, Laura Ackerman as Earth Mother, and Rosemary Watts as Iowa Housewife, and each actress is equipped with the appropriate accessories, personality, and attitude to match her character. The ensemble is clearly comfortable with each other, their humor and teasing feels natural and unaffected while their voices blend and harmonize nicely. Casey and Watts are equally impressive and share the vocal leads in the show. Casey is smooth but powerful and clearly knows how to belt out a ballad, while Watts shows surprising range and texture with an expression that suggests she's surprised even herself. It's a delightful touch, as are Mathews' diva-esque gestures and spot-on Cher impression and Ackermann's homespun, hippie-influenced wisdom.
Though Menopause: the Musical focuses on commonalities, each woman has her own distinct reaction, as well as specific insecurities and opinions. The Soap Star is worried about her fading looks and job prospects; the Iowa Housewife is less worldly and more easily shocked, but bored with her day-to-day existence. The Earth Mother "ohms" and meditates her way through stress while the Professional Woman is constantly juggling, trying to find that work life balance. The sketched characters are a bit clichéd and stereotypical, yet still manage to convey recognizable American woman with genuine appeal.
Director Seth Greenleaf and the ensemble make the most of the theater's small stage, employing humorously appropriate blocking that emphasizes the comedy. A simple but effective set features four swinging doors and a lot of Art Deco touches, with additional set pieces and props moved quickly in and out. The use of an unseen elevator attendant establishes each scene, while the department store location provides a plausible explanation as to why four strangers would spend the day together.
Targeted to and about women, Menopause: the Musical, running through February 12, 2017 at the Playhouse at Westport Plaza, is a perfect choice for a girl's night out. The 90-minute run time also ensures that the joke doesn't wear too thin, which is important because, honestly, there's reality but not a whole lot of substance or deep thought behind the witty humor. Still, the one topic comedy is a clever parody, handled with a light touch and sassy, oh snap attitude that's certain to bring the laughs.
Related Articles