Theatre Reviews
Theatre Reviews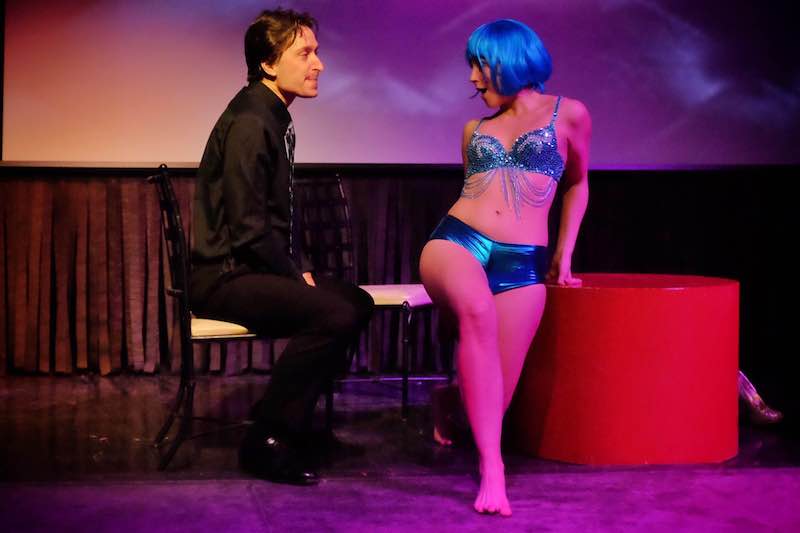 Revealing and often uncomfortable, 'Closer' takes a darkly tinted view of modern love
By
Theatre Lab kicks off its first season in residence at the .Zack Arts Incubator with Patrick Martin's intensely personal, often unflattering look at the state of contemporary love and romance. The twelve scene show follows the intertwined relationship of Alice, a free-spirited twenty something; Daniel, a struggling writer who pays his bills penning obituaries; Anna, an alluring photographer; and Larry, a lonely doctor who falls for Anna after being catfished by Daniel.
Alice first meets Daniel when he rescues her after a fall in the street late one night. Their relationship is tested by Daniel's impetuous pursuit of photographer Anna; and that relationship is further complicated when Anna and Larry become involved. Over the course of four and a half years, the four engage in a hurtful, manipulative tango that leaves lasting scars. Their game requires increasing stakes and selfishness that escalates until there's simply nothing left to feel. Not in a cathartic way, but in a way that feels profoundly sad and empty. 
At times intimate and at times graphically cavalier, Closer is not an uplifting, romantic comedy. It is dark, impatient, brooding, and purposefully provocative in its examination of the cruel twists and lingering jealousies that so often accompany modern courtship. The characters aren't particularly likable, though you may find your sympathies manipulated and shifting as the story unravels. 
Alice played with thoughtful abandon and carefully guarded vulnerability by Larissa White, is captivating, an idealized version of perpetual youth always just beyond reach. Like so many lost youth, she's jaded and distrustful, but she's also street smart and able to fend for herself, if needed. Brock Russell is disarmingly charming, too smart for his sensitivity and recklessly selfish as aspiring writer Daniel. Daniel is driven and knows what he wants, but is more than willing to take what he's offered in the meantime. He's cavalier in his relationship with Alice, and consciously makes choices he knows will hurt others. 
Gabrielle Greer's Anna is an intellectual and emotional counterpoint to Daniel, though she clings to social convention with dermatologist Larry, played with creepy realism and a hint of malice by Andrew Michael Neiman. Anna knows all too well that actions have consequences, but she's less clear with her own feelings and, similar to Daniel, inflicts more pain than she receives. Larry initially comes across as a sympathetic, somewhat socially awkward individual, a bit of a medical nerd, but he proves to be calculatingly cold and capable of purposeful cruelty.
Director Tom Martin takes a stripped down approach to the show, focusing on the characters and their responses and minimizing distractions. Projections help to set the scene, and the actors can be seen changing the images. It's an interesting approach that reinforces the bare bones approach without distracting from the action. Images from Anna's camera are intermittently projected onto the screen for brief moments. The pictures are mainly of Alice, with some shots of the others, and are in stark black and white, another contrast with the characters on stage. I found these images quite evocative and would like to see more of them incorporated in the show. 
Martin and his capable cast create a completely compelling show with a raw, often uncomfortable to watch approach that focuses on the characters. Like a camera zoomed in too close, each flaw is magnified by every interaction. The pacing lags a bit and there are moments when the dialogue drags, but Theatre Lab's Closer, running through January 22, 2017 is a taut, tense exploration and a satisfying, if ultimately somber, production. 
Related Articles