Theatre Reviews
Theatre Reviews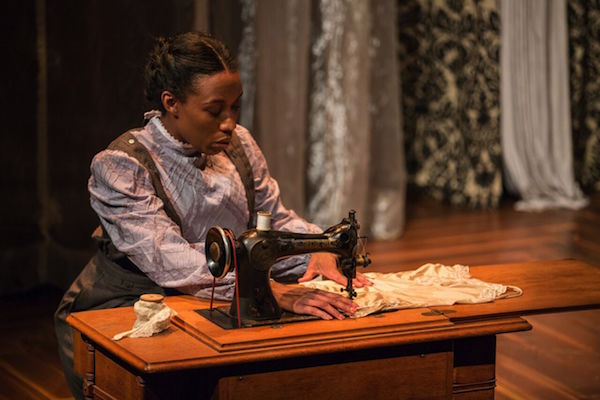 An Intricate story with exquisite details, 'Intimate Apparel' is a nostalgic romance with lingering relevance
By Tina Farmer
Like a bespoke garment, Lynn Nottage's period drama Intimate Apparel is a masterfully tailored piece of theater, its construction precise and its flourishes expertly applied. New Jewish Theatre's excellent production brings this lovely, personal story to life with hope, heartbreak, and perseverance.
Set in 1905, the bittersweet romance touches on race, religion, and era. Esther is an African-American seamstress living in a boarding house run by the persistently meddling matchmaker Mrs. Dickson. She spends her days at her sewing machine, fashioning intimate garments for women, visiting with her friend Mayme, and occasionally venturing into Mr. Marks' fabric store for supplies. 
Marks, a kindly Jewish gentleman, appreciates Esther and sees beauty and grace in her that others miss. The two have a genuine romantic connection, but their racial and religious differences, as well as the period, keep them from reaching out to each other. Their discussions about fabric and thread and Marks' missing button are sensual and filled with unspoken longing. The interplay between the actors, particularly the touches both near and accidental, is delicate and tenuous; a beautiful juxtaposition to the way the rest of the world views the two characters.
Other girls marry and move out from under Mrs. Dickson's roof and watch, but the 35 year-old Esther seems a permanent fixture. That is, until she begins a correspondence George, a Caribbean man working on the Panama Canal with Esther's childhood friend. The two develop strong feelings during their exchange, though Esther, who cannot read or write, gets help penning her letters from her fashion forward white client, Mrs. Van Buren. An eventual proposal, offered before the two meet in person, surprises everyone almost as much as Esther's acceptance, but the resulting marriage is not the fairytale ending she imagined.
Jacqueline Thompson is absolutely captivating as Esther, easily and expressively handling the character's many facets, and allowing us to feel her life in the moment. Her character is generally reserved, but when she flashes her true feelings she brings a passion that's firmly rooted in her core. Thompson's scenes with Mayme, a vibrant and at times brilliantly animated Andrea Purnell, show two very different women bonding and laughing. They remain true to each other even through disappointment, anger, and pain.
Jim Butz is awkwardly kind and hesitant as Mr. Marks, his eyes filled with genuine emotion when he looks at Esther. A man as devoted to his faith as he is to the artistry and beauty of fabric and the clothier's craft, Butz matches Thompson in temperament and both share a quiet depth. His reactions are at times nearly imperceptible, yet perfectly measured and drawn.
The supporting cast includes the always-compelling Linda Kennedy, as a regal and commanding Mrs. Dickson. She's kindhearted in her way, but a savvy businesswoman to the core. Chauncy Thomas, as George, is by turns charming, charismatic, and brutal. Julie Layton, as Mrs. Van Buren, keeps a few surprises hidden under gilded corsets that are a touch risqué for her status, while Purnell cajoles, convinces, and rationalizes with panache as Mayme. The ensemble finds layers of interest in their characters, creating a satisfying and intriguing, if sometimes heartbreaking, story. 
Director Gary Wayne Barker guides Intimate Apparel with a solid concept and a firm grasp of the style, attitudes, and customs of the period. While Esther and Mr. Marks differences are not necessarily announced, there is no question that their attraction, with its inherent religious and racial realities, will never be openly acknowledged. Barker manages the tension precisely, ensuring the audience cares about both Esther and Marks while feeling emotionally satisfied by the romance.
The set, props, costumes, sound, and lighting are decadent icing on this multilayered confection set in the Gilded Age. Scenic co-designer and change artist Peter Spack, along with co-designer and props master Margery Spack, transform the space into a stunning collection of ornate jewelry boxes, each opening and closing to reveal their story. The corsets and costumes, by Michele Friedman Siler, convey much about each character and the era. Finally, lighting designer Sean Savoie, sound designer Amanda Were, and dialect coach Landon Tate Boyle ensure that every detail has just the right sparkle, tone, and affectation.
Like a couture dress made from luxurious fabrics, the show is a finely wrought production. There's a certain opulence that even the more reticent Esther and Mr. Marks subtly embody, and the delightful supporting ensemble each have an opportunity to shine. The New Jewish Theatre's production of Intimate Apparel, running through February 12, 2017, delivers a richly adorned, nostalgically romantic, and touching story. 
Related Articles