Theatre Reviews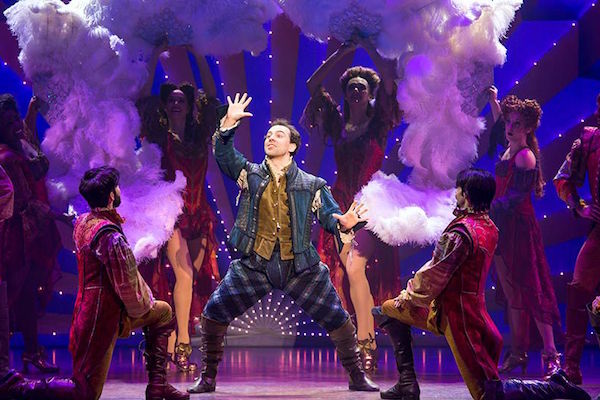 'Something Rotten' is a delightful, laughter-filled romp through Shakespeare and musical comedy
Fast paced and witty, Something Rotten is musical history with a generous dollop of irreverent rewriting thrown in. The musical is imaginative and funny in a referential way, pulling in quips and styles from Elizabethan to contemporary. The not unfamiliar premise is given numerous whimsical twists, carrying the audience through the hilarious plotline, involving a musical about breakfast foods, all the way to a quirky happily ever after. 
Nick and Nigel Bottom lead a small troupe of actors in Elizabethan England, but like everyone else, their fortune fades as Shakespeare's fame grows. Nick does his best to generate fresh ideas and Nigel is a gifted writer, still Shakespeare is always a step ahead. The brothers have just lost their sponsor and are desperately looking for financial backing. Nigel is constantly sharing his work and ideas with Shakespeare, who may or may not be stealing them, and Nick just learned his wife Bea is pregnant. As with any company worth its salt, desperate times call for a bold new show!
Something Rotten is filled with puns, visual humor, and clever cultural references. The script unabashedly pulls from Shakespeare; reframing the stories, using sonnets and monologues for song lyrics, and creating characters with names, attitudes, and mannerisms that match the Bard's descriptions. The show also borrows from American musical theater and dance, the old classics to the recent past, as well as jokes about style and technique. There's even a soothsayer who can clearly see the future. And the future is musical. Naturally, there's a love story, in this case, between Nigel and Portia, the local Puritan minister's daughter. 
Rob McClure and Josh Grisetti are a winning combination as the brothers Nick and Nigel Bottom, each enthusiastically dives into their role and there's a natural connection between the two that speaks of long friendship with a touch of brotherly competition. The two also use their physical differences and abilities to humorous effect in moments that happen so fluidly they're easy to miss.
McClure's voice is solid and earthy, and his character is very caught up in the here and now. He's an idea man so boggled by life's pressures that he doesn't rely on his own good instincts. Grisetti has a wider range, vocally, and a pleasing, buoyant tone. His Nigel is less confident than McClure's Nick, and comically accustomed to tagging along in the shadows, whether Shakespeare's or his brother's. Grisetti is wonderfully surprised by his budding romance and his transformation is charmingly apparent from head to toe.
Maggie Lakis is wonderfully varied as Bea, and Autumn Hurlbert hits all the right notes as the minister's rebellious, poetry loving daughter. Nick Rashad Burroughs brings a welcoming tone and beaming smile as the minstrel; Scott Cote is uptight with flare as Brother Jeremiah; Jeff Brooks is endearingly infatuated with the theater as Shylock; and Blake Hammond is a hoot and a half as Nostradamus' nephew Thomas an eccentrically adept medium. 
Then there's Adam Pascal, who gives Shakespeare a rock star turn with the bad boy costumes to match. His costumes alone draw attention, dazzlingly metallic and detailed with excessive collars and codpieces. Pascal adds telling glances, dripping innuendo, and sneering attitude to the mix, along with a penchant for self-promotion and artistic appropriation.
The resulting show is laugh out loud funny, dazzling with brilliant Busby Berkeley touches, and thoroughly charming from curtain to final bow. Casey Nicholaw directs with confidence, creating a clear sense of story that's filled with interesting detail and movement. Scenic designer Scott Pask and Costumer designer Gregg Barnes skillfully add color, detail, and interest to the fast moving show. The catchy musical numbers are delivered in well plotted vocal arrangements by Phil Reno, musical arrangements by Glen Kelly, and orchestration by Larry Hochman, and exuberant choreography from Nicholaw.
Fans of Shakespeare who admire his quick wit and legacy will undoubtedly find Something Rotten a clever, intelligent, and satisfying comedy. Fans of musicals will appreciate the amusing lyrics and whimsical references to multiple periods and styles. And history buffs and conspiracy theorists alike will laugh knowingly at the jibes and references scattered throughout the music, book, and lyrics, a thoroughly entertaining first effort from brothers Karey and Wayne Kirkpatrick and John O'Farrell.
To put things simply, Something Rotten, running through February 19, 2017 at the Fabulous Fox Theatre is a delightful treat. The show is intentionally light and loose with historical details, which it more than compensates for with engaging, tuneful performances and lively dances drenched in comedy, serving up a satisfying morsel for nearly every taste. 
Related Articles