Theatre Reviews
Theatre Reviews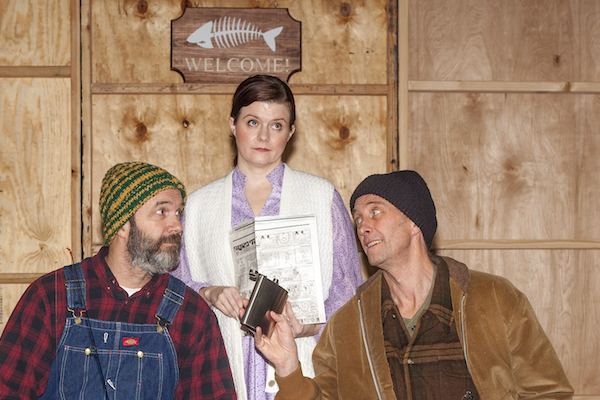 'The Ice Fishing Play' is a gentle, persuasive valentine to relationships and lasting love
By
West End Players' Guild affirms their commitment to producing character-driven theater in a small place with a heart-warming production of Kevin Kling's The Ice Fishing Play. Warm and affectionate, the show is likely to invoke tears from the more sentimental members of the audience. And that's ok, because the story has a simple charm and sincerity as deep as a Minnesota lake. 
The good natured, reflective show introduces audiences to Ron Huber, a Minnesota native with a penchant for life out of doors. He's particularly fond of winter days spent ice fishing near a dam adjacent to the resort property he and his wife Irene own and manage. Business has been down for a while, the fish stopped biting years ago, and the property has only stayed afloat because Irene rebranded the place as an artist getaway. 
Ron is convinced that there's a monster fish hanging out at the bottom of the lake, however, and apparently he's decided not to leave his shack until he catches it. After Ron discovers his truck has sunk through the thin, ice he taciturnly opens another beer and returns to fishing with renewed determination. Settling in to the drone of the local radio station's frequent snowstorm updates and school closings, his reverie is interrupted by knocks on the shack's door. A couple of door-to-door members of a local religious group, his brother Duff, and Junior Swansen, proprietor of the town's bait shop stop in for a visit, even his wife Irene checks in on him from time to time.
The show moves quickly, though at a languid pace, and Colin Nichols, as Ron, has a good instinct for the character's rhythm and personality. Quick to laugh and slow to take offense, he fondly recalls bygone days and significant events in his life, a clue that this fishing trip is different than any other he has taken. Nichols is welcoming and gracious, inviting the audience into his story with a jovial skepticism that captures the script's spirit.
Colleen Backer is completely Minnesotan and adorably devoted as Ron's wife Irene. She maintains the strongest accent among the cast and, more importantly, develops Irene into a complex and interesting character. Backer captures the posture and mannerisms of a solid midwestern girl, but emphasizes Irene's vivid imagination and lively spirit.
Scott De Broux nicely complements Nichols as his older brother Duff. Their conversations have an authentic back-and-forth with a genuine sense of brotherly affection. Moses Weathers is amiable and engaging as Junior, while Shannon Lampkin and Michael Pierce nearly steal their scenes with self-absorbed devotion and a touch of sexual tension. Under the sure direction of Adam Grun, the actors are thoroughly comfortable with each other, contributing humorous moments with nicely defined characters. 
The Ice Fishing Play, a story of a man stranded in his shack on a frozen lake and thinking about his lifelong friends and wife, is sweet and rather straightforward. Still, the conclusion sneaks up on you. I think it's because this is a story of affirmation, not loss. A celebration of the relationships, romantic and otherwise, that make a person's life full. Kling's purposefully rambling script is filled with homespun eloquence and colloquialism that transcend the region, and Grun and the cast succeed in creating an authentic connection with the material.
There are a few issues with the production, including problems capturing and sustaining the Minnesota accent, actors speaking upstage, and minor mistakes with cues, but the production values are by and large well done. The fishing shack, designed by Zachary Cary with props by Scott De Broux, looks great and fills the space nicely. Every element, even the decorative ones, has a purpose. 
Tracey Newcomb-Margrave does a nice job with the costume, particularly Irene's aprons. The sound design by J.D. Wade, including humorous radio voice over work by Mark Abels and Michael Monsey, sets a relaxed, upbeat tone for the show, which while funny isn't exactly a full-on comedy. Finally Nathan Schroeder's light design finishes off the technical touches and, though I don't understand why, the spotlights in the fishing holes really add something.
In the interest of full disclosure, I would like to state that I was a member of the committee reviewing scripts for West End Players Guild, but had no part in the casting, direction, or production of the show. I am a fan of the script and found the company's production succeeded in interpreting the heartwarming story. The Ice Fishing Play, running through Sunday, February 19, 2017 at West End Players Guild, is a lovely, tender reflection on life, loss, and enduring love. 
Related Articles