Theatre Reviews
Theatre Reviews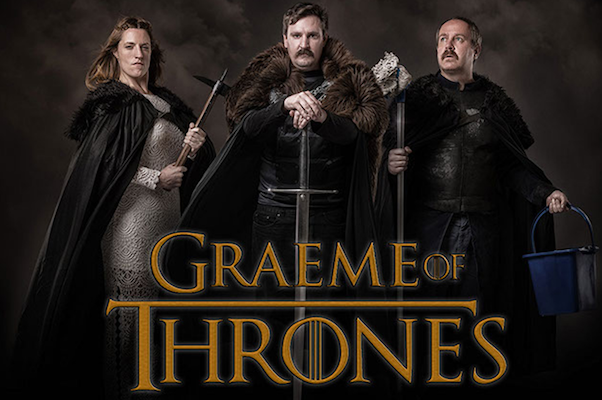 'Graeme of Thrones,' two swords short of an epic
By
George R. R. Martin's fantasy saga, A Song of Ice and Fire, is comprised of thousands of printed pages. From these pages came Game of Thrones, a multi-million dollar, multi-hundred actor, and multi-year television series adaptation. Comes now Graeme (Ali Brice), avid Thrones fan, who believes he can create a theatrical stage play of these master works, lasting many hours and utilizing hundreds of actors. But he needs money, you see. And that's why the audience (including a mysterious "A.L. Webber")—all potential investors in the grand scheme—is being treated to 90 minutes of proposed stageplay. That's the sword's-edge-thin premise of Graeme of Thrones. 
Graeme, admittedly no actor he, and two casual acquaintances, Bryony (Libby Northedge) and Paul (Michael Condron), also of no great acting ability, have strung together key (and some not so key) plot points from the first six G.O.T. seasons, playing multiple characters and utilizing costumes, props, food (their cleaning bills must be through the roof!), black duct tape, an air blower, shaving cream, and an outsize depiction of male genitalia. Well, let's just say you have to know the Series, and know it well, or it's all gibberish.
Some clever bits (the distribution of the very cute Direwolves, to the Stark children, a version of the series' CGI opening sequence,) were in evidence, but many bits were too obscure for such focus (Sansa Stark's "becoming a woman," a boar attack), and/or went on far too long (the death of Oberyn Martell) to be truly successful. Pacing, at times, was a little stilted. And for the theatre in question, several bits of action occurred near the low stage's floor, unseen by anyone except those in the first row.
Presented free in some open forum with a hat down for tips it would be a hit and the hat full. As official theatre with people paying beaucoup de bucks to sit as a captive audience, in my opinion, not so much. However, most of the audience were laughing and appearing to appreciate the goings on, which I'm sure was pleasing to the cast, who were acting their little hearts out. Indeed, Director Sam Bailey has cast some extremely talented actors to make being so awkward, inept, and clueless so believable.
Technically the sound was great and pleasingly supported much of the action. Lighting changes really helped the various scenes. Costumes and wigs were plentiful and painstakingly made to appear cobbled together from what was lying around. And the props? Great props, including an articulated dragon head, loads of stuffed and puppeted people and creatures, and a life-size throne of (rubberized) swords, conveniently left on stage at the end so audience members can snap their photos sitting in it.
Graeme of Thrones will be at the Playhouse at Westport Plaza through February 26. 
Related Articles