Theatre Reviews
Theatre Reviews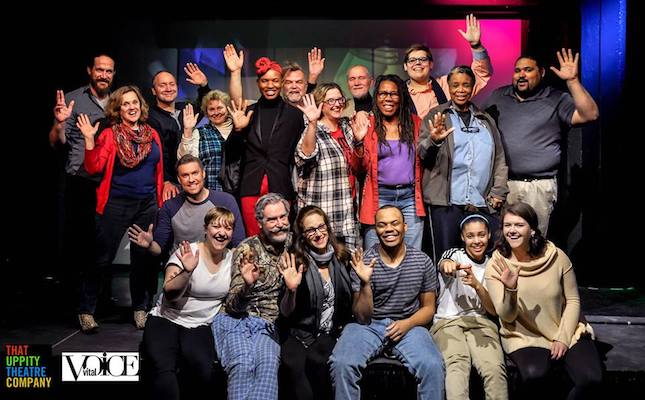 Stories of love and compassion shine in the final act of 'Briefs: A Festival of Short LGBTQ Plays'
By
For the past six years, St. Louis has played host to Briefs: A Festival of Short LGBTQ Plays. Each year saw full houses and a supportive audience, indicating a thirst for these stories. And with each passing festival, audiences were treated to steady improvements in production quality and storytelling. If 2017 is indeed the year's final curtain, the producers, sponsors, and creative contributors can be proud of the work accomplished and the stories shared.
A refreshing aspect of this year's show was the range of ages represented in the eight short plays, a point cleverly and humorously pointed out in the opening piece, Jon Fraser's Gaga. Delightfully if sometimes awkwardly self-aware and 50% pop-culture savvy, the light script invites us along as two mature gentlemen pop in to a popular gay bar for drinks. As the bar fills up, their conversation is interrupted by two younger guys, eager to get the bartender's attention and fluent in cultural icons. The exchange is slightly exaggerated, but Foizey keeps things fast and funny.
Straight Up, by Lisa Konoplosky, directed by Pamela Reckamp, finds Shane Signorino and Alice Kinsella hanging out at a sports bar. He attempts a pick up line or two, she informs him she's a lesbian, and pretty soon the two are bonding over "women." This slice of life piece feels a bit like a sketch, but the characters are well constructed and the longer script allows us to get beyond the obvious and find authentic common ground.
Playwright Shannon Geier is everywhere recently, with two new scripts in production, including the cleverly insightful and openly curious Twenty Questions, directed by Sarah Lynne Holt. Carl Overly, Jr. is Don, and Jaz Tucker is his brother Ken. The two are discussing Don's spouse Helen's transition to Henry. Ken is filled with questions, starting with the obvious "does this mean you're gay now?" and a reminder for Don to call their mom. The story is about support, about loving and accepting each other, and it's realistically satisfying.
That Uppity Theatre Company artistic director and Briefs co-producer Joan Lipkin brings us Our Friends, a bristling contemporary play that is a real nudge for allies. Judi Mann, as Samantha, and Lipkin, as Alison, are a longtime couple, but their reaction to current politics may be driving a wedge into their relationship. The sharply written script ensures love wins, but the relevant piece is filled with important dialogue that really hits home.
The loss of love can leave scars that never fully heal, and this includes the love of a trusted friend. When Oprah Says Goodbye is a funny, touching look at our aging LGBTQ population written by Dan Berkowitz and directed by Fannie Belle-Lebby. The show, featuring Thomasina Clarke, Peggy Calvin, and Mary Hardcastle, was brought back again this year to the delight of many attendees. Their story, a reunion of two long separated friends, turns from bitter to bittersweet to simply sweet in this lovely piece.
Acceptance. It's a big word and often even those who truly love us have trouble accepting us. The resulting conflict is poignantly expressed in Danny Boy, Theresa Masters' play about love and caring for an aging parent, directed by Christopher Limber. Daniel John Kelly, as Daniel, and Troy P. Hardgrove, as Spencer, have been together for years, a fact Daniel's father Bernard, played by Gerry Love, has never fully accepted. But after a serious incident, Bernard can no longer care for himself and Daniel and Spencer must decide his fate.
Trial and Swear, by McKenzie Moser, directed by Gad Guterman, is the 2017 Ken Haller Playwriting Competition for LGBTQ and Allied Youth winner. The clever script rings with authenticity and familiarity. Kiah McKirnan is Jade. She's once again rushed over to listen to her straight crush and best friend Lanie, played by Delaney Piggins, complain about another failed romance. A few shots of liquor and confession later, and this story still doesn't end with a neat and tidy bow. This short piece is a valentine of sorts to uncomfortable crushes and finding your sexuality.
Speaking of valentines, Last Night at the Cherry Pie, by Daniel Hirsch, directed by Marty Stanberry, is a straight up love letter to those LGBTQ and allies who paved the way for us all. Set in a decrepit bar that just celebrated it's final last call the night before, bartenders Terry, played by Rich Scharf, and Pam, played by Donna Weinsting, must now face the future. As they clean up, they reminisce about the good times and bad, and enjoy a fitting farewell toast. The touching story has a happy ending, as Pam made wise financial decisions for the two, making it a lovely way to say goodbye.
In its six year history Briefs: A Festival of Short LGBTQ Plays offered audiences the opportunity to experience the stories of the LGBTQ community. We were invited to share in the ups and downs of navigating self and life with leading characters who resonated with authenticity and compassion, and happened not to be heterosexual.
The festival also gave much to the participating artists, particularly playwrights who often have trouble getting their voices heard. Each play selected for production received up to 20 hours of additional work with the festival staff and advisors, helping to tighten the stories and ensure a successful production. As leading voices in the LGBTQ community, co-producers Darin Slyman, of the Vital VOICE magazine, and Lipkin are proud of the festival and the work they've done to bring these stories to a wider audience. While I wish them both continued success, I hope that we see them collaborate on a production again soon.
Related Articles