Theatre Reviews
Theatre Reviews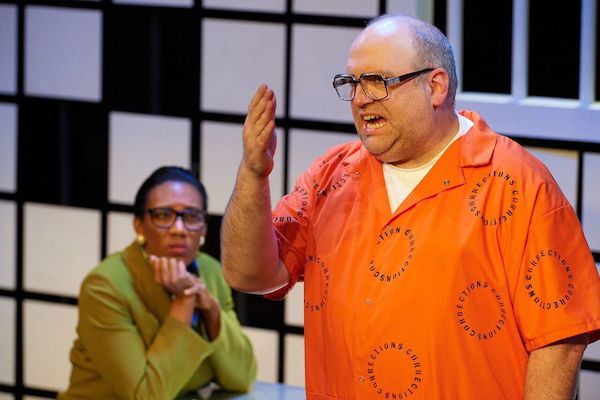 'A Human Being Died That Night' recalls the lingering pain and loss of apartheid
By
South Africa's dismantling of the system of apartheid included the formation of the Truth and Reconciliation Commission, a judiciary system established to bring restorative justice to the country. Many of the militants who fought to keep the country segregated came before the TRC to give testimony in return for amnesty consideration in civil and criminal prosecutions. In public opinion, Eugene de Kock, known as "Prime Evil," was among the most notorious of the criminals who chose to testify.
In a surprising turn of events, de Kock requested an audience with the widows of two black police officers who were killed by C10, the secretive police unit he commanded. Surprised by de Kock's frank testimony and request, TRC member Pumla Gobodo-Madikizela interviewed the commander about his experiences. A research professor specializing in trauma, memory, and forgiveness, she was interested in probing both de Kock's memory and his feelings towards apartheid, the trials, and his incarceration. Their conversations, recorded over a five-year period, formed the basis for her book A Human Being Died that Night, which Nicholas Wright adapted to create the play.
Jacqueline Thompson transforms herself into the captivating and persistent Gobodo-Madikizela. With a spot on accent and reactions that reflect her character's changing perspective, she remains curious and nonjudgmental -- a surprise to both de Kock and the audience. She wants to know what happened under de Kock's leadership, how it made him feel, and, as importantly, why de Kock asked to speak with his victims' widows. There's an effortless empathy to Thompson's performance, ensuring we see the process and emotions Gobodo-Madikizela experienced. When she twitches with remembered pain, you wonder why she doesn't strike out. When she pointedly bites her tongue, you wonder where she finds the courage to continue. Thompson imbues every line with a sense of urgency and personal power, resisting the natural desire for retaliation with grace and refusing to be intimidated by de Kock. 
Christopher Harris is equally strong and filled with ambiguity as Eugene de Kock, easily moving from disturbing description to reflective thought. Though he is chained to his chair as well as locked behind bars, his mind is unencumbered. He casually describes his former reality in ways that seem at once callous and deeply convicted. Harris doesn't shy away from de Kock's ambiguities, making it clear that, despite his many crimes, he relied on an internal moral compass of sorts. This persistent, if flawed, morality leads de Kock to turn on his commanders and the resulting conversations are all the more fascinating for the apparent dichotomy, which Harris deftly conveys.
De Kock is inherently unsympathetic, but his intelligence and acknowledgement of his crimes is compelling, willing the audience to listen and asking us to suspend judgment without facts. In contrast, we expect Gobodo-Madikizela to be angry and accusatory, even vengeful, towards de Kock. Instead, Thompson fills her portrayal with genuine interest and a deep need for understanding over retribution. She truly seems to operate without a personal or political agenda.
Gobodo-Madikizela's story is presented in the form of a lecture with flashbacks that dramatize the conversations between her and the imprisoned de Kock.  Her lecture is enhanced with video projections, designed by Michael Dorsey, of scenes from South Africa. Some show the natural beauty of the country and its people, others remind us of the very real destruction and horror of apartheid. The video screen is actually a sliding wall, a part of Patrick Huber's effective set design that opens to reveal the visitors' room at the grey, colorless prison where de Kock is incarcerated.
Director Patrick Siler brings clear vision and a sense of purpose to the story, ensuring that each perspective is delivered with a smart, nonjudgmental touch. In light of recent history in a region that not so long ago felt the sting of racial disparity in very real and violent terms, it can be hard to be open to this story. Wright's script conveys historic and personal significance that reverberates without feeling preachy and Siler and the actors respond to spectacular effect. 
Unless we approach the lessons of history with a sense of shared humanity, we are doomed to repeat them. And perhaps the most important lesson we need to learn is that each of us, no matter our actions or motivations, are human beings first and foremost. Gobodo-Madikizela communicates this point in her poignant and moving book and Upstream Theater brings that story to life in fully connected performances that resonate with truth. Unsettling as it may be, A Human Being Died that Night, running through May 28, 2017, offers important insight into a tragic history in a fascinating, thought provoking show. 
Related Articles