Theatre Reviews
Theatre Reviews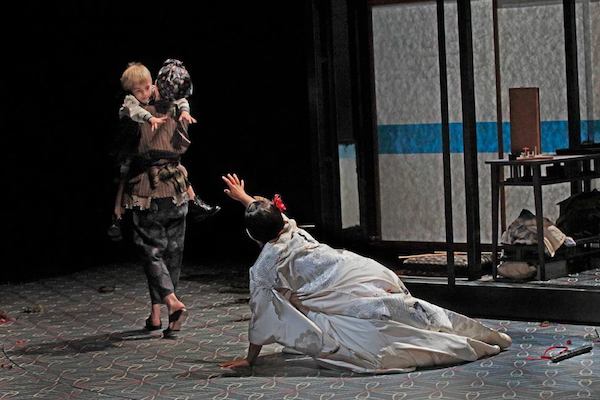 A Beautiful 'Butterfly' alights in St. Louis
By
The wonderful Opera Theatre of St. Louis has opened its forty-second season with a deeply satisfying production of Giacomo Puccini's Madame Butterfly. Opera Theatre has grown to be among the world's first rank of opera producers. Audiences and reviewers come from all across America and from five continents around the globe. This production of Butterfly is right up there with their best.
As every eighth-grader knows (or should know) Commodore Perry (attended by several gunboats) opened Japan to European trade in 1854. In the decades following, European arts became virtually drunk with the craze of "Japonisme." Japanese prints, woodblocks, watercolors, kimonos, fans, screens, etc. were wildly popular, and the great artists of Impressionism were, almost to a man, deeply influenced by Japanese art -- Degas, Toulouse-Lautrec, Gauguin, Monet, Renoir, and especially van Gogh. 
Literature and drama were likewise affected: Madame Butterfly appeared in 1898 as a short story by John Luther Long; in 1900 the great American impresario David Belasco adapted it as a one-act play; and it became Puccini's opera in 1904. 
John Luther Long said of himself that he was "a sentimentalist and a feminist and proud of it." Of course the story would appeal to Puccini, the most sentimental of all composers of opera. Audiences are sentimental too, it seems, because Butterfly is the sixth most frequently produced opera in the world.
You know the story. Lieutenant Benjamin Franklin Pinkerton, of the USS Abraham Lincoln, is stationed in Nagasaki. Besmitten with a young geisha, he enters into a Japanese "temporary marriage" with her, never thinking of it as anything but a convenience. But the girl, Cio-cio-san (called "Butterfly"), is innocent and truly in love with Pinkerton. She takes the marriage very seriously indeed--she even becomes a Christian. When Pinkerton's tour of duty ends and he returns to America, Butterfly -- impoverished and rejected by her family -- spends her days dreaming of his return. She also gives birth to his son--the image of his father. In earlier translations the boy is named "Trouble," but more recently he is called "Sorrow" (a wise choice given the wry double entendre of "Trouble"). Butterfly says that when Pinkerton returns the child's name will change to "Joy." 
Set designer Laura Jellinek and costumer Candace Donnelly give us quite the perfect visual world for Madame Butterfly. A small iconically Japanese house -- with sliding panels of paper and bamboo -- sits on a rocky hillside overlooking the sea. In a stroke of genius Ms. Jellinek constructs her hillside out of what seems to be miles of Japanese printed fabric -- or perhaps crumpled Origami paper -- dark gray with a small white pattern a million times repeated. The folds tumble down most beautifully. We breathe in this world and we are filled with that distinctively spare Japanese beauty.
Ms. Donnelly's costumes are beautiful and authentic. (The kimonos are indeed from Japan.) This authenticity drives deep: there are, surprisingly but appropriately, several layers of gown beneath the lovely kimono. And everything is true to period: the Japanese men wear Oriental gowns, but sometimes Western hats--a derby, a topper, a straw boater. Pinkerton's uniforms are precisely correct for the turn-of-the-century American navy officer--unfamiliarly unadorned, nary an epaulette. And Pinkerton's wife, Kate, is a simply striking image in a pristine white traveling suit. Quite wonderful.
What a glorious collection of voices! Soprano Rena Harms, as Butterfly, and tenor Michael Brandenburg, as Pinkerton, are a fine match, and they do glorious service to Puccini's gorgeous melodies. Their love duet, which closes Act One, is weepingly beautiful. Puccini makes it climb and climb -- rather like Wagner's "Liebestod" -- and these two twining voices sing it splendidly. 
At the opening of Act Two Butterfly sings to her servant, Suzuki, of her irrepressible faith in Pinkerton's return. "One fine day" (Un bel di) is the most famous aria in this opera--and perhaps in all of Puccini. It is certainly the one opera melody that I always find myself whistling. Miss Harms triumphs in it. It's a glory.
I do believe, though, that this Butterfly lacks just a pinch of the needed innocence. The girl is fifteen. Yes, she's been a geisha, but that merely means she sings and dances to please men; she is not a prostitute. She is called "dear little baby wife of mine, dear little orange blossom", "poor little creature," "that child, that pretty flower." Yet Miss Harms' eyes are sometimes knowing and flirtatious. But this is a tiny quibble. Her performance is superb.
Now Pinkerton is quite a cad. From the very beginning he views himself as the triumphant "collector"; like all good American sailors he must "capture the flower of every shore." He must possess this butterfly "even if her wings are broken." So it's hard to yield him any sympathy when, after three years, he comes with his new American wife to take Butterfly's child from her. But Pinkerton realizes the suffering he has so carelessly caused and Brandenburg so powerfully and dramatically pours out the sheer agony of his remorse that he quite wrenches sympathy from our hearts.
Others in the cast do exemplary work. Tenor John McVeigh sings Goro, the crafty marriage broker. He has the gift of crystal diction. He, alone in the cast, let me understand every word without once referring to the supertitles. 
Christopher Magiera is very strong as Sharpless, the American Consul. Sharpless is Pinkerton's Jimminy Cricket, warning him not to do wrong. At the end he hasn't the courage to give Butterfly the full bad news, and with Pinkerton he indulges in a little "I-told-you-so! I-told-you-so!" But Magiera fills the role with dignity and heart.
Renée Rapier brings a lovely rich mezzo to the role of Suzuki, Butterfly's faithful servant. She makes Suzuki strong and loving, and her suffering as she helplessly observes the unfolding tragedy is heartbreaking.
The Bonze! What an entrance! At Butterfly's wedding her uncle, the Bonze, a priest, bursts in in a fury to curse his niece for having abandoned her religion. Bass-baritone Matthew Stump overwhelms the scene with power. A wonderful job.
Kate, Pinkerton's new wife, sings only eight or nine brief lines, but she is nevertheless an important figure in the drama. Anush Avetisyan is perfectly cast in this role. This Kate embodies the confident New American Woman. (By this time suffrage had been granted to women in four states.) Miss Avetisyan combines this confidence with kindness. Her voice is lovely, but I think that what makes hers a perfect performance is her mastery of that sadly lost art, the art of "carriage." She really knows how to wear that stunning white suit.
You'll want to steal young Master Sam Holder, who plays Sorrow. He's a beautiful treasure.
Stage director Robin Guarino manages her cast beautifully. There's careful, deft attention everywhere. There's only one scene where I felt a lack, but it is an important one. When Pinkerton's ship is sighted Butterfly calls for flowers. The libretto has her tell Suzuki to go to strip blossoms from the garden:
"Ev'ry flow'r, spare not any. Peaches, violets, jessamine. Ev'ry spray you find of gorse or grass or flow'ring tree."
Suzuki returns, embracing a bounty of flowers. Puccini gives the two ladies extended sublime flower music. They should slowly, gracefully, dreamily strew the blossoms about the stage. But in this production the director has Sorrow, the little boy, go to get the flowers. He fetches in a couple bags of flowers which are dumped unceremoniously--like yard trimmings--onto the floor. It's a decision that's hard to understand.
Chorus master Cary John Franklin and his singers merit much praise. The occasional off-stage chorus passages drift in softly, beautifully.
Conductor Michael Christie draws fine work from his orchestra, always supporting, never dominating the voices.
This is the first time I had seen Butterfly in English, and I learned a few things:
Pinkerton is really a cad. He boasts arrogantly and callously dismisses any concern for Butterfly. That's always been there, but somehow it's clearer in English.
The piece is strongly anti-imperialist. Indeed the blatant American references (Benjamin Franklin Pinkerton, the U.S.S. Abraham Lincoln, and the use of phrases from "The Star Spangled Banner" as a leitmotif for Pinkerton) make it almost anti-American.
But in English or Italian or Swedish or Swahili Madame Butterfly is filled with the most wonderfully lyrical music in all of opera. I would go to it if it were sung in Klingon! And the Opera Theatre of St. Louis production is simply superb. You'll love it! Madame Butterfly plays through June 24. 
Related Articles