Theatre Reviews
Theatre Reviews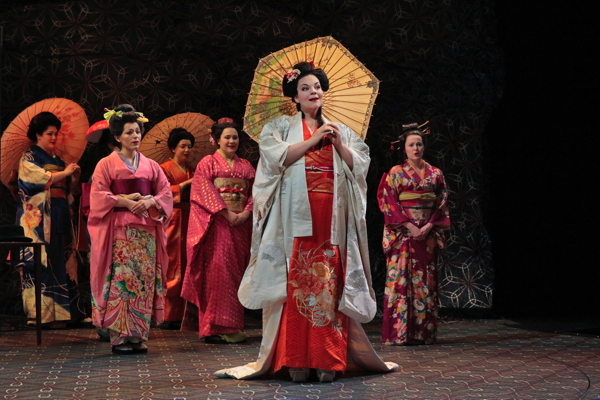 Even a critical curmudgeon admits it: Opera Theatre's 'Madame Butterfly' is a winner
By
How good is Opera Theatre's new production of Puccini's 1904 "Japanese Tragedy" Madame Butterfly? It's so good that it allowed me to forget, for nearly all of its two-and-one-half hour length, why I dislike this opera in the first place. Artistically and technically, this is such a superb piece of work that even an old Butterfly curmudgeon like yours truly got swept up in the tragedy.
My issues with the opera itself are mostly about the libretto by Giuseppe Giacosa and Luigi Illica, based on a play by David Belasco. On the one hand, I have always regarded Pinkerton, the sailor who seduces and abandons the title character, as the prototypical Ugly American. Arrogant, self-centered, and chauvinistic, he's Donald Trump in dress whites. On the other hand, the Geisha Cio-Cio-San (a.k.a. Madame Butterfly) displays, as written, a degree of naiveté which, despite her youth (she's supposed to be fifteen when she marries Pinkerton), borders on the delusional. As a result, this tragedy about two people who, as OTSL General Director Timothy O'Leary notes in a video blog, "are deeply in love but deeply misunderstand each other" has always struck me as a bit forced.
Still, even I get a bit choked up in the opera's final pages, especially when the production is this good. From the scene in which the abandoned Butterfly prepares to take her own life after a tearful farewell to the son she has conceived by Pinkerton (and which poverty now obliges her to give up to Pinkerton and his American wife) to the final moment when Pinkerton, unable to deny what he has done, collapses in a heap of grief and guilt over Cio-Cio-San's body, it's pathos all the way, folks. This is Puccini, after all. And for me, at least, the emotional pull of his music is what raises Butterfly above the level of sordid melodrama. 
And, of course, the moral issues it raises about power and principle are as valid now as they were over a century ago, both on the personal and national levels. It also helps that the English translation by long-time OTSL stalwarts Margaret Stearns and Colin Graham seems to give Pinkerton a bit more depth than others I have seen.
OTSL has assembled a fantastic cast. Soprano Rena Harms, who recently played Cio-Cio-San with the English National Opera, turns in a stunner of a performance here, forcefully sung throughout her range and acted with real conviction. She makes the character's tricky mix of vulnerability and backbone completely credible and fully commands the stage at all times.
Tenor Michael Brandenburg is an equally impressive Pinkerton, all smug bravado in the first act, crushing remorse at the end of the second. Like Ms. Harms, he has a truly spectacular voice, especially when combined with hers. Their long love duet at the conclusion of the first act was pure musical ecstasy. Even I was enthralled.
Baritone Christopher Magiera, who has done such fine work with OTSL in the past, once again delivers the goods as the American consul Sharpless, who tries, without success, to get Pinkerton to see the tragedy he will set in motion and to befriend the poverty-stricken Cio-Cio-San. It's a sympathetic portrayal, sung with genuine warmth and power. Ditto mezzo Renée Rapier in the small but important role of Suzuki, Cio-Cio-San's wise and long-suffering maid.
Even the small roles get big, polished performances. That includes tenor John McVeigh in the mostly comic part of Goro, the marriage broker; baritone Benjamin Taylor as Prince Yamadori, who tries to woo the abandoned Cio-Cio-San; bass-baritone Matthew Stump as The Bonze, who excoriates Cio-Cio-San for converting to Christianity; and soprano Anush Avetisyan as Pinkerton's American wife Kate.
Both Ms. Avetisyan and Mr. Taylor are members of the company's Gerdine Young Artists program, by the way. The quality of their work here speaks very well for that undertaking.
In a long and very insightful program note, director Robin Guarino goes into considerable depth discussing the issues presented by Madame Butterfly for contemporary audiences. "The obstacle of stereotype is certainly ever-present," she notes, and goes on to discuss the work's "long history of controversy--from issues of sexism, racism, and imperialism in the story to the issue of casting in theater and opera, which both have historically employed problematic practices like yellowface minstrelsy and the playing of Asian characters by white performers in makeup and prosthetics." Her solution, which strikes me as very smart, is to largely ignore ethnicity altogether and concentrate instead on the long-standing OTSL practice of "casting artists based solely on musical, dramatic, and artistic expertise, rather than appearance." That could have been a trap of a different kind, but the high quality of the results speaks for itself. 
Ms. Guarino and her designers have also shown wisdom in not trying to impose some artificial or post-modernist visualization on the opera. Laura Jellinek's sets, which seem to have been created from origami paper, are wonderfully evocative of the kind of artificially Westernized vision of Japan that was no doubt in the minds of Puccini and his librettists, who were unhindered by any knowledge of the real thing. They contrast nicely with Candice Donnelly's scrupulously accurate costumes, which were based on historical research. "Many of the kimonos in our production were ordered directly from Kyoto," notes Ms. Guardino. They look lovely.
Under Cary John Franklin's direction, the OTSL chorus sounded as powerful and precise as always. And conductor Michael Christie led the St. Louis Symphony musicians in a flawlessly played account of Puccini's ravishing score.
What all this means is that if you, like the vast majority of opera lovers, are a fan of Madame Butterfly, you really owe it to yourself to see the Opera Theatre production. It's certainly the best one I have ever seen and a great way to start the new season. It runs through June 24 in rotating repertory with three other operas at the Loretto-Hilton center in Webster Groves.
Related Articles