Theatre Reviews
Theatre Reviews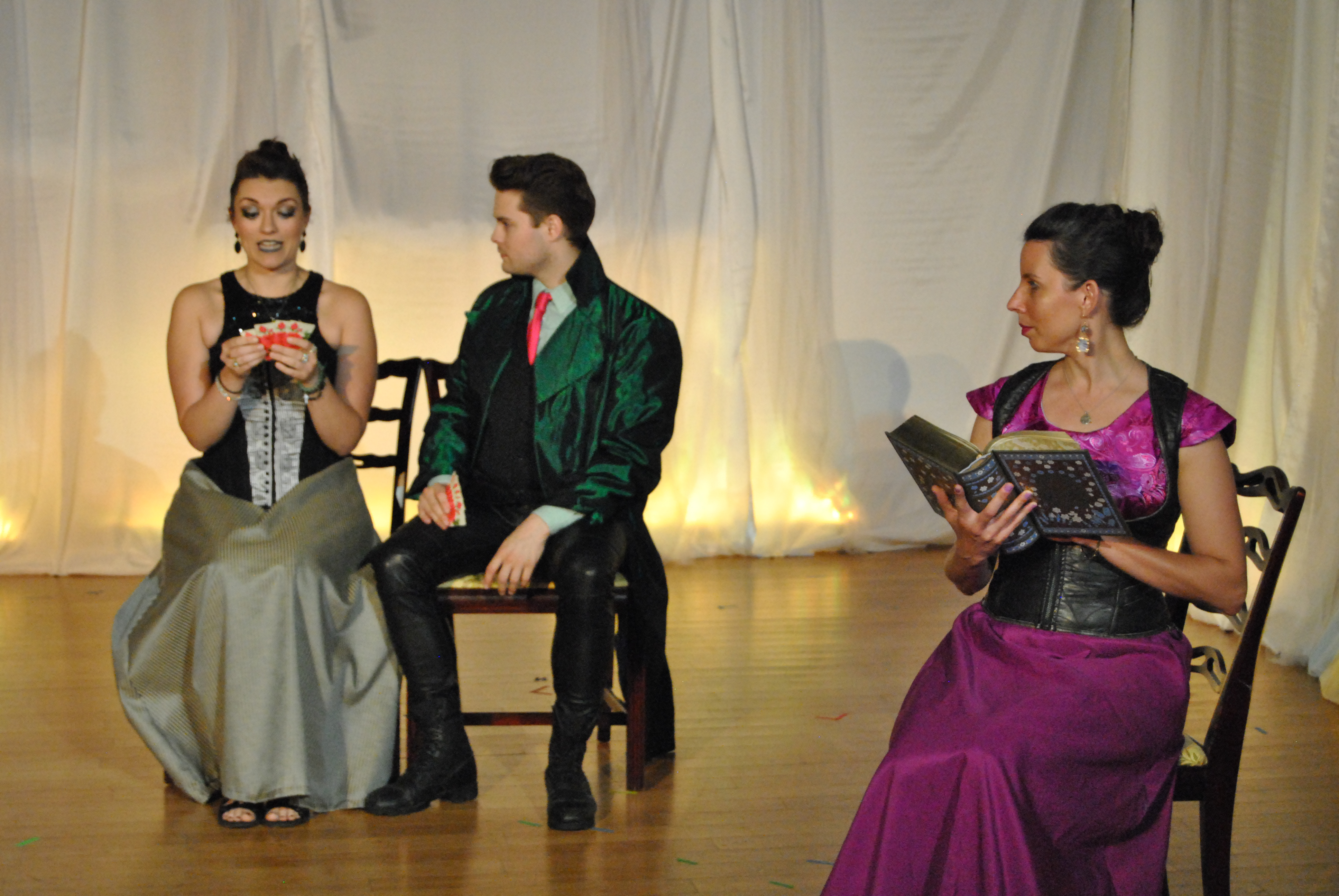 Jane Austen makes lasting 'First Impressions' when paired with contemporary sense and sensibilities
By
First impressions matter, everyone knows that. But any fan of the works of Jane Austen undoubtedly also knows that they certainly aren't everything and, sometimes, can be surprisingly deceptive. Slightly Askew Theatre Ensemble embraces the concept in their delightfully in tune adaptation of Pride and Prejudice, one of Miss Austen's best loved and most frequently adapted novels. 
Walking into the theater, audiences may at first feel as if they've arrived at a party or fantasy-themed celebration. There's a billowy white canopy with twinkling lights above and guests of age are invited to enjoy a glass of wine or a beer during the show. What they are about to see, however, is a battle of wits and hearts filled with playful duplicity and class maneuvering. With a wink of an eye and the sounds of a string quartet, we're transported to the household where the five Bennett sisters and their mother plot perfect marriages with eligible young men.
In the midst of the scheming, planning, and social cavorting, characters break free from the show and, in a contemporary voice accompanied by distinct choreography, recall first reflections of experiences with Austen's Pride and Prejudice. These memories are sprinkled with more than a bit of opinion and frequent references to Colin Firth. Just as quickly, the actor returns to character and plot as the abbreviated retelling of the novel continues. 
The company's adaptation is inventive, full of polite invectives and heaping praise for the work, and teeming with relatable humor.  The integrated monologues were culled from a variety of sources, including questions posed directly by the company for public response. The commentary is often funny, frequently insightful, and game for explaining the persistent popularity of Miss Austen to a public that might not appropriately appreciate the author's talents. The story comes across as much through the retelling of readers' initial (and frequently, changing) preferences as the novel, and the two distinct parts are seamlessly woven together by director Rachel Tibbetts and the talented cast.
Ellie Schwetye and Cara Barresi embody the spirit of Elizabeth and Jane Bennett to a T, each creating a believable woman that complements, but does not match, the other, true to the spirit of the novel. Schwetye is perceptive and witty, Barresi charming and kind-hearted, and both reveal an independent nature. Nicole Angeli and Carl Overly, Jr. are fussy and fundamentally endearing as Mr. and Mrs. Bennett, and Angeli gets some of the best reactions with her adroitly over-the-top mannerisms. The relationship between the close sisters extends to Parvuna Sulaiman as Mary, Jazmine K. Wade as Kitty, and Katy Keating as the irrepressible Lydia. Sulaiman also serves as a de facto guide through the evening, her commentary leading us into the subject and warmly bringing the story to a close.
On the romantic front, John Wolbers sparkles as the erudite and elusive Mr. Darcy and adroitly keeps toe-to-toe with Schwetye. A wide-eyed and good-natured Michael Cassidy Flynn is the perfect counter to Barresi as Charles Bingley; and Rachel Hanks, as friend Charlotte, and Andrew Kuhlman, as the girl's cousin Reverend William Collins, find romance that bristles with an endearingly awkward energy. Rounding out the cast, Kristen Strom is as aloof and prickly as Caroline Bingley as she is sweet and beguiling as Georgiana Darcy.
The company uses its resources wisely, suggesting much with a few pieces of scenery and period-suggestive costumes by Elizabeth Henning that cleverly reveal much about the characters' relationships through repetition of pattern and color matching. Interpretive choreography and a leitmotif of contemporary music, as performed by a string quartet, add to the dreamy quality of the show while subtly reinforcing theme. Much like the story, popular songs from artists as varied as Journey, The Cranberries, Coldplay, Arcade Fire, and Of Monsters and Men are at once recognizable and transformed.
Slightly Askew Theatre Ensemble's First Impressions, running through May 27, 2017, captivates with a sense of the logically surreal that's capped off with sharply defined yet endearing characters, smartly constructed commentary, and capricious visual and musical layers. Purists and those expecting a stage version of one of the many movie adaptations may experience palpitations at the construct; but I encourage them to embrace the reverent spirit and intellectual curiosity inherent in the approach. 
Related Articles