Theatre Reviews
Theatre Reviews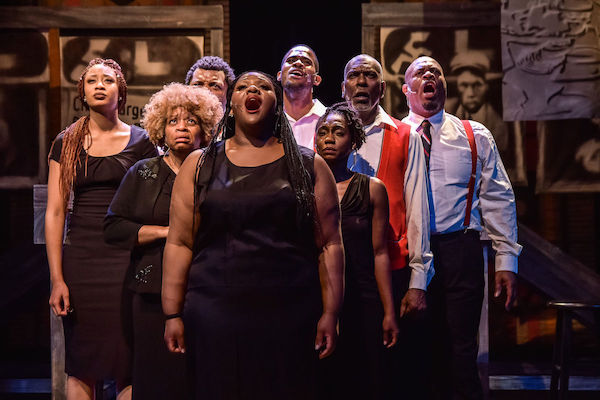 'Crossin' Over' tells a moving, emotional history with captivating song and dance
By
Originally produced in 2005, and a perfect revival to close the company's 40th anniversary season, Crossin' Over is powerfully effective, seamlessly connected storytelling delivered through traditional and popular music. The story is the unique experience of Africans brought to America through the slave trade. Told through song rather than spoken dialogue, Crossin' Over is comprised of five musical suites and an accompanying opening melody which establishes the major themes. 
The show is anchored by the voices of Amber Rose, Herman L. Gordon, and Kelvin Roston, Jr., who provide the majority of the lead vocals. Rose has a voice that is effortlessly pure and augmented by an impressive range. Gordon and Roston, Jr. are an earthy, soulful complement to Rose's ethereal melodies, bringing rich, vibrant depth to their leads. Near perfect harmonies and additional solos from J. Samuel Davis, Michael Lowe, Leah Steward, and Maureen L. Williams add texture and variety. Featured dancer Venezia Manuel extends, articulates, and interprets the songs with the same emotional intensity and passion as the capable ensemble.
Each of the five suites presents an important transition in African American history: from freedom to bondage; from slavery to emancipation; from south to north; and from segregation to civil rights. The songs and choreography, a mix of traditional African and modern dance, create a fluid timeline that resonates with immense pride and deeply rooted traditions. The songs and dances move from suite to suite in concert with the major themes. Traditional African songs and dances open the show then adroitly transition, weaving in American gospel, blues, and popular music as well as modern dance reminiscent of Katherine Dunham and Alvin Ailey.
The opening medley introduces the theme and the show begins its natural, seemingly organic, movement forward. The African Suite is filled with daily tasks and celebration. Manuel punctuates the songs with lively traditional dance and percussionists Donald Ray, Jackie Sharp, and Atum Jones join the cast on stage. Their taps, slaps, and beats resound in perfect synchronicity with Manuel's dances and the songs, or vice versa. Banners with African prints unfurl and Mark Wilson's lighting deftly draws and shifts our attention. 
This suite transitions abruptly to the Crossing Over in Slave Ships section of the "Captivity Suite," ending with the suggestive sway of the ocean and close ship hold quarters packed with people. The tension is high and filled with confusion, illness, and brutality. This section is intimately real and painful, and, though beautifully articulated, difficult to watch because it is such an effective reminder of how cruel humans can be in their treatment of each other. Fear, confusion, and concern are apparent on every actor's face. The second part of the suite, The Auction Block, features the unfurling of a slave auction advertisement, a striking visual emphasis of the history we're witnessing. 
The "Civil Rights Suite" is equally compelling and uncomfortable, though it offers glimmers of hope that humanity can change, a feeling that is underscored by the joyful and uplifting Contemporary Suite. Additional banners, part of the strong, but simple set design by Jim Burwinkel, provide context and are pointedly used by director Himes. At times the actors feel crowded and compressed in the space, at other times there's an expansive and unforgiving distance implied. The cumulative effect is cohesive, captivating storytelling that's visually and expressively stunning.
The songs reflect the era of the timeline, and the uniform strength of the ensemble, as well as contributions by each vocalist on almost every song, make it difficult to site a single stand out piece. "Crossin' Over," "No Way," "Kakilambe," "Motherless Child," "Lord How Come Me?" and the closing medley are memorable numbers from the first act. In the second act, "Blues Medley," "It's Gonna Rain/Didn't It Rain," "Keep Your Eyes on the Prize," "Strange Fruit" and "Rise Up" stand out as spectacular and pleasingly textured renditions. In addition to the percussionists, musical director and keyboardist Charles Creath, bassist Willian "Rainey" Rainer, and drummer Jeffrey Booman Burks provide solid accompaniment.
Crossin' Over, in performance through June 18, 2017 at the Black Rep on the campus of Harris Stowe, is an evocative production. Ron Himes' curated musical features songs new and familiar, and Creath's arrangements make the most of each performer's voice, with leads Rose, Gordon, and Roston, Jr. setting a high standard. Layered storytelling engages multiple senses while the cast expertly conveys the unique experience of African American history with grace, power, and dignity.
Related Articles