Theatre Reviews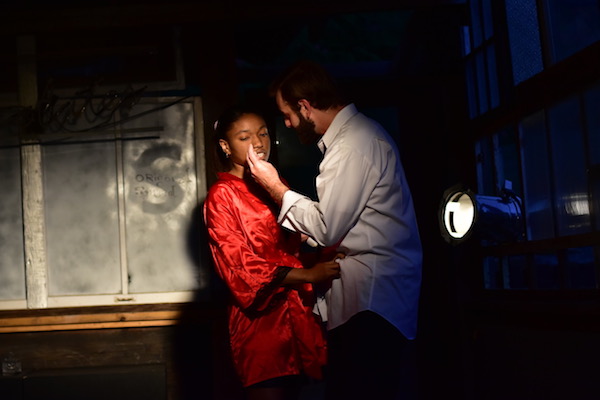 'Acronyms' explores issues of identity with humor and insight in six short plays
Theatre Nuevo, a relatively young company on the block, continues to provoke audiences with its thoughtful exploration of what it means to be fully human. The six short plays introduce us to a variety of real people who are often relegated to labels filled with preconceived notions and prejudice. Each of the shows features well-developed scripts and actors fully invested in their scenes, creating an enjoyable evening of entertainment that may also lead to self-examination. I find this type of prodding from the company beneficial and entertaining, as well as fitting into the old adage that art is sometimes designed to make you uncomfortable, or at least more aware.
The six plays include:
A Comfortable Fit by Stephen Peirick, directed by Adam Flores, a short play that takes a closer look at what it really means to embrace and accept your identity. The beauty here is that the twists are not surprising, but still fresh and revelatory. The comedy-infused script, set in a shoe store, is funny and perceptive and features Julianne Bennett (Gwen), Elizabeth Van Pelt (Jennifer), and Omega Jones (Charlie).
Cleopatra Under Water by Georgina Escobar, directed by Natasha Toro, allows audiences to sit in on a girls' night out that's filled with insights on navigating the world as a woman. We may not all be so perceptive, but the situation is instantly familiar to anyone who has faced a night out as a single adult. Issues of contemporary feminism and the nature of friendship punctuate the quick clever script featuring Grace Langford (Becky), Erin Renée Roberts (Arlene), and Elizabeth Van Pelt (Charity).
La Reception by Carlos-Manuel, directed by Robert Ayllón, is a touching wedding story that feels instantly familiar to anyone who has felt the fear of rejection from family and close friends.  Told in a mix of English and Spanish, the story is easy to follow and engaging. The couple may be gay and Latinx, adding personal relevance and intimacy, but their story is universal in nature and features Isabel Garcia (Sonia), Jesse Muñoz (Raul), and Kelvin Urday (Enrique).
Ofélio by Joshua Inocéncio, directed by Rahamses Galvan, is the most intense and disturbing play of the evening, and it hits hard at the subject of sexual consent. Without getting preachy or judgmental, the show nonetheless takes a pointed look at important issues. Too many people share stories familiar enough to Ofélio's for it not to hit a nerve or two, and the actors, Tyson Cole (Grad Student), Kevin Corpuz (Ofélio), and Grace Langford (Doctor), approach the subject matter with sensitive honesty.
The Bullshit by Gregory Fenner, directed by Anna Skidis Vargas, is a searing script that unabashedly points out inconsistencies in the way people are treated based on looks or ethnicity. The short play drives its points home hard, but without anger, and the actress treated dismissively may at times surprise you with her reactions. The smart show features Chrissie Watkins (Jennifer), Clayton Bury (Simon), Tyson Cole (Morgan), Evan Fornachon (Robert), and Erin Renée Roberts (ASM)
The History of Mexicans in 10 Minutes by Alvaro Saar Rios, directed by Elizabeth Van Pelt, is as comically light as it is genuinely informative. In a quick ten minutes we learn that in the beginning there were no Mexicans. The factual assertion leads to a delightful compressed education delivered with enthusiasm and spirit by Rahamses Galvan (Player 1), Anna Skidis Vargas (Player 2), and Kelvin Urday (Narrator). The information is interesting, entertaining, and you may learn a thing or two just from listening.
Acronyms, like labels, badges, and icons, can be useful in their ability to quickly convey a concept or define shared understanding. Applied too liberally or used as a means of generalizing people -- particularly those you don't personally know or interact with -- is a dangerous and disingenuous practice. Theatre Nuevo mines this slippery slope in Acronyms, an evening of short plays running through June 17, 2017, that provide plenty of art for thought. The direction and performances are compelling, presenting realistic situations and authentic dialogue sharpened for the stage, and the scripts are satisfyingly compact and focused.
Related Articles