Theatre Reviews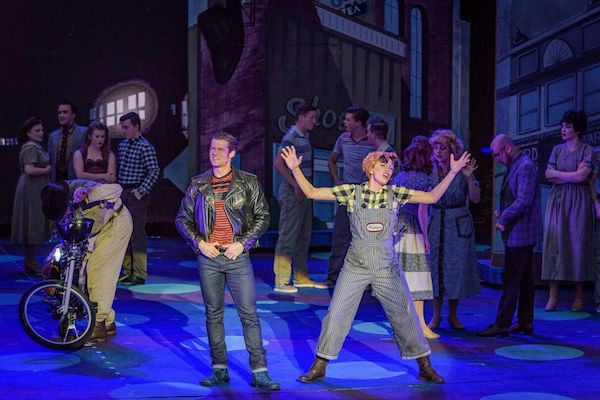 'All Shook Up' intertwines Elvis Presley and Shakespeare in a light-hearted musical love story
Take the music and rebellious ethos of Elvis Presley and add in a storyline based on Shakespeare's Twelfth Night, with just a dash of Romeo and Juliet for extra spice. Set it all in the emerging civil rights era of the late 1950s and simmer. The result is All Shook Up at The Muny in Forest Park. A humorous, musical evening of entertainment with a fun story and compelling ensemble, the show might not be an instant classic, but it's certainly got a good beat you can dance to. 
Natalie Haller, in a compelling turn by Caroline Bowman, is a small town girl with a longing for adventure and a knack for auto mechanics. Her best friend and almost constant companion Dennis, a charmingly nebbish Barrett Riggins, pines for her but she remains oblivious. Her other close friend Lorraine, a bubbly and engaging Ciara Alyse Harris, longs for a romance of her own and quickly falls for the stuffy town mayor's son. That same mayor has banned rock and roll, amusement parks, and any activity that might encourage teenagers to get into trouble, leaving the town in a dull and drab state.
The heat gets turned up when roustabout rocker Chad, in a comically exaggerated hip-swiveling, lip sneering performance by Tim Rogan, glides into town on his ailing motorcycle. He immediately starts shaking things up by encouraging the townspeople to let go and have a little fun. A captivated Natalie falls under his spell right away, but he doesn't notice her. Instead, Chad becomes instantly infatuated with museum curator Miss Sandra, a seductively game Felicia Finley, who has great fun with the part. Lara Teeter, as Natalie's widowed father Jim, and Liz Mikel, as roadhouse proprietor Sylvia, share a sweetly surprising romance of their own while Hollis Resnik, Jerry Vogel, and Paul Schwensen provide solid support and additional comedy.
The structure of Shakespeare's story is nicely updated and Presley's songs seamlessly weave in and out of the show, carrying much of the emotional context as well as the characters' inner thoughts. The arrangements, under the musical direction of Charlie Alterman, are flat out spectacular and a highlight of the evening. The tempo is occasionally changed and the intonation and phrasing altered, with layered ensemble harmonies adding rich texture and interest. The musical numbers are complemented with choreography by Jessica Hartman that draws from the popular dances of the era and elevates them with lifts, jumps, and acrobatic twists that add just the right visual interest and modern touch.
Refrains from a number of the songs are reprised throughout the comically infused story, with different interpretations to suit each moment. The cumulative effect adds to the light, charming tone of the show, resulting in numbers with unique interest rather than direct copies. Video is incorporated in clever ways, particularly the dream sequences, and I also enjoy the integration of positive messages about love and equality. And Chad's confession regarding his feelings for the mysterious Ed is delightfully quirky and heartfelt, if unrealistic for the era. 
Unfortunately, all these fabulous moments don't quite add up as well as they should. The combination of Elvis and Shakespeare is certainly compelling, but the story gets muddy in places, as if it's trying to do too much with the material at hand. Additionally, several of the characters feel a little too stereotypically stock for their own good. Finally, I have a hard time believing the eventual Chad and Natalie pairing. It's a serious stretch to watch him fall so quickly for Natalie (or even Natalie masquerading as Ed) after his pursuit of the voluptuous Miss Sandra, and I question why Natalie would remain infatuated with him after discovering her true nature while disguised as Ed. There were also multiple technical glitches on opening night, the worst of which was a microphone fail that continued for several minutes as the performer soldiered on. The audience remained engaged throughout the difficulties, a testament to Dan Knechtges clear direction and the commitment of each cast member, particularly those in the impacted scene.
All in all, The Muny's production of All Shook Up, running through July 19, 2017, is an entertaining and engaging musical, though it doesn't yet strike me as a great show. A strong ensemble, memorable arrangements, eye-catching choreography, and some inventive staging provide the background for a musical that, while uneven, tells an entertaining story with a rock and roll soundtrack. There are a few scenes that lag, and the script might benefit from some work to tighten and focus the themes, but I like the musical's structure and premise and think there's real potential here. 
Related Articles