Theatre Reviews
Theatre Reviews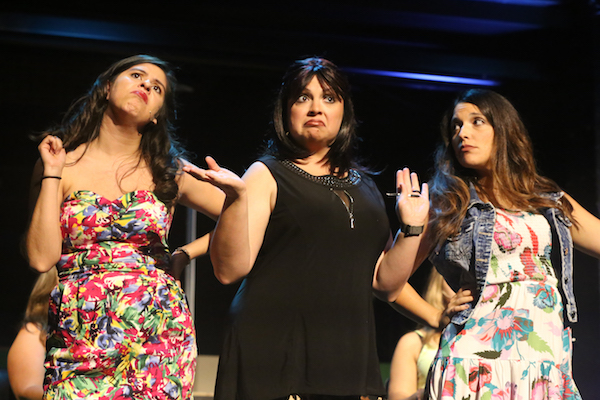 Immigrants find home in 'In the Heights'
By
Lin Manuel Miranda is best known for his runaway hit musical, Hamilton. But his first show, the hip-hop musical In the Heights, was also a huge success, garnering a 2008 Tony for Best Musical Score and a 2009 Grammy for Best Musical Show Album among other awards. These awards are well-deserved. Miranda crafted a thoughtful, moving score with witty, digestible lyrics. Every word serves to move the story along, nothing is superfluous. 
The show reveals the lives of Latino immigrants and their children in the Washington Heights neighborhood of New York City. There, the neighborhood's matriarch, Abuela Claudia, watches over everyone, including Usnavi, a young man who lost his parents recently and struggles to keep his father's bodega open. The show spins around Abuela and Usnavi, their love for each other and their neighbors, their struggle to find home when they're living in a concrete jungle but dreaming of the tropical countries of their past. If only those countries offered the same economic opportunities as the United States. 
The show's opening night was plagued with technical difficulties: the band drowned out two-thirds of the cast's lyrics and lines, and the mics and lights consistently came on ten to fifteen seconds late. This is RS Theatrics first foray into the new .ZACK space, so technical director Keller Ryan will presumably have these issues under control for the rest of the run. 
Despite these problems, the cast persevered. The ensemble fell into their roles as residents of Washington Heights with ease, and their vocals were on point. Anna Skidis Vargas and Gabriela Diaz play the show's comedic relief duo, and they were enchanting together on stage, their voices blending perfectly. Marshall Jennings as Benny convincingly made the character his own; his dance moves were charming, his voice angelic, and his smile adorable. He made it perfectly clear why Cassandra Lopez's Nina fell in love with him, and Lopez had the audience falling in love with her voice during her solo, "Breathe." Jesse Muñoz embodied Usnavi: he can't dance, he is self-effacing, and Muñoz showed the shift his character makes from the dreamy young man of the start of the show to the self-assured business owner of the end. Kevin Corpus garnered the most laughs with his intensely youthful portrayal of Usnavi's cousin, Sonny. 
The star of the show is Carmen Garcia, who plays Abuela Claudia. Director Christina Rios showed her directing chops best in a scene where Abuela remembers her childhood and the move to America from Cuba. It is a haunting reminder of the sacrifices people make when they uproot their families for a chance at a better home in a new place. The show is worth seeing just to experience this moment of theatrical art. 
RS Theatrics' In the Heights plays at .ZACK through September 3. 
Related Articles