Theatre Reviews
Theatre Reviews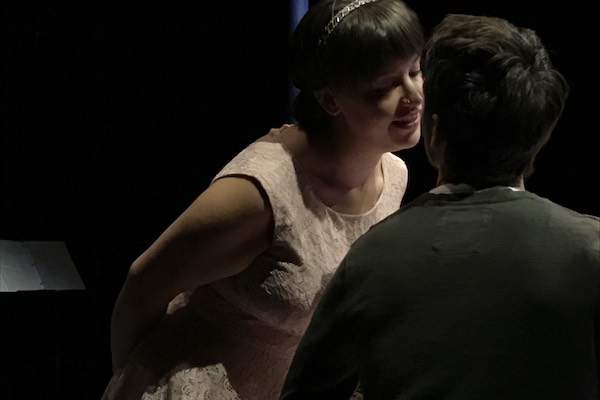 'Coupler' pairs modern charm with a romantic journey on London's Northern Line
By
Tesseract Theatre sprinkles manic pixie dust and twinkle lights over the traditional "happily ever after" in their production of Meredith Dayna Levy's Coupler. The contemporary love story is told through trips on the last car of London's Northern Line train, a surprising but not unrealistic location for modern love to bloom. The story about growing up and embracing your current reality is warm and filled with possibility, even as it covers ground as familiar as that beneath the train's tracks.  
Christopher, a struggling writer, is riding on the metro one day when a chance encounter with the seductively playful Sadie sends his fantasy life into overdrive. She's smart, attractive, and the two instantly click, but their affair is brief. Lasting only until Sadie's stop arrives, it's just long enough for her to plant a lingering kiss on Christopher. The kind that leaves an indelible memory. Inspired by the brief flirtation, Christopher pens a best selling novel and continues riding the Northern Line looking for his dream girl. His obsession with Sadie, whom he knows only as Tinkerbelle, threatens his chance at a long-term relationship with Emily, as does her own encounter with the mysteriously charismatic Glenn. Can these two millennials move beyond their attachment to an ephemeral ideal and find love in the real world? If the Northern Line has any say in the matter, they will -- eventually.
Andrew Rea gives Christopher an earnest, easy-going nature with just a hint of playboy swagger. There's an unaffected quality to his mannerisms and a literary bent to his flirtation that Rea effortlessly inhabits. Anna Hecht's Emily matches Christopher with wit, curiosity, and unrestrained radiance. She feels more approachable and real than Christopher's dream girl, with a relaxed, relatable quality that instantly finds the path through Christopher's intentional distance. As so often happens in life, the more they talk, the more they find they have in common and the more interested they become. Each puts up barriers to the other however, and even the Northern Line becomes a bit peeved at the snail's pace progression of their obvious affection. 
Amanda Brasher is filled with mischief and dry comments as the voice of the Northern Line, and her deadpan jibes and encouraging prods provide a delightful, if sometimes snarky, play-by-play. Rachel Bailey and Darrious Varner are just beyond reach as Sadie and Glenn. Almost too beguiling to be true they leave a sparkling trail of "what if" in their wake. Bre Love and Annalise Webb add a more grounded perspective to the situation, nudging Christopher and Emily along to the requisite happy ending. Love provides the voice of reality the lead characters need to change and, as Varner's sister, Love's boss, and Rea's publisher, Webb realizes she needs to make some changes of her own while also providing the piece of the puzzle that resolves manic pixie Sadie. Finally, director Katie Palazzola and Bridget McDonald add texture and some inspired realism as train busking singer-songwriters.  
The show is split into multiple scenes and the story spans a period of several years, necessitating Brasher, as the Northern Line, to interject time references. A few scenes and transitions move a bit too slow, even with the buskers performing during crossovers. And while I enjoy the clever songs and pleasant harmonies, I feel the device is used too frequently in the short show. Cutting a few songs may improve the overall pacing as well. The concept and story work well, however, and I appreciate how interconnected all the characters are as well as the fact that the audience understands this connection better than any of the individual characters. While Coupler doesn't break new ground in the love story genre, an engaging, contemporary setting and interesting though unremarkable characters give the story fresh appeal and possibility.
The tiny set, a collaboration between Jackie Chambers, Brittanie Gunn, Taylor Gruenloh, and Kevin J. Bowman, artfully suggests a car on a busy metro train, with blinking twinkle lights that mimic the precise timing and movement of a carefully scheduled timetable. While the simplicity of the set and lighting initially remind us that Tesseract Theatre works with a tight budget, they are surprisingly effective in creating the feel, cadence of travelers, and urgency of a busy metro system. The imaginative staging and an invitation from stage manager Bradley Rohlf for self-selecting patrons to ride the train enable audience members to jump on board and go with the story's flow.  
Tesseract Theatre's production of Coupler, running through September 24, 2017, entertains with inventive staging, clear direction by Katie Palazzola, and a talented and authentically appealing cast. The genre and format may be old, but the characters and location are contemporary and vibrantly plausible, ensuring an enjoyable retelling with a few whimsical twists and that ever-present pixie dust.
Related Articles