Theatre Reviews
Theatre Reviews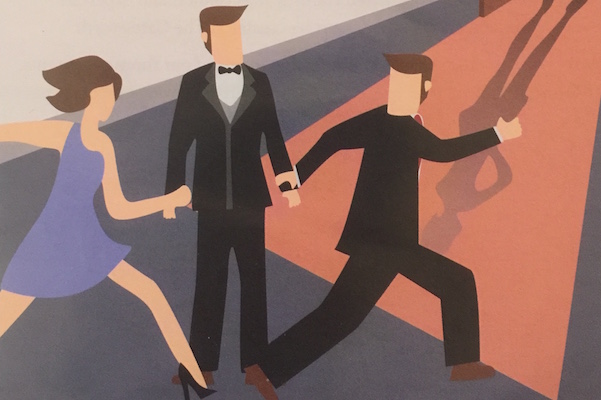 'Lend Me A Tenor' is an all-out farce punctuated by mistaken identities, physical comedy, and slamming doors
By
Kirkwood Theatre Guild's production of Tony-award winning playwright Ken Ludwig's Lend Me a Tenor is a madcap, high-spirited farce that's filled with one-liners, double entendres, mixed up characters, and a multitude of fast-paced physical hi-jinks. Nancy Crouse directs the capable cast through the show's constant parade of comic maneuvers; with the funniest bits executed with flair and finesse by Todd Macali as the overworked and under-appreciated Max.
Max is in love with Maggie, the daughter of Saunders, who is the producer of the Cleveland Opera. To build up their ticket sales and national prominence, the opera has hired a world-renowned tenor to sing the lead role of 'Otello' in their local production. The tenor, Tito, arrives hours late, exhausted, and in the company of his very jealous wife Maria. Tito and Maria squabble and Tito sarcastically declares he has a woman in his closet without knowing that Maggie has hidden there in hopes of meeting her favorite singer. Tito decides to take a nap before the performance, aided by an oversized helping of pills intended to relax him, and Maria takes off in a huff after leaving Tito a cryptic note. Max can't wake Tito up, but the show must go on!
The story is funny and the antics of the ensemble are thoroughly and comically engaging. Naturally, the audience can see all the mix-ups and where story threads are getting crossed, which only adds to the sense of fun in the often laugh out loud and silly show. An effective stage design by Crouse, enhanced by an abundance of doors and the absence of the wall separating the bedroom from the rest of the suite (except the door and its frame), enables an almost constant flow of action, a point reinforced during the mostly silent and quite charming curtain call.
Macali is simply captivating as Max, and always at the center of the quickly changing plot. He is pliable, flexible, and willing to throw himself around in inventive and comic ways that keep the laughs rolling. He's also a bit nebbish and lacking in confidence, ensuring he's taken for granted by those who need him most. Melody Van Quinn, as Maggie, and Tim Callahan, as Tito, are perfect foils to Macali's comic excess, with sharp reactions and witty subplots of their own. Van Quinn longs for enchantment and fairy tale special effects in her romance. Callahan is a man of many appetites, who nonetheless loves his wife as passionately as he fights with her. 
Scott De Broux is pompous and anxious as Saunders, pacing nervously and making feeble attempts to hide his concern from the opera's board chairman Julie, a pretentious and surprisingly bawdy Annie Bayer. Kathryn Kent plays the opera's leading lady, Diana, with steely determination and a seductive flair, while Annalise Webb is comically bold and fiery from her well-heeled shoes and stylish dress to the top of her lungs. Finally, Isaac Weaver delights as the Bellhop, with stylized mannerisms and a surprisingly mellifluous voice.
The show is well directed by Crouse, who uses the entrances and exits to humorously boost the thin plot. Unfortunately, the show employs black face as a major plot device. While pertinent to the story, which relies heavily on a character switch wherein Max disguises himself as Tito in an effort to ensure that the show goes on, its use is strongly questioned in 2017. Though operatic performances of 'Otello' have traditionally employed white men in blackface, it feels unfortunate that Kirkwood Theatre Guild couldn't have found a different way, such as a mask, to effectively communicate the ruse. Or perhaps they could have chosen a different play to feature the considerable comic abilities of the talented cast. 
Filled with over-the-top shenanigans and non-stop energy, Lend Me a Tenor, running through November 12, 2017 is a funny, satisfying romantic comedy with a problematic plot twist. The majority of the show is well-constructed and written, with clever twists and turns that a community theater cast can readily mine for comic gold. The Kirkwood Theatre Guild production features a spectacular performance by Macali and solid support from the agile and humorous cast. 
Related Articles