Theatre Reviews
Theatre Reviews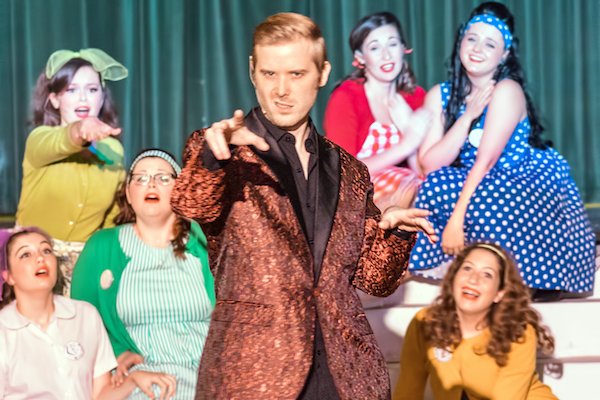 A spirited 'Bye Bye Birdie' adds to the quality community theater found outside the city center
By
With a drive that can easily take an hour each way, theater patrons living in the far reaches of our region may long to attend the theater more often than they can make it to the city. In far west St. Charles county, community based O'Fallon Theatre Works answers the call of live theater fans by producing high quality community shows that feature the best of the area's talent. 
The company's current production of Bye Bye Birdie boasts an endearing cast, sharp direction, smart choreography, delightful costumes, and an overall sense of joie de vivre that completely entertains. Directed by Katy Leigh Gilda-Fry, with musical direction by Colin Healy and surprisingly complex choreography by Julie Garey, the upbeat show is as cheerful and fun as the bright color palette of the set and costumes. The central plot is pure romantic comedy, but Gilda-Fry infuses teen angst, a hint of modern feminism, and plenty of mischief to hold our interest as the familiar story unfolds.
Pop star and heartthrob Conrad Birdie has deferred his draft enlistment as many times as possible and must now report for basic training. Birdie's manager and songwriter Albert fears his struggling label will fold without its star, but his loyal assistant Rosie comes up with a big publicity stunt to save the day. Birdie will plant a goodbye kiss on one lucky girl, going out on a high note and releasing a guaranteed hit record. Naturally, Rosie and Albert are in love, but no girl is good enough to merit Albert's domineering mother's approval. Meanwhile, in the little town of Sweet Apple, Kim McAfee, an officer in the Conrad Birdie Fan Club, has just gotten pinned to Hugo Peabody and the towns' party line is all abuzz with teen gossip.
Such is the set up for the musical comedy Bye Bye Birdie, a nostalgic romp through the early days of rock and roll. In this production, the teen roles are filled with actual teens from the community. Like the adults that join them on the stage, they are uniformly talented, enthusiastic, and well rehearsed. The majority of the songs feature solid harmonies and pleasant solos, and the lead characters are generally capable of steering the show and garnering sympathy. The musical drags a little at the top, but once Conrad arrives in Sweet Apple the show finds its footing and everything clicks into a higher gear. The result is a production teeming with community all-stars, and enough fans and friends to fill the converted gymnasium space to near capacity. 
Becky Loughridge and Andrew Woodard are charming as Rosie and Albert, and both display great versatility as dancers as well as solid acting and singing chops. Robert Michael Hanson gives Conrad Birdie a swagger and a sneer, but keeps him likeable, not too pompous or full of himself. Erin Morris and Patrick Blanner are earnest and beguiling as the high school sweethearts, while Oscar Lares, Michelle Yorty, and Brady Stiff are laugh out loud funny as the McAfee family. There is also blatant misogyny and less obvious racism in the show that, while period appropriate, is a bit overbearing. Gilda-Fry treads these lines carefully but directly, playing the sexism big and obvious, with a hint of wink and nod to the audience, while downplaying the subtle racial digs directed at Rosie from Albert's mother. Considering the relative homogeny of her cast and community-friendly intentions of the company, both are wise choices.
Community theater is an essential component of a culturally rich region, and a stepping-stone for actors, crew, and audiences. Many of us experienced theater first by taking in a community show at a local gymnasium or school auditorium. When a cast is as enthusiastic and committed as the one Gilda-Fry has assembled, it is easy to keep fans interested and seats filled. Productions such as O'Fallon Theater Works Bye Bye Birdie, running through November 12, are an important part of our culture -- every performance creates an opportunity to pass an appreciation for locally produced art to the next generation.  
Related Articles