Theatre Reviews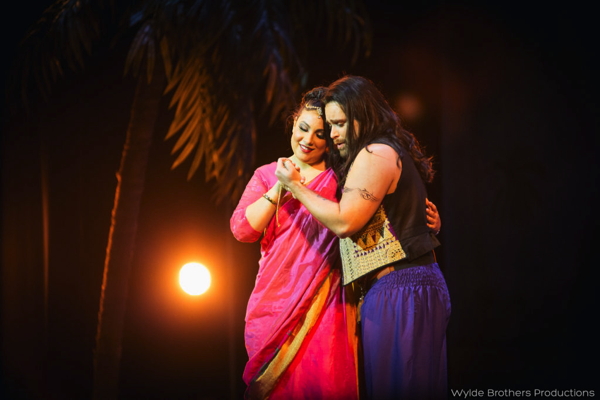 The singing sells the story in Winter Opera's exotic 'Pearl Fishers'
As I have noted in the past, nobody would ever mistake Georges Bizet's 1863 Les pêcheurs de perles (The Pearl Fishers), an appealing production of which is on stage at Winter Opera this weekend, for Great Art, given what an implausible mess the libretto is.
Set in "ancient times," the story about Ceylon pearl fishers Zurga and Nadir, lifelong friends driven apart by their mutual love for the priestess Leïla, makes little dramatic sense, but Bizet set it to some irresistible music. "Au fond du temple saint," the Act I duet in which the two men swear that their earlier infatuation with Leïla will never part them again, has become something of an operatic Greatest Hit, and the rest of the score is filled with equally appealing stuff.
Winter Opera St. Louis has four very strong singers in the leading and supporting roles (there are only four named roles in the opera), with an especially strong Leïla in soprano Sonja Krenek. "Comme autrefois dans la nuit sombre," a vocally elaborate number in which Leïla recalls her earlier romance with Nadir, requires the high-flying flexibility of a coloratura soprano. Ms. Krenek had that nailed when I heard her at the final dress rehearsal Wednesday, and was believably alluring in her scenes with the besotted Nadir as well.
Tenor Spencer Viator and bass-baritone Andrew Pardini were also vocally stunning. Mr. Pardini, in particular, has the kind of big, ringing voice that can easily fill a theatre. Looking at his resume, I was surprised to see an absence of Wagner; he sounded like a performer who would be at ease in that repertoire.
Mr. Viator isn't quite in the same league in terms of sheer power, but there's a lyrical beauty to his voice that felt like a perfect match for the lovelorn Nadir. He and Mr. Pardini were, to quote a Sondheim lyric, "a practically perfect pair" in "Au fond du temple saint."
The role of the high priest Nourabad isn't large, but he needs to dominate the stage, physically and vocally, when he's there. Bass Richard Zuch certainly did that Wednesday night, with a high-voltage voice that rolled like thunder. An imposing presence is what's called for, and that is what we got.
The chorus is important in Les pêcheurs. Bizet has given them some prime material, like the hymn to Brahma that closes the second act, so they need to grab and hold our attention. Chorus Master Gail Hintz's forces are small but their sound was mighty. The small size of the chorus was also something of an advantage, in that it allowed individual singers to create their own characters and create the sense of a real community rather than just a collection of singers in costume.
As he has in previous Winter Opera productions, Darwin Aquino led the small (25 piece) orchestra in an authoritative account of the score. The Winter Opera orchestra always seems to project a sound larger than its size might suggest. I don't doubt that the acoustics of the Viragh Center help in that regard, but it's still a real credit to their work. There was some fine solo work by orchestra members as well, including (but by no means limited to) Carrie Smith's cor anglais accompaniment to Nadir's "Je crois entendre encore" aria; flautists Jennifer Gartley and Laura Dwyer's piccolo work at the top of Act II; and Megan Stout's harp throughout the evening.
Director and talented operatic bass Mark Freiman moves things along briskly but, as has sometimes been the case in the past, still displays an unfortunate tendency to simply plant actors on stage and have them sing facing front. JC Krajicek's costumes and Scott Loebel's set create the right exotic feel, as does the small dancing chorus, although their repertoire of steps is limited.
There are two performances of Les pêcheurs de perles, Friday at 7:30 pm and Sunday at 3 pm, January 26 and 28. Revel in the fine singing and try not to pay too much attention to the plot, and I think you'll find this two-hour trip to legendary Ceylon a welcome respite from crazy weather and crazier politics.
Related Articles