Theatre Reviews
Theatre Reviews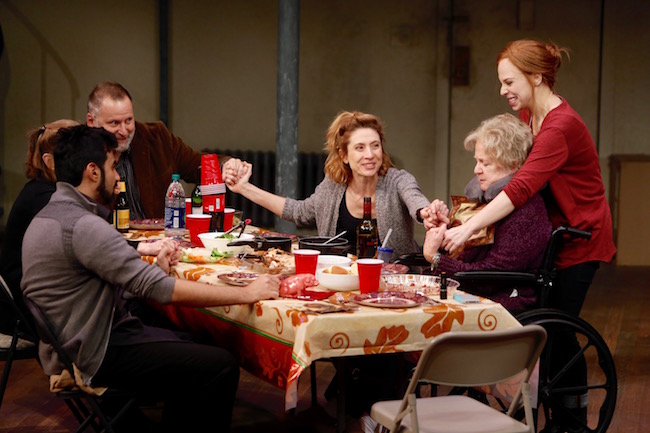 Satisfying and complex, 'The Humans' holds a mirror up to a sobering reality
By
Artistic director Stephen Woolf guides a talented cast through the emotional rollercoaster of "The Humans," by Stephen Karam, and leads us to the (literal) light at the end of the tunnel. The finale is a bit of a ruse, however, as the show ends without offering definitive closure. The journey is richly detailed and full of life's possibilities and regrets, but the destination and what "really" happens is left to the audience to decide. Not all audiences will respond enthusiastically to the device, but the performances and density of theme has the ability to generate conversation well beyond the curtain.
"The Humans" chronicles a Thanksgiving dinner in younger daughter Brigid Blake and her boyfriend Richard Saad's new apartment. The furniture has not yet arrived, but there's a folding table with enough room for the family, food and plenty to drink. The meal is by turns pleasant, contentious, funny, sad, and uncomfortable but filled with love as family secrets, hopes and worries spill forth with increasing intensity.
Brigid and Richard share a loving, supportive relationship, but the stress of hosting a big holiday and the tensions between generations can't be discounted. Parents Erik and Deirdre seem frugal types as they catalog and comment on how expensive everything is these days. Older sister Aimee, a busy lawyer who recently broke up with her long-term girlfriend, constantly moves in and out of the family conversation while grandmother Momo, suffering from dementia and the effects of age, is only vaguely aware of her surroundings and the people fussing over her.
Brian Dykstra is both sympathetic and frustrating as the father, and it suits the story arc well. He clearly loves his family, and he's just as clearly made mistakes and accumulated regrets. Erik isn't afraid to show his emotion, particularly his love and concern. He's more resistant to honestly addressing his behavior and his inner conflict is palpable from heavy, labored breathing to moments lost in introspection to unexpected outbursts. Erik is tightly wound even at his most relaxed and fearful when he feels most loved and Dykstra plays these contradictions well.
Lauren Marcus and Carol Schultz as daughter Brigid and mom Deirdre, respectively, are perceptive, opinionated women. Marcus is a struggling artist, more transparent than sister Aimee she desperately wants her parent's approval whether she's willing to admit that or not. The character gets strident and a bit obsessive at times, but Marcus reigns in Brigid's worst tendencies. Marcus and Schultz contentiously play off each other and their guarded snippiness is quite realistic.
Kathleen Wise is a touch distant and focused on her own trauma as daughter Aimee. The portrayal allows for varying interpretations regarding her presence, or lack thereof, while still providing a rich, full character. Darrie Lawrence tugs at your heartstrings as grandmother "Momo," and the family responds to her most lucid moment with painful over-enthusiasm.
Fajer Kaisi is genuinely warm and kind as Richard. He understands the gravity and importance of the dinner and his efforts to boost Brigid's fragile confidence are endearingly honest. Richard also provides a sort of guiding voice through the father's journey, using his own dreams to interpret and direct Erik's more disturbing ones. The conversations between the two men take on increasing importance as it becomes clear that "The Humans" is not simply a family dinner drama.
The expansive two-level apartment set by Gianni Downs is sparse and cavernous, adding physical space to the psychological and emotional distance that often separates the characters. The openness and lack of furniture suggest a place that is not quite real, not fully defined. Lighting designer Rob Denton and sound designer Rusty Wandall emphasize this distance and uncertainty with effects that suggest things otherworldly, and costume designer Dorothy Marshall Englis adds definition to each character.
While it seems certain that the play thematically details end of life moments, the script lends itself to interpretation and the author has noted that the script comments on contemporary middle-class America in an era of uncertainty. Hints are dropped along the way, and visual and audio effects suggest the collapse of the Twin Towers, the paddles used when trying to restart a failing heart, the alert sounds and lights of medical equipment and sirens.
Fully integrated characters and strong performances add depth to an intentionally open interpretation. Director Woolf and the cast create a satisfying ebb and flow, moving easily between innocuous commentary and personal family matters. At times the gathering seems nonlinear, as if in a memory play. At other times the story feels solidly rooted in the here and now, but punctuated by the mysterious, booming thuds of the upstairs neighbor. What in the world could the unknown tenant be doing to create such noise, such a disruption? The answer is another question the audience must decide, once again, there are myriad possibilities.
"The Humans," in performance at The Rep through March 4, is ponderous and complex, with well-defined characters that create, for lack of a simpler term, genuine pathos mimicking the uncertainty of existence. There's a lot of struggling and persevering, but it's tempered with a touch of laughter and the sense of strength and determination as well as vulnerability. Though I was left wanting more from the story, which at times feels oddly cold, the show is beautifully wrought and will likely keep you thinking for days.
Related Articles