Visual & Performing Arts
Visual & Performing Arts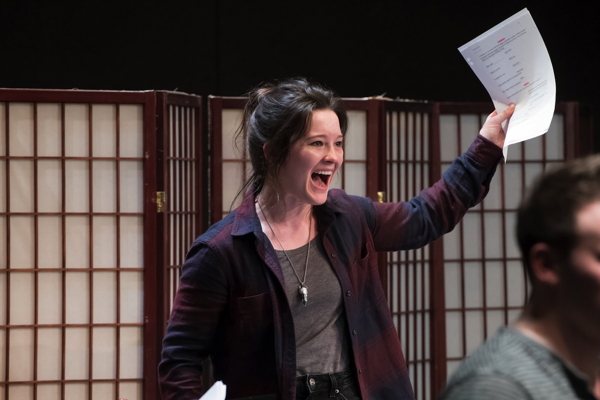 'Ignite! 2019' invited St. Louis audiences into theatre's creation
By Chuck Lavazzi
Entering the lobby of the Repertory Theatre of St. Louis on March 27th, 2019, one was met with a huge crowd. Some were in line to get tickets for the Rep's popular production of "The Play That Goes Wrong," but others of us were getting packed into the Rep's smaller, black box space, to hear a staged reading of a new play, the first of three that would make up "Ignite!." The capacity crowd for all three of the staged readings of new plays showed that "Ignite!" is a popular new play development laboratory in St. Louis. "Ignite!" is particularly important for the St. Louis theatre scene because it provides a space for national new play development, and allows local audiences into that process.
If one has never been to a staged reading before, the format is fairly standard across America's vast new play development landscape. Actors, who have rehearsed and worked with a director and the playwright, stand at music stands and act out the play without sets, props, lights, or any of the trappings of a full production. There is an actor who reads stage directions so the audience understands the visuals that a full production would have. In the right hands, this style of performance--almost a reader's theatre--can be extremely effective at getting the heart of a play across, and it is particularly useful for a playwright whose play is in process. First, it allows a playwright to hear the words out loud, but, even more important, it allows a playwright to see and hear how audiences respond to the script.
This format works beautifully at "Ignite!" to create a collaboration between national playwrights, the Rep, and local audiences allows audiences to be part of the new script's development. The audiences also feel a great deal of pride about the future successes of the scripts developed at "Ignite!." And, if one judges a new play development program by the lives of the scripts it produces, "Ignite!" is particularly successful.
The festival had its first installment in 2012 and has been going strong since, with many of its plays seeing productions in St. Louis and beyond. Of the 25 new play readings that occurred before this year, 7 received full productions at the Rep, and more had world premieres around the country. For example, "Gidion's Knot" by Johana Adams was given a staged reading at the first "Ignite!" in 2012, and had its world premiere at the Contemporary American Theatre Festival (Shepherdstown, WV) in July of 2012. After that, "Gidion's Knot" was published in "American Theatre" magazine, and had 12 productions around the USA in the 2013-2014 season, making it the 11th most produced play in the country that year.
Also in 2012, "Ignite!" presented a staged reading of "The Invisible Hand," by Ayad Akhtar. At that time, Akhtar was a relatively obscure playwright. But, after "The Invisible Hand" went on to a world premiere at the Rep later in 2012, Akhtar wrote his most well-known work, "Disgraced." That play won the Pulitzer Prize in 2013 and was the most-produced script in the USA in the 2015-2016 season with 18 productions, and was still on the most-produced list in 2016-2017.
Finally, in 2016, "Ignite!" presented a staged reading of "Until the Flood," by Dael Orlandersmith. This script was a response to the high profile shooting of Michael Brown in St. Louis, but it also went on to have many productions around the USA. Thus, not only did "Ignite!" highlight a script with local ties, but it supported a play that went on to shape the debate around race in America that came after Brown's killing.
This powerhouse of new play development is the brainchild of the Rep's Associate Artistic Director, Seth Gordon. Gordon has been at the Rep for 9 seasons, after spending years at the Cleveland Playhouse where he produced the Next Stage Festival of New Works. Additionally at Cleveland Playhouse, Gordon produced FusionFest, a multidisciplinary performing arts festival that allowed theatre, dance, music, and other artists to create together. Before Cleveland Playhouse, Gordon was at Primary Stages in New York City, which bills itself as the "definitive home for American playwriting." Gordon's pedigree shows his continued interest in new play development.
In person, Gordon is a great champion for the new scripts of "Ignite!." This year, he stood near the door of all three readings, greeting patrons in person. He introduced the plays himself, and ran the Q&A sessions after. He began each of the talkbacks after the play readings by asking audiences who had been to "Ignite!" in earlier years, and who had seen readings of plays that had since been produced. Sometimes those productions occurred at the Rep, sometimes in New York or Chicago, and, in every case, people cheered for their favorite scripts and clearly had a strong relationship to the development process, claiming ownership over the scripts in the same way sports fans cheer for their home team. This was, for me, the most unique aspect of the "Ignite!" reading series. Never before had I seen an audience at a large regional theatre's new play development program have such investment in the future life of the scripts they were hearing.
The festival itself consisted of three plays in development read by well-rehearsed actors at music stands. Because the plays were still in development, it would not be appropriate to review them beyond a brief synopsis. The festival's first reading was "Quiz Out" by Margot Connolly, directed by Shelley Butler. The script followed high school junior Harper as she moved back to a small town from Chicago, and what happens to her after joining her church's Bible Quiz team. A few days later, "Ignite!" presented a new adaptation of Mary Shelley's "Frankenstein," written by Eric Schmiedl and directed by Seth Gordon. This multimedia version of the classic tale focused on Victor Frankenstein's youth. Finally, the festival closed with a new musical, "Frida," based on the life of Frida Kahlo, written by Michael Aman with music by Dana P. Rowe and directed by Gustavo Zajac. This play, too, focused on youth, this time Kahlo's, primarily her relationship with Diego Rivera.
"Ignite!" had a high quality of production, even if it was staged readings done at music stands. The acting was universally great, and utilized a wonderfully diverse group, in terms of age, ethnicity, and gender--some were even students from Webster University, which has a partnership with the Rep. The directors did a great job of showcasing the scripts, but providing enough visuals and movement to get across how the plays would live completely staged. There was also great balance between scripts -- comedy, drama, musical -- but all crowd pleasers, which again showed Gordon's skill running this festival.
In total, "Ignite!" is an important festival for national playwrights and local audiences. It is St. Louis's chance to see what could potentially be the next big thing, and to be part of those script's development. The Rep is using its privileged position to bring nationally-recognized playwrights to its local theatre scene. It is a great example of a highly regarded theatre wielding its power for the common good.
Related Articles