Visual & Performing Arts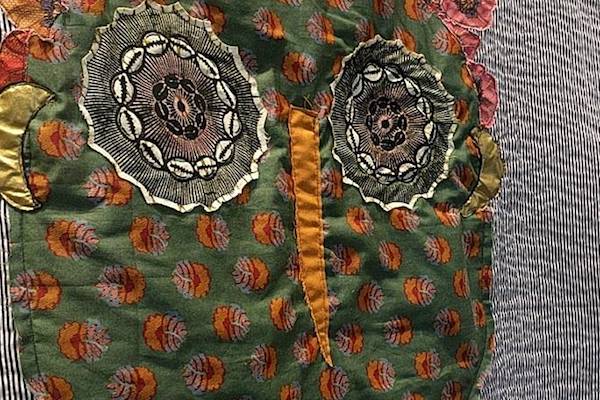 Delicate textures with a strong message at the RAC gallery
The work of Kat Reynolds, Lola Ogbara, Jen Everett and Eugenia Alexander illuminates their ideas about what is means to be a black women in America and how views from an outside perspective have impacted their message. Countering presentations of white gaze behind the camera, Reynolds has assembled this group exhibition entitled, "The Importance of Texture and Delicacy" to lend powerful voice to historically marginalized Americans, revealing an incredible range of vulnerability and insight found in art by black women in St. Louis. 
Reynolds explains, she wanted "an intimate setting of being a black womyn [in order] to cherish and have for a really long time, preserving that fragility." She cites the works of Wangechi Mutu as a strong influence for much of her interest in exploring the delicacy of blackness. Her series This Wasn't For You includes photographs of Sabaah Folayan — co-director of the Ferguson uprising documentary Whose Streets? — at the end of a long sweep of white fabric as if wrapped like a mummy unfurling black trauma in the strain of her weight and the pull of the material. Reynolds spoke about the need to develop her latest work on overwhelming womanhood through the continued use of tactile materials in the composition of her figurative portraits. Her photographs transcend the body language of the subjects with respect to their context in place, to offer rich narrative in their juxtaposition to the environment. 
Lola Ogbara while also coming from a background in photography, discovered the innate visceral quality of clay and chose to utilize sculpture to display the versatility of black femininity through her creation of gilded vessels. By using the luscious shapes of black female bodies, as though to command attention with their curves and folds, Ogbara gives thoughtful execution of their surfaces to reflect the viewer. One can notice in her procession from earlier to later pieces, the figures having less symmetry with more character, moving away from caricatures of the figure to more intuitive examples from her own life experience.
Everett's images from her Redoubled series connote both highly "personal to institutional archives that consider the photograph as an affective artifact that investigates black subjectivity myth and memory." Inspired by elements of sound, Everett explores the ability of the photograph to echo beyond place and time, exhuming images like a phrase repeated for emphasis and imploring the viewer to look again and ask, what they really see in this story. Everett restricts full access to the subject through cropping as a stance to shed light on the lack of permission that often occurred with photographing these human subjects in the past. By taking away detail, Everett points out, she offers less narrative but makes the story huge.
Jen Everett's work addresses questions about lack of knowledge to their stories behind some of these images with her relationship by noting that "loss can be a possibility."  She adds that in truth, she is re-appropriating again not just from the multiplying of the image but in her borrowing from sources that have already appropriated from unknown subjects. One of the audience members at the August 4 panel discussion likened Everett's process to the cadence in hip hop and reading music inspired by jazz masters that came before, both giving homage and remixing their elements.
Eugenia Alexander cites Frank Stella as fodder for her interest in geometric designs in painting before she came under apprenticeship of fabric-artist and art therapist, Edna Patterson-Petty. Alexander gives great respect to quilters as a tradition that requires enormous skill and patience. Her most recent works demonstrate this desire to be true to Petty's request that she find her own style through the making of Who Am I, large ovular quilts akin to African masks. The bodies are the faces, theatrical in their features exhibit a care in execution that invite the viewer to see the patterns of the West African cloth she uses. She describes in one of her pieces, that there is "no distinctive face features" as a way to highlight her having no way to know what her great-grandmother looked like and yet, her memory remains so strong that she is named after her.
In their yearning to address any gaps to both personal and societal black history, the four artists do great justice in creating art that weaves the viewer into their learning process and convey experience that speaks volumes of the artifacts to come. "The Importance of Texture and Delicacy" is on view thru August 24 at the Jill A. McGuire Gallery on the first floor of the Regional Arts Commission's St. Louis headquarters on Delmar Blvd. A closing reception will be held on August 24 from 6-8pm.
Related Articles